From PyeongChang, KOR
Coming into the second run in the IBSF men's skeleton event in PyeongChang, it looked like Martins Dukurs would have to once again settle for silver unless he put down an absolutely perfect run on a track that he had very limited experience on. Korean Sungbin Yun had put down a blistering run in the first heat, leaving Dukurs .18 off the pace in second place. On the line was not only a win, but if he couldn't at least secure a silver medal, also his eighth consecutive World Cup title.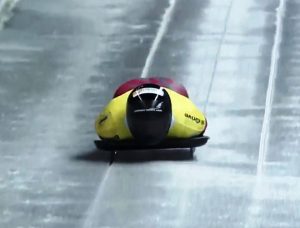 On the second run, Dukurs put the pressure on Yun, setting a new track record in the process. Yun, who's first run matched the cleanliness of Dukurs', had a few very small mistakes to bring him back to the time set by Dukurs. When Yun crossed the line he was .01 to the red, giving the gold medal and World Cup title to Martins Dukurs.
Tomass Dukurs jumped up from sixth to third after Alexander Gassner, Axel Jungk and Nikita Tregybov all also struggled to match their first runs on their second trip down. Alexander Tretiakov missed a medal by .01, finishing fourth after coming into the second run in tenth. Tregybov and Gassner rounded out the top six.
Matt Antoine led the way for the United States tied for tenth with New Zealand's Rhys Thornbury. John Daly finished 14th, moving up from 17th in the first heat and edging teammate Nathan Crumpton, who finished 15th.
It was a mixed bag of runs by the Canadian men, with Dave Greszczyszyn finishing with his best finish since Whistler in 12th. Teammate Barrett Martineau came into the second run in seventh, but struggled in his second run, dropping from seventh back to 19th. Evan Neufeldt finished just outside of the top 20 in 23rd position.
Both British men made their way into the top 20, with Dom Parsons jumping up to 13th place in the second heat, while Jack Thomas finished 20th.
With his win, Martins Dukurs takes home his eighth World Cup title, ahead of Sungbin Yun of Korea. Alexander Tretiakov's second run was good enough to move him ahead of Axel Jungk not only in the race, but in the overall points. Germans Axel Jungk, Christopher Grotheer, and Alexander Gassner round out the top six in World Cup points.
Results:
| | | | | | | | | |
| --- | --- | --- | --- | --- | --- | --- | --- | --- |
| Pos | Name | Nation | Bib | Start 1 | Start 2 | Run 1 | Run 2 | Total |
| 1 | Martins Dukurs | LAT | 14 | 4.65 | 4.64 | 50.87 | 50.64 | 1:41.51 |
| 2 | Sungbin Yun | KOR | 6 | 4.61 | 4.63 | 50.69 | 50.83 | 1:41.52 |
| 3 | Tomass Dukurs | LAT | 13 | 4.77 | 4.79 | 51.20 | 50.96 | 1:42.16 |
| 4 | Alexander Tretiakov | RUS | 8 | 4.63 | 4.64 | 51.32 | 50.85 | 1:42.17 |
| 5 | Nikita Tregybov | RUS | 12 | 4.74 | 4.74 | 51.03 | 51.17 | 1:42.20 |
| 6 | Alexander Gassner | GER | 7 | 4.80 | 4.78 | 51.17 | 51.09 | 1:42.26 |
| 7 | Axel Jungk | GER | 9 | 4.73 | 4.71 | 51.06 | 51.34 | 1:42.40 |
| 8 | Christopher Grotheer | GER | 15 | 4.78 | 4.75 | 51.27 | 51.16 | 1:42.43 |
| 9 | Mattia Gaspari | ITA | 19 | 4.84 | 4.85 | 51.27 | 51.23 | 1:42.50 |
| 10 | Rhys Thornbury | NZL | 16 | 4.90 | 4.92 | 51.34 | 51.47 | 1:42.81 |
| 10 | Matthew Antoine | USA | 10 | 4.84 | 4.81 | 51.32 | 51.49 | 1:42.81 |
| 12 | Dave Greszczyszyn | CAN | 20 | 4.87 | 4.82 | 51.53 | 51.29 | 1:42.82 |
| 13 | Dominic Parsons | GBR | 11 | 4.85 | 4.87 | 51.68 | 51.17 | 1:42.85 |
| 14 | John Daly | USA | 4 | 4.88 | 4.86 | 51.72 | 51.33 | 1:43.05 |
| 15 | Nathan Crumpton | USA | 17 | 4.77 | 4.75 | 51.47 | 51.61 | 1:43.08 |
| 16 | Florian Auer | AUT | 2 | 4.95 | 4.95 | 51.73 | 51.40 | 1:43.13 |
| 16 | Jisoo Kim | KOR | 29 | 4.74 | 4.79 | 51.56 | 51.57 | 1:43.13 |
| 18 | Egor Veselov | RUS | 18 | 4.90 | 4.96 | 51.78 | 51.64 | 1:43.42 |
| 19 | Barrett Martineau | CAN | 5 | 4.84 | 4.83 | 51.26 | 52.28 | 1:43.54 |
| 20 | Jack Thomas | GBR | 22 | 4.79 | 4.79 | 51.86 | 51.70 | 1:43.56 |
| 21 | Marco Rohrer | SUI | 23 | 4.85 | | 52.00 | | |
| 22 | Matthias Guggenberger | AUT | 21 | 4.80 | | 52.01 | | |
| 23 | Evan Neufeldt | CAN | 24 | 4.82 | | 52.09 | | |
| 24 | Alexander Auer | AUT | 25 | 4.90 | | 52.15 | | |
| 25 | Ander Mirambell | ESP | 1 | 4.97 | | 52.22 | | |
| 26 | Riet Graf | SUI | 28 | 4.87 | | 52.47 | | |
| 27 | Hiroatsu Takahashi | JPN | 26 | 4.80 | | 52.49 | | |
| 28 | Manuel Schwärzer | ITA | 3 | 4.96 | | 52.59 | | |
| 29 | Rasmus Ottosson | SWE | 30 | 5.23 | | 52.62 | | |
| 30 | Katsuyuki Miyajima | JPN | 27 | 5.12 | | 53.87 | | |