From PyeongChang, KOR
The newest Olympic sliding track in the world has proven to be tricky over the past few weeks for the athletes in the IBSF World Cup, and in its first day of official IBSF competition the Korean track didn't do many athletes much in the line of favors. With 25 women taking a time in the first run, it seemed as though there were 25 different ways to get down the Alpensia Sliding Centre.
As she had all season, Jacqueline Lölling found speed where no other woman could, cruising to victory both in PyeongChang and in the overall World Cup. The world champion dominated in both heats, setting the fastest time each time on her way to a .3 second victory over Russian Elena Nikitina.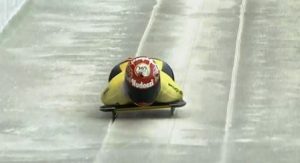 The win was Lölling's third World Cup win on the season, and fifth podium in eight races overall.
Nikitina finished second after out-starting the field by over a tenth of a second and setting relatively clean runs in both heats, edging Dutch slider Kimberley Bos in the process by .05. The bronze medal for Bos was the first ever skeleton World Cup medal for The Netherlands.
Olympic champion Lizzy Yarnold finished just .04 out of the medals in fourth, ahead of Canadians Mimi Rahneva and Elisabeth Vathje, who finished fifth and sixth respectively.
The United States seemed to be working out its issues with the PyeongChang track, with all three women finishing within the top 20. Katie Uhlaender led the way with a season-best eighth place finish as she continues to come back from a season away, while teammates Kendall Wesenberg and Annie O'Shea finished 11th and 19th, respectively.
Laura Deas helped keep both British efforts in the top ten with a ninth place run, while Jane Channell rounded out the Canadian effort in 13th. Jackie Narracott finished 15th for Australia.
With her win, Jacqueline Lölling won the overall World Cup title, with Tina Hermann finishing second and Mimi Rahneva third in her first full season on the World Cup. Janine Flock, Elisabeth Vathje and Laura Deas round out the top six.
Results:
| | | | | | | | | |
| --- | --- | --- | --- | --- | --- | --- | --- | --- |
| Pos | Name | Nation | Bib | Start 1 | Start 2 | Run 1 | Run 2 | Total |
| 1 | Jacqueline Lölling | GER | 10 | 5.34 | 5.40 | 52.93 | 52.75 | 1:45.68 |
| 2 | Elena Nikitina | RUS | 19 | 4.97 | 4.92 | 53.18 | 52.80 | 1:45.98 |
| 3 | Kimberley Bos | NED | 1 | 5.22 | 5.20 | 53.15 | 52.88 | 1:46.03 |
| 4 | Lizzy Yarnold | GBR | 14 | 5.23 | 5.21 | 53.27 | 52.80 | 1:46.07 |
| 5 | Mirela Rahneva | CAN | 12 | 5.11 | 5.08 | 53.19 | 53.01 | 1:46.20 |
| 6 | Elisabeth Vathje | CAN | 8 | 5.25 | 5.15 | 53.06 | 53.32 | 1:46.38 |
| 7 | Anna Fernstädt | GER | 15 | 5.41 | 5.40 | 53.32 | 53.07 | 1:46.39 |
| 8 | Katie Uhlaender | USA | 23 | 5.20 | 5.19 | 53.22 | 53.26 | 1:46.48 |
| 9 | Laura Deas | GBR | 7 | 5.16 | 5.13 | 53.54 | 53.02 | 1:46.56 |
| 9 | Tina Hermann | GER | 9 | 5.27 | 5.22 | 53.40 | 53.16 | 1:46.56 |
| 11 | Kendall Wesenberg | USA | 17 | 5.27 | 5.26 | 53.57 | 53.24 | 1:46.81 |
| 12 | Janine Flock | AUT | 13 | 5.32 | 5.33 | 53.60 | 53.31 | 1:46.91 |
| 13 | Jane Channell | CAN | 16 | 5.11 | 5.05 | 53.70 | 53.22 | 1:46.92 |
| 14 | Lelde Priedulena | LAT | 11 | 5.15 | 5.15 | 53.60 | 53.45 | 1:47.05 |
| 15 | Jaclyn Narracott | AUS | 22 | 5.34 | 5.31 | 53.61 | 53.54 | 1:47.15 |
| 16 | Kim Meylemans | BEL | 18 | 5.27 | 5.28 | 53.57 | 53.66 | 1:47.23 |
| 17 | Yulia Kanakina | RUS | 20 | 5.15 | 5.15 | 54.03 | 53.40 | 1:47.43 |
| 18 | Maria Orlova | RUS | 5 | 5.14 | 5.11 | 53.98 | 53.50 | 1:47.48 |
| 19 | Annie O'Shea | USA | 6 | 5.16 | 5.17 | 54.02 | 53.62 | 1:47.64 |
| 20 | Marina Gilardoni | SUI | 21 | 5.24 | 5.21 | 54.13 | 54.01 | 1:48.14 |
| 21 | Joska le Conte | NED | 4 | 5.30 | | 54.33 | | |
| 22 | Nozomi Komuro | JPN | 2 | 5.39 | | 54.35 | | |
| 22 | Rayoung Mun | KOR | 3 | 5.44 | | 54.35 | | |
| 24 | Maria Montejano | ESP | 24 | 5.41 | | 54.75 | | |
| 25 | Katie Tannenbaum | ISV | 25 | 5.43 | | 55.24 | | |