(July 16, 2017) There's always talk about a sport's "national team". Nations like Germany, Canada, and the United States are all chock full of bobsled and skeleton athletes that even making a developmental tour is a huge deal.
But what about the small nations teams? One to two person squads form up a portion of the IBSF and FIL tours, and those athletes have a much different experience on tour.
One of those athletes working her way toward the 2018 games is Australian Jackie Narracott, who over the past few years has been the only full-time IBSF World Cup women's skeleton athlete for Oceana (Australia, New Zealand and the surrounding Pacific islands). In years past, she's been joined part time on the men's side by 2014 Olympian John Farrow, and Dean and Nicholas Timmings, but none have run full-time since Farrow in 2014/2015. Since then, she's been largely on her own.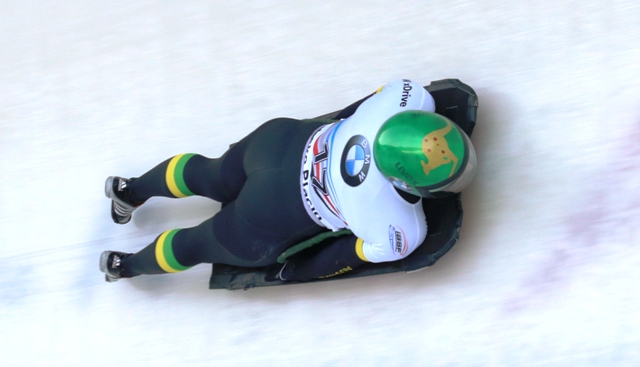 Narracott in a unique position where, as the lone women's skeleton athlete representing Oceana, she's all but guaranteed a spot in the Olympics as part of the "every continent gets representation" rule.
Despite that guarantee, she still feels that there's a challenge.
"The pressure is going to be in my own head. I've got the continental bid already, whichis a really big comfort. But I don't want that to be the only reason I make it to PyeongChang, especially given how tough and competitive our field is."
How competitive is that field? There's a quota of 20 women for the women's portion of the Olympic skeleton program, 10 less than their male counterparts. On top of that, over 30 women raced in the World Championships in Königssee. All of that means there'll be some good racers watching from home.
"There's going to be a girl in the top 10 who won't be going to the games, which is ridiculously unfair. I want the individual quota spot. As long as I compete well enough where the AOC (Australian Olympic Committee) says I can go, it's fine."
The one thing an athlete in Narracott's position lacks is a real competition for national team positions. It's a challenge that she would likely enjoy if the chance arose.
"I wouldn't say no [to extra competition], plus it would be nice to have to have someone to travel with and do things with."
The traveling has been something that Narracott had to get accustomed to. Over the course of the last few seasons, she's found folks to hang out with, including Dutch slider Joska Le Conte.
"Having Joska has been great, but she's still a competitor and not a teammate, so I don't talk to her as I would another Aussie. But eventually you learn to manage it and think 'It would be really nice to have teammates', but on the flipside I get to do what I want, when I want, and how I want. That freedom can be nice at times."
The freedom of being a lone athlete comes with a few other upsides as well. Narracott has spent her last two summers training in Bath with sprint coach Rob Ellchuk. The move to Bath (alongside partner Dom Parsons of Great Britain) has shown results.
"I needed to get faster, and the idea was to train in Bath with Dom's coach. Right now I'm faster and stronger than I've been, and am probably further along in my training than I expected to be."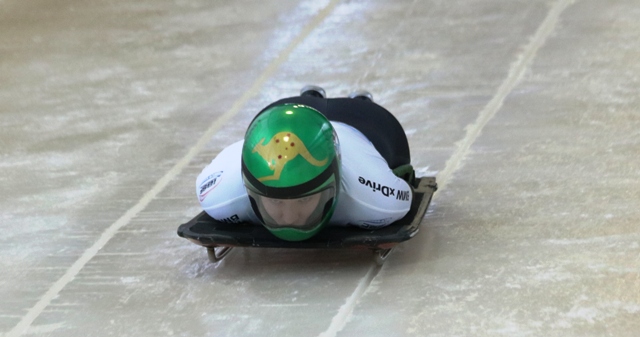 And the training is all focused on one thing: results in PyeongChang.
"The training is all based on what I need in Korea. We've changed a lot of what I had been doing before, making sure everything is focused on the Olympics."
The start of the training for the Olympics involved the final World Cup event of the 2016/2017 IBSF season held on the Olympic track in PyeongChang. Narracott was hooked.
"I love it, it's amazing! On my first run down, I fell in love with it. I think it was nice to be on a pretty level playing field. I can't wait to get there in October! We learned so much not just about the track, but what I have to work on this year. Areas that we thought were going to be really important turned out to not be as important."
One thing the Australian skeleton's lone woman found very important was to properly introduce TimTams to the group at Placid, myself included. Should Narracott get national competition in the future, she's set the precedent that designated cookie space in one's luggage is a necessity. It's just the kind of person she is. But for now, Narracott continues to move forward with training to make sure the Australia team's representation is strong, regardless of size.