From Königssee, GER
(Jan. 6, 2018) For the first time in a non-sprint event, a doubles team other than Toni Eggert & Sascha Benecken found their way to the top of the FIL World Cup podium. Unsurprisingly, it was another German team that bumped them from the top spot.
Tobias Wendl & Tobias Arlt came into the second heat in Königssee with a .146 advantage over the World Cup leaders Eggert & Benecken. Eggert & Benecken put the pressure on their teammates on their second run with what would be the second fastest trip down of the day. Wendl & Arlt answered, coming down just over .01 slower than Eggert & Benecken, enough to hold onto the lead and the gold medal.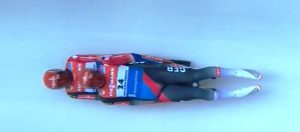 The win was the second on the season for Wendl & Arlt, with their other coming in the sprint event in Winterberg.
Robin Geueke & David Gamm finished with a bronze medal to complete the third German doubles podium sweep of the season.
Peter Penz & Georg Fischler of Austria finished fourth, with Canada's Tristan Walker & Justin Snith finishing fifth. Thomas Steu & Lorenz Koller finished sixth for Austria.
Matt Mortensen & Jayson Terdiman finished 10th to lead the American effort, while teammates Justin Krewson & Andrew Sherk moved up from 20th to 18th in their second run.
Results:
| | | | | | | | | |
| --- | --- | --- | --- | --- | --- | --- | --- | --- |
| Pos | Names | Nation | Bib | Start 1 | Start 2 | Run 1 | Run 2 | Total |
| 1 | Wendl / Arlt | GER | 24 | 2.819 | 2.839 | 49.935 | 50.026 | 1:39.961 |
| 2 | Eggert / Benecken | GER | 21 | 2.833 | 2.833 | 50.081 | 50.014 | 1:40.095 |
| 3 | Geueke / Gamm | GER | 20 | 2.900 | 2.894 | 50.140 | 50.291 | 1:40.431 |
| 4 | Penz / Fischler | AUT | 19 | 2.862 | 2.869 | 50.181 | 50.364 | 1:40.545 |
| 5 | Walker / Snith | CAN | 23 | 2.889 | 2.898 | 50.507 | 50.618 | 1:41.125 |
| 6 | Steu / Koller | AUT | 18 | 2.904 | 2.931 | 50.507 | 50.709 | 1:41.216 |
| 7 | Nagler / Malleier | ITA | 13 | 2.858 | 2.893 | 50.518 | 50.800 | 1:41.318 |
| 8 | Denisev / Antonov | RUS | 11 | 2.929 | 2.918 | 50.629 | 50.820 | 1:41.449 |
| 9 | Bogdanov / Medvedev | RUS | 10 | 2.960 | 2.921 | 50.591 | 50.862 | 1:41.453 |
| 10 | Mortensen / Terdiman | USA | 22 | 2.956 | 2.955 | 50.742 | 50.858 | 1:41.600 |
| 11 | Rieder / Rastner | ITA | 14 | 2.865 | 2.874 | 50.663 | 50.939 | 1:41.602 |
| 12 | Sics / Sics | LAT | 17 | 2.921 | 2.931 | 50.767 | 50.855 | 1:41.622 |
| 13 | Gudramovics / Kalnins | LAT | 12 | 2.952 | 2.932 | 50.820 | 50.902 | 1:41.722 |
| 14 | Oberstolz / Gruber | ITA | 16 | 2.923 | 2.942 | 50.833 | 51.066 | 1:41.899 |
| 15 | Yuzhakov / Prokhorov | RUS | 9 | 2.957 | 2.947 | 50.910 | 51.060 | 1:41.970 |
| 16 | Putins / Marcinkevics | LAT | 5 | 2.897 | 2.906 | 50.988 | 51.204 | 1:42.192 |
| 17 | Vavercak / Smij | SVK | 7 | 2.980 | 2.950 | 51.177 | 51.393 | 1:42.570 |
| 18 | Krewson / Sherk | USA | 15 | 2.891 | 2.915 | 51.365 | 51.240 | 1:42.605 |
| 19 | Solcansky / Stuchlak | SVK | 4 | 2.960 | 2.950 | 51.266 | 51.377 | 1:42.643 |
| 20 | Broz / Broz | CZE | 6 | 2.948 | 2.998 | 51.318 | 51.492 | 1:42.810 |
| 21 | Kvicala / Kudera | CZE | 3 | 3.032 | 3.050 | 51.675 | 51.534 | 1:43.209 |
| 22 | Atodiresei / Musei | ROU | 2 | 3.073 | 3.061 | 51.618 | 51.771 | :43.389 |
| 23 | Obolonchyk / Zakharkiv | UKR | 1 | 2.986 | 2.979 | 51.845 | 51.808 | 1:43.653 |
| DNS | Chmielewski / Kowalewski | POL | 8 | | | DNS | | |