From Altenberg, GER
(Jan. 12, 2018) Martin Rosenberger won his third European Cup medal in as many attempts, this time a gold medal in Altenberg.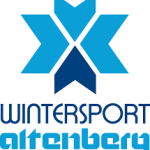 The German has raced part-time on the European Cup, with two races to his credit in Winterberg. In those two races he scored a gold and silver, and now with the European Cup back in Germany Rosenberger once again found his way to the top of the podium.
Rosenberger was fastest in both heats on his way to a .52 of a second win over teammate Fabian Küchler. Küchler moved up from third to take silver, while Dominic Rady won bronze to complete the sweep of the European Cup podium.
Vladislav Semenov was the top-finishing non-German in fourth, ahead of Felix Seibel of Germany and Krists Netlaus of Latvia.
Coupled with a seventh place showing by Russian Konstantin Khoroshko, Krists Netlaus clinched the IBSF European Cup title with his sixth place finish. The title is the first for the Latvian, who has three gold medals and a silver to his name this season.
Stephen Garbett finished 11th for the United States, with teammate Alex Ivanov in 13th.
Results:
| | | | | | | | |
| --- | --- | --- | --- | --- | --- | --- | --- |
| Pos | Name | Nation | Start 1 | Start 2 | Run 1 | Run 2 | Total |
| 1 | Martin Rosenberger | GER | 5.23 | 5.17 | 58.24 | 57.49 | 1:55.73 |
| 2 | Fabian Küchler | GER | 5.24 | 5.25 | 58.42 | 57.83 | 1:56.25 |
| 3 | Dominic Rady | GER | 5.04 | 5.06 | 58.26 | 58.26 | 1:56.52 |
| 4 | Vladislav Semenov | RUS | 5.19 | 5.24 | 58.51 | 58.06 | 1:56.57 |
| 5 | Felix Seibel | GER | 5.21 | 5.17 | 58.47 | 58.49 | 1:56.96 |
| 6 | Krists Netlaus | LAT | 5.20 | 5.21 | 58.75 | 58.29 | 1:57.04 |
| 7 | Konstantin Khoroshko | RUS | 5.24 | 5.48 | 58.85 | 58.69 | 1:57.54 |
| 8 | Artem Drozdov | RUS | 5.31 | 5.27 | 59.34 | 58.82 | 1:58.16 |
| 9 | Samuel Maier | AUT | 5.43 | 5.37 | 59.78 | 58.53 | 1:58.31 |
| 10 | Alexander Schlintner | AUT | 5.27 | 5.32 | 59.42 | 58.93 | 1:58.35 |
| 11 | Stephen Garbett | USA | 5.43 | 5.36 | 59.81 | 58.61 | 1:58.42 |
| 12 | Alisher Mamedov | RUS | 5.38 | 5.43 | 59.48 | 59.00 | 1:58.48 |
| 13 | Alex Ivanov | USA | 5.33 | 5.40 | 59.90 | 59.09 | 1:58.99 |
| 14 | Mihail Sebastian | ROU | 5.38 | 5.35 | 60.20 | 58.95 | 1:59.15 |
| 15 | Wenhao Chen | CHN | 5.30 | 5.31 | 59.66 | 59.56 | 1:59.22 |
| 16 | Mihai Pacioianu | ROU | 5.25 | 5.21 | 60.12 | 59.27 | 1:59.39 |
| 17 | Basil Sieber | SUI | 5.47 | 5.48 | 60.26 | 59.68 | 1:59.94 |
| 18 | Kang Yang | CHN | 5.38 | 5.31 | 61.11 | 59.78 | 2:00.89 |
| 19 | Hakon Scheie | NOR | 6.19 | 6.02 | 62.47 | 61.08 | 2:03.55 |
| 20 | Vladyslav Polyvach | POL | 5.66 | 5.53 | 62.59 | 61.35 | 2:03.94 |
| 21 | Maximlian Goldmann | SUI | 5.68 | | 63.49 | | |
| 22 | Hubert Licman | SLO | 6.42 | | 65.82 | | |
| 23 | Damian Markiewicz | POl | 6.04 | | 67.50 | | |