From Altenberg, GER
(Jan. 12, 2018) Susanne Kreher took gold in Altenberg in just her seventh European Cup start.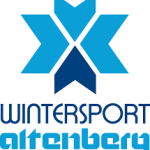 Kreher was competitive off the top, and fastest where it mattered most to cruise to a .58 victory over German teammate Corinna Leipold. The gold medal is the first medal of any kind for Kreher, who has five top-sixes to show for her seven starts.
The silver for Leipold is the second of the season for the German junior, who also has one gold medal in three attempts (all on German tracks).
Russian Alina Tararychenkova finished third, winning her third medal in the last four races.
British slider Brogan Crowley finished fourth, ahead of France's Agathe Bessard, and Great Britain's Ashleigh Pittaway. Eleanor Furneaux was entered in the event, and ran her first run, but did not complete a second trip down the Altenberg track.
With her fourth place finish, coupled with Furneaux not scoring points, Great Britain's Brogan Crowley leaves Altenberg with a 103 point advantage over Furneaux, and thus clinching the IBSF European Cup title. The fourth place finish was the first time off the podium for Crowley all season.
Samantha Culiver McQuade finished eighth to lead the way for the United States, while teammate Veronica Day finished tied for 14th.
Results:
| | | | | | | | |
| --- | --- | --- | --- | --- | --- | --- | --- |
| Pos | Name | Nation | Start 1 | Start 2 | Run 1 | Run 2 | Total |
| 1 | Susanne Kreher | GER | 5.75 | 5.68 | 60.06 | 59.30 | 1:59.36 |
| 2 | Corinna Leipold | GER | 5.92 | 5.84 | 60.36 | 59.58 | 1:59.94 |
| 3 | Alina Tararychenkova | RUS | 5.71 | 5.72 | 60.51 | 59.81 | 2:00.32 |
| 4 | Brogan Crowley | GBR | 5.79 | 5.76 | 60.82 | 60.43 | 2:01.25 |
| 5 | Agathe Bessard | FRA | 6.22 | 6.14 | 61.74 | 60.22 | 2:01.96 |
| 6 | Ashleigh Pittaway | GBR | 6.20 | 6.23 | 61.50 | 60.90 | 2:02.40 |
| 7 | Endija Terauda | LAT | 6.10 | 6.04 | 61.39 | 61.08 | 2:02.47 |
| 8 | Samantha Culiver McQuade | USA | 5.93 | 5.87 | 61.87 | 60.63 | 2:02.50 |
| 9 | Chengfeng Long | CHN | 5.74 | 5.64 | 61.56 | 60.98 | 2:02.54 |
| 10 | Stefanie Votz | GER | 6.61 | 6.63 | 61.86 | 61.04 | 2:02.90 |
| 11 | Maria Surovtseva | RUS | 6.11 | 5.99 | 61.49 | 61.49 | 2:02.98 |
| 12 | Anastasia Trufanova | RUS | 5.94 | 5.91 | 61.90 | 61.42 | 2:03.32 |
| 13 | Darta Zunte | LAT | 6.09 | 6.11 | 62.85 | 61.58 | 2:04.43 |
| 14 | Veronica Day | USA | 5.91 | 5.90 | 62.37 | 62.19 | 2:04.56 |
| 14 | Xinwei Wu | CHN | 6.07 | 6.05 | 62.62 | 61.94 | 2:04.56 |
| 16 | Alessia Crippa | ITA | 6.07 | 6.03 | 63.60 | 62.03 | 2:05.63 |
| 17 | Elena Scarpellini | ITA | 5.91 | 5.77 | 63.81 | 62.68 | 2:06.49 |
| 18 | Katrien de Neve | BEL | 6.72 | 6.63 | 64.04 | 63.73 | 2:07.77 |
| DNS | Dleanor Furneaux | GBR | 5.76 | | 63.06 | DNS | |