From St. Moritz, GER
(Jan. 14, 2018) Every year there's a new track record set in St. Moritz, and usually it's the winner who has it. Johannes Lochner left St. Moritz without a four-man start record, or four-man track record, but he did walk away with a four-man gold medal.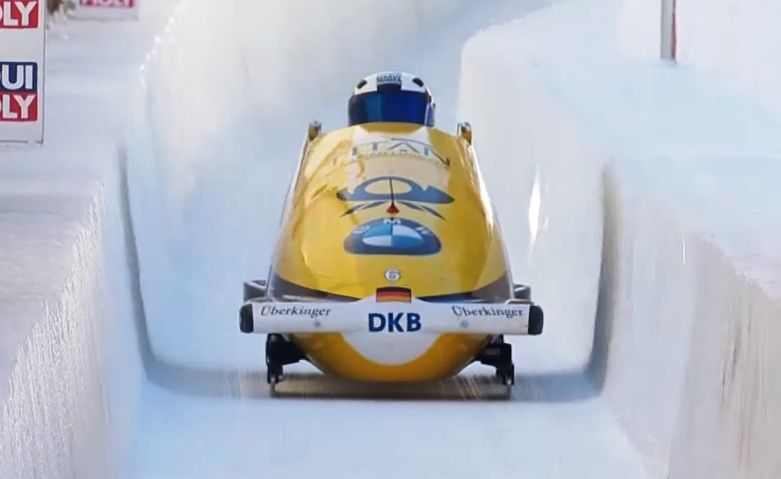 The German carried a .15 second advantage over teammate Francesco Friedrich into the second heat. Friedrich put the pressure on Lochner with his second run, setting both a start record and track record on his way down the historic sliding course.
Lochner's team pushed him within .02 of the time set by Friedrich, and while his drive also wasn't quite as quick ad Friedrich's, it was enough to hold onto the lead and the gold medal.
The win was Lochner's fourth four-man gold in the IBSF World Cup this season.
Friedrich settled for silver, while Chris Spring of Canada won his second bronze medal of the season in third.
Benjamin Maier moved up from sixth to fourth in his second run, while Oskars Kibermanis moved up from eighth to fifth. American Codie Bascue finished sixth.
Justin Olsen overcame an early deficit caused in part by an early start draw. He came into his second trip down St. Moritz in 17th, but a fantastic push (second fastest) and great drive (sixth fastest) moved him up to 11th overall.
Canadian Justin Kripps struggled to find speed in the four-man competition, finishing 16th. Teammate Nick Poloniato just missed the second run in 22nd in a new sled.
For Great Britain, Bradley Hall scored a top 10 with his 10th place run, while Lamin Deen finished 19th.
Nico Walther was disqualified for having an underweight sled, his second DSQ of the year for sled issues.
Results:
| | | | | | | | | |
| --- | --- | --- | --- | --- | --- | --- | --- | --- |
| Pos | Names | Nation | Bib | Start 1 | Start 2 | Run 1 | Run 2 | Total |
| 1 | Lochner / Mrowka / Bluhm / Rasp | GER | 10 | 5.01 | 4.99 | 64.26 | 64.16 | 2.08.42 |
| 2 | Friedrich / Bauer / Grothkopp / Margis | GER | 9 | 5.06 | 4.97 | 64.41 | 64.15 | 2:08.56 |
| 3 | Spring / Barnet / Brown / Wright | CAN | 14 | 5.10 | 5.05 | 64.54 | 64.41 | 2:08.95 |
| 4 | Maier / Laussegger / Sammer ? Moldovan | AUT | 16 | 5.08 | 5.06 | 64.61 | 64.44 | 2:09.05 |
| 5 | Kibermanis / Jansons / Lusis / Miknis | LAT | 8 | 5.05 | 5.02 | 64.73 | 64.34 | 2:09.07 |
| 6 | Bascue / Weber / Valdes / C. Fogt | USA | 13 | 5.04 | 5.02 | 64.55 | 64.58 | 2:09.13 |
| 7 | Costerg / Ricard / Castell / Hauterville | FRA | 21 | 5.14 | 5.11 | 64.56 | 64.68 | 2:09.24 |
| 8 | Rinaldi / Vain / Demarthon / Borges Mendonaca | MON | 26 | 5.13 | 5.11 | 64.64 | 64.69 | 2:09.33 |
| 9 | Melbardis / Dreiskens / Milkaste / Strenga | LAT | 6 | 5.07 | 5.03 | 64.86 | 64.50 | 2:09.36 |
| 10 | Hall / Gleeson / Fearon / Cackett | GBR | 17 | 5.03 | 5.00 | 64.76 | 64.62 | 2:09.38 |
| 11 | Olsen / Weinstock / Langton / McGuffie | USA | 5 | 5.03 | 4.99 | 64.93 | 64.46 | 2:09.39 |
| 12 | Stulnev / Koshelev / Malykh / Mordasov | RUS | 22 | 5.11 | 5.08 | 64.79 | 64.66 | 2:09.45 |
| 13 | Peter / Baumann / Friedli / Kuonen | SUI | 18 | 5.11 | 5.09 | 64.86 | 64.60 | 2:09.46 |
| 14 | Andrianov / Khuzin / Selikhov / Samitov | RUS | 20 | 5.10 | 5.08 | 64.91 | 64.63 | 2:09.54 |
| 15 | Kasjanov / Zaitsev / Kondratenko / Pushkarev | RUS | 15 | 5.09 | 5.07 | 64.77 | 64.80 | 2:09.57 |
| 16 | Kripps / Kopacz / Nemet / Coakwell | CAN | 7 | 5.07 | 5.04 | 64.91 | 64.79 | 2:09.70 |
| 17 | de Bruin / Piek / van der Zijde / Franjic | NED | 4 | 5.10 | 5.05 | 65.07 | 64.76 | 2:09.83 |
| 18 | Bracher / Meier / Ferrari / Badraun | SUI | 1 | 5.15 | 5.09 | 65.13 | 64.80 | 2:09.93 |
| 19 | Deen / Simons / Olubi / Matthews | GBR | 11 | 5.09 | 5.10 | 64.90 | 65.20 | 2:10.10 |
| 20 | Bertazzo / Fontana / Ughi / Costa | ITA | 23 | 5.21 | 5.24 | 64.94 | 65.40 | 2:10.34 |
| 21 | Treichl / Esterhammer / Rangl / Bassey | AUT | 24 | 6.18 | | 65.16 | | |
| 22 | Poloniato / Stones / Kirkpatrick / Plug | CAN | 19 | 5.09 | | 65.18 | | |
| 23 | Luty / Zdebiak / Miedzik / Kossakowski | POL | 2 | 5.18 | | 65.19 | | |
| 24 | Vrba / Havlin / Suchy / Egydy | CZE | 25 | 5.18 | | 65.23 | | |
| 25 | Mata / Reidy / Mari / Smith | AUS | 3 | 5.24 | | 66.12 | | |
| DSQ | Walther / Kuske / Poser / Franke | GER | 12 | | | DSQ | | |