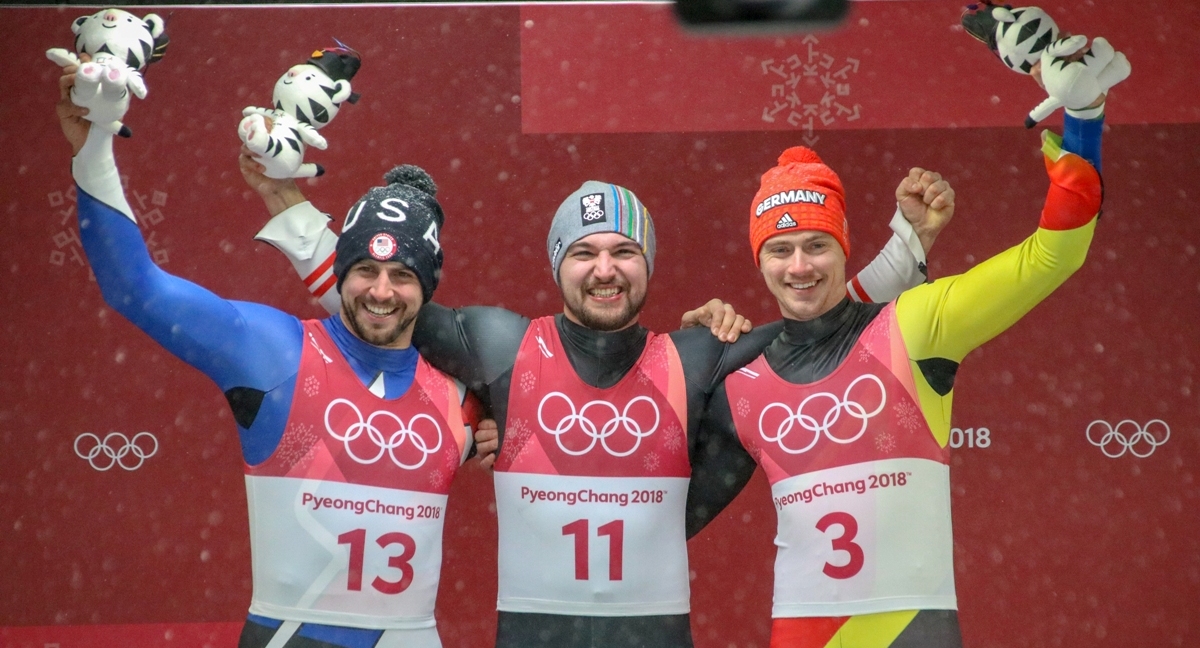 Feb. 12, 2018 – I've re-written this post from scratch probably a half-dozen times, trying to find the right words to say how I felt last night. Personally, I didn't win anything. I wasn't on the track, I didn't get anything for being here, and honestly I couldn't even get a shuttle ride from the track (we'll talk about that some other time).
But the feelings I had watching Chris Mazdzer, a guy who is (or at least should be) beloved by all and has had by all accounts a brutal 2017/2018 campaign, make history as an American luge athlete were pretty heavy. Never has the United States men's luge athlete won a medal in the Olympics, nor has anyone in singles luge won anything higher than bronze (Erin Hamlin 2014). It was a huge day for a great person, for a national luge team and for a lot of people who'd worked so hard to help Mazdzer get where he was.
And I was here for it. And it was amazing.
The crowd was electric, and especially the roar when Mazdzer came across the line is something I can promise I'll never forget.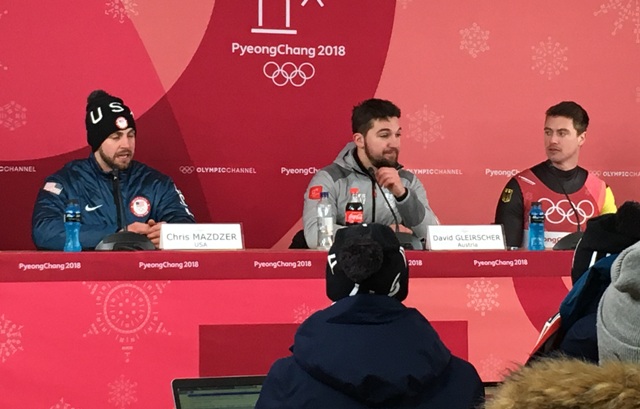 The looks on the faces of Mazdzer, gold medalist David Gleirscher and bronze medalist Johannes Ludwig in the post-race press conference were enough to warm the coldest of hearts. Mazdzer recounted how after Lillehammer he felt just completely lost. He fell back on some sliding friends for help, and things turned around. Then here in Pyeongchang everything fell his way. He was sure he had it when he got to the top for his final run, but still had to make a clean run to win a medal.
It was something Felix Loch couldn't do, and it's why Gleirscher was sitting next to Chris Mazdzer still in disbelief.
Gleirscher called it a fairy-tale, coming from making the Olympic team for Austria by the skin of his teeth and never having won anything to speak of to being the first gold medalist in these Olympics for Austria.
Then there was Johannes Ludwig of Germany. His teammate, the guy who was supposed to win gold in this event, made a mistake nobody expected. Not even Ludwig. Mazdzer commented that Ludwig looked at his now fellow-medalists with a look of disbelief (one we all had, if we're being honest). In part it was that he'd won a medal, but in part it was that Loch had botched the 9-to-10 transition and cost himself probably a half second of time.
So seeing those three guys win medals in front of family and friends, all of whom for some reason or other during the season had every reason this season to think there's no way this would happen, was enough to get me all emotional.
And we're just going into our third day of competition on the mountain. There's a long way to go, and a lot of stories to be told, but we're off to an incredible start.