Feb. 19 – So it's been a bit since I've been able to put together a blog post for this trip. To be honest, it's not for a lack of excitement or anything like that. There's been plenty: Luge races were exciting, Alex Gough and Canada won medals in women's luge and the Team Relay, Dom Parsons won the first bronze medal for Great Britain in 70 years in men's skeleton, and lots of Germans won a bunch of stuff.
I'll talk about all of that some other time, but for now we're going to talk about buses.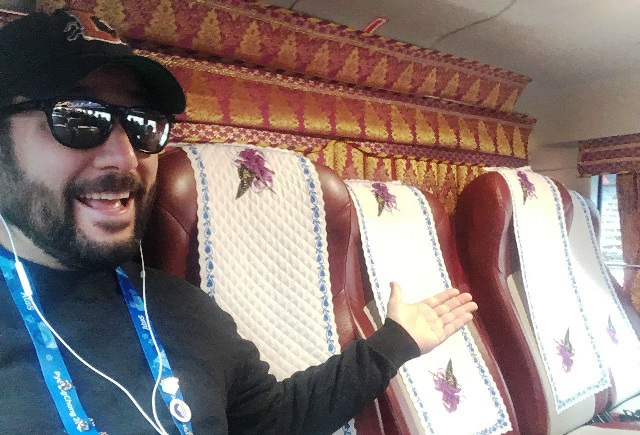 Yes, buses.
When you're media at the Olympics, there's apparently a substantial amount of time you spend riding around on buses. I'm staying in the coastal cluster, about 35 minutes or so from the mountain cluster. Thankfully there's a shuttle right to the Main Press Center (MPC) from outside of my apartment, and it's not a bad ride up. The views are beautiful, and you get a really great view of the mountains you're climbing on the way up.
Once you get to the MPC you then have to hop on another shuttle to get to your venue. Now, on my first day here I tried to get on a shuttle, was told some wrong information (then more wrong information) and ended up on what I call the bus to nowhere. What I wanted was the TM3 shuttle. What I was told I needed was the TC3 bus, which for starters doesn't go in a loop. It just stops at a parking lot for a half hour and then you go back the way you came.
Good times.
So that was an ordeal. But over course of the last week and a half I've finally gotten the hang of most of the bus system, just in time for the Olympics to be over soon. There's quite the "hub-and-spoke" system to get you basically everywhere you need to go in a semi-timely manner. Sometimes the buses have been late, one time they didn't show up to the sliding track, but given the sheer size of the Games I'm still rather impressed with the ability to get people around.

Probably my favorite part of the bus system here is the decor. When you're in the United States, Canada, or wherever, you think about buses as just being big and kind of boring. Not here. Nearly every bus is decked out with curtains, various neon lights, and some delightfully tacky seats. Some even have some really well-done cabinetry. I get that most of these buses are private that are being leased by the Olympics to be shuttles, but it's fascinating to me that it's sort of the way buses just are.
So, for one more week I'll ride back to my apartment at night under the gentle glow of obnoxious neon lights with a bright red and gold curtain brushing up against my face. It might not be the classiest way to travel, but the folks who own these buses sure try to make it feel fancy.