From Pyeongchang, KOR
Feb. 19, 2018 – For the first time since 1998 there was a tie for gold in 2-man bobsled.
Everyone knew the race would be tight, with the top five of Justin Kripps, Francesco Friedrich, Johhannes Lochner, Oskars Melbardis and Nico Walther all separated by just .13 seconds.
On the fourth and final run, Melbardis made his move, moving up from fourth to third on the strength of a heat-fastest 49.21 run. After a tough fourth run bumped Lochner back, Friedrich threw down a time just .01 slower than Melbardis' run, putting him in the lead with only Justin Kripps to go.
Kripps had trouble early in his final run down, with Curve 2 slowing him down just a bit. His run through the labrynth from Curves 9 to 12 was better than Friedrich's, and for a moment it looked like Kripps would take the win. As the Canadian crossed the line, timing and scoring showed him tied with Friedrich to give us the first sliding sport tie for gold of these 2018 Olympics.
The tie was the first for gold in the Olympics since 1998, when Pierre Lueders (CAN) and Günther Huber (ITA) tied at the Spiral in Nagano.
The gold medal capped off an amazing season for Kripps, who won the IBSF World Cup 2-man and combined 2-man/4-man titles during the 2017/2018 season. His previous World Cup best finish had been seventh, with a sixth place finish in the 2014 Olympic Games.
"Last season we really struggled a lot, we couldn't really get our equipment we dialed in," Kripps said of his previous-season struggles. "We battled through struggles in Europe, finishing around 13th, 14th and around there. We buckled down and focused and kept working, and said we can either give up and accept that we can't win right now or we can keep pushing and when we have what we need to win we'll be in a position to do so. We finally got what we needed [for equipment] and had the skills because we pushed through the times when we struggled."
Germany struggled in the 2014 Olympics, and with Friedrich leading a charge of three German teams in the top five, his gold medal signals a return to glory for the German program.
"We finished Sochi, and I said I never want to have this kind of result again. We've been getting better and better, and won a few World Championships, so this feels great to come back to win gold."
Melbardis took bronze, just .05 off the gold medal pace for it to be the closest race ever in Olympic History. Walther, Lochner, and home track slider Won Yunjong rounding out the top six.
For Melbards, who'd been oft-injured over the past two seasons, a bronze medal was a great result considering a tough couple of seasons.
"It's been a tough two years," Melbardis said. "After I hurt my back and came back from that, we just focused on these Olympics more than anything. Then I had the setback with the leg injury, so I'm very happy that we've been able to win a bronze medal. It was a great race."
Nick Poloniato ripped off a great fourth and final run to move up from ninth in the third heat to seventh place. Chris Spring rounded out a solid Canadian effort in tenth place.
Justin Olsen led the way for an American squad who had trouble finding their groove. Olsen came into the second day of sliding in 12th place, but fell back two spots on his fourth run to 14th.
Nick Cunningham finally hit his stride in his third and final run, putting down his best run of the week between training and the race itself. His 49.62 was 15th fastest in the final heat, and moved him up to 21st from 24. Teammate Codie Bascue had a really nice set of training runs, but couldn't match that rhythm in the race and finished 25th.
Brad Hall couldn't match his first day of sliding in the final two runs. He came into the third run in seventh place, but over the course of two runs fell to 12th.
Lucas Mata finished 22nd for Australia.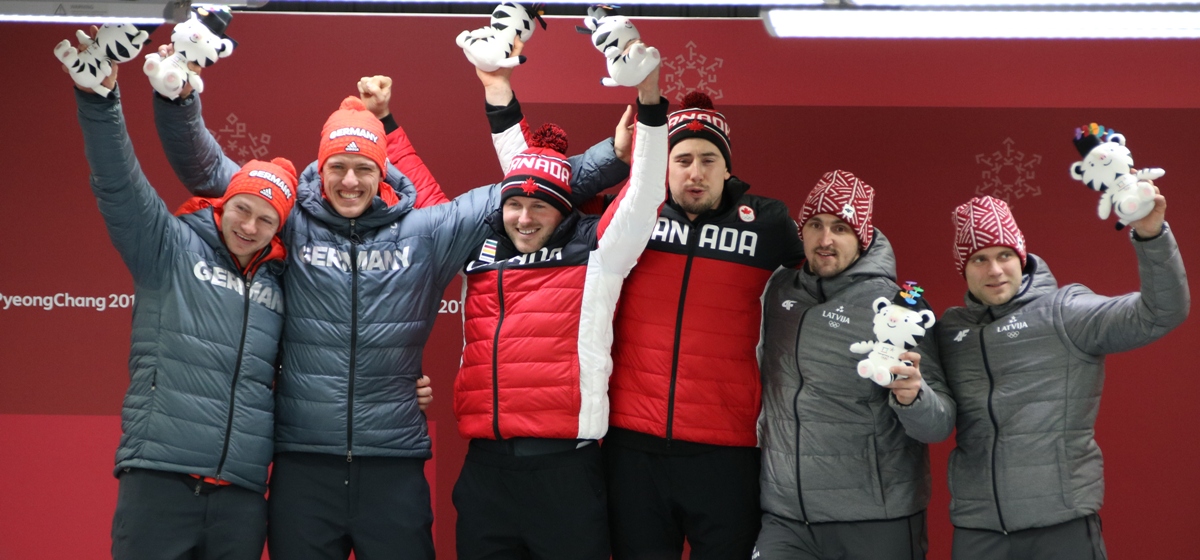 Results:
| | | | | | | | | |
| --- | --- | --- | --- | --- | --- | --- | --- | --- |
| Pos | Names | Nation | Bib | Run 1 | Run 2 | Run 3 | Run 4 | Total |
| 1 | Francesco Friedrich / Thorsten Margis | GER | 7 | 49.22 | 49.46 | 48.96 | 49.22 | 3:16.86 |
| 1 | Justin Kripps / Alexander Kopacz | CAN | 6 | 49.10 | 49.39 | 49.09 | 49.28 | 3:16.86 |
| 3 | Oskars Melbardis / Janis Strenga | LAT | 13 | 49.08 | 49.54 | 49.08 | 49.21 | 3:16.91 |
| 4 | Nico Walther / Christian Poser | GER | 11 | 49.12 | 49.27 | 49.32 | 49.35 | 3:17.06 |
| 5 | Johannes Lochner / Christopher Weber | GER | 10 | 49.24 | 49.34 | 49.09 | 49.47 | 3:17.14 |
| 6 | Yunjong Won / Youngwoo Seo | KOR | 30 | 49.50 | 49.39 | 49.15 | 49.36 | 3:17.40 |
| 7 | Nick Poloniato / Jesse Lumsden | CAN | 14 | 49.48 | 49.48 | 49.33 | 49.45 | 3:17.74 |
| 8 | Benjamin Maier / Markus Sammer | AUT | 15 | 49.41 | 49.47 | 49.32 | 49.56 | 3:17.76 |
| 9 | Oskars Kibermanis / Matiss Miknis | LAT | 9 | 49.21 | 49.57 | 49.32 | 49.70 | 3:17.80 |
| 10 | Chris Spring / Lascelles Brown | CAN | 8 | 49.38 | 49.58 | 49.56 | 49.72 | 3:18.24 |
| 11 | Rico Peter / Simon Friedli | SUI | 12 | 49.72 | 49.53 | 49.52 | 49.49 | 3:18.26 |
| 12 | Brad Hall / Joel Fearon | GBR | 2 | 49.37 | 49.50 | 49.67 | 49.80 | 3:18.34 |
| 13 | Romain Heinrich / Dorian Hauterville | FRA | 23 | 49.74 | 49.73 | 49.55 | 49.46 | 3:18.48 |
| 14 | Justin Olsen / Evan Weinstock | USA | 19 | 49.66 | 49.55 | 49.53 | 49.80 | 3:18.54 |
| 15 | Markus Treichl / Kilian Walch | AUT | 24 | 49.67 | 49.67 | 49.56 | 49.66 | 3:18.56 |
| 16 | Clemens Bracher / Michael Kuonen | SUI | 17 | 49.73 | 49.90 | 49.64 | 49.56 | 3:18.83 |
| 17 | Dominik Dvorak / Jakub Nosek | CZE | 21 | 49.70 | 49.63 | 49.67 | 49.86 | 3:18.86 |
| 18 | Mihai Tentea / Nicolae Daroczi | ROU | 26 | 49.69 | 49.72 | 49.93 | 49.64 | 3:18.98 |
| 19 | Rudy Rinaldi / Boris Vain | MON | 25 | 49.85 | 49.69 | 49.68 | 49.80 | 3:19.02 |
| 20 | Alexey Stulnev / Vasiliy Kondratenko | OAR | 18 | 49.77 | 49.99 | 49.74 | 49.87 | 3:19.37 |
| 21 | Nick Cunningham / Hakeem Abdul-Saboor | USA | 16 | 49.96 | 50.11 | 49.62 | | 2:29.69 |
| 22 | Lucas Mata / David Mari | AUS | 3 | 49.88 | 50.04 | 49.87 | | 2:29.79 |
| 23 | Jan Vrba / Jakub Havlin | CZE | 29 | 49.93 | 50.07 | 49.86 | | 2:29.86 |
| 24 | Mateusz Luty / Krzysztof Tylkowski | POL | 22 | 49.87 | 50.10 | 49.92 | | 2:29.89 |
| 25 | Codie Bascue / Samuel McGuffie | USA | 20 | 50.03 | 50.16 | 49.90 | | 2:30.09 |
| 26 | Chunjian Li / Sidong Wang | CHN | 27 | 50.13 | 50.21 | 50.15 | | 2:30.49 |
| 27 | Edson Bindilatti / Edson Martins | BRA | 1 | 50.14 | 50.22 | 50.35 | | 2:30.71 |
| 28 | Maxim Andrianov / Yury Selikhov | OAR | 5 | 50.27 | 50.58 | 49.98 | | 2:30.83 |
| 29 | Jian Jin / Hao Shi | CHN | 28 | 50.47 | 50.17 | 50.33 | | 2:30.97 |
| 30 | Drazen Silic / Benedikt Nikpalj | CRO | 4 | 50.76 | 50.91 | 50.99 | | 2:32.66 |