From Pyeongchang, KOR
Feb. 25, 2018 – Francesco Friedrich won gold medals in both two-man and four-man bobsled in the 2017 IBSF World Championships in Königssee. One year later, he's accomplished the same feat again at the 2018 Olympic Games.
Friedrich led from the first heat and had the fastest run in the first three heats to cruise to a .53 victory over German teammate Nico Walther and Korea Won Yunjong.
The gold medal is the first for Friedrich in the Olympics, where he finished well out of the medals in eighth place.
The secret to his success, according to Friedrich, is the closeness of his team.
"We have a great team, when we lose and when we win, we always work together," Friedrich said. "Everyone has come together, there's different pieces that have come together between coaching and equipment and everything. It's what made us the best team in both two and four-man bobsled."
Walther came into the second day of sliding having hovered around third place most of the event. He credited strong pushes from his team
"From yesterday to today, we changed our back runners and that seemed to help us find some speed. My boys did a really great job, the last run's start time is what got us in the silver medal," Walther said. "We were faster at the start today and that couple hundredths meant one place on the podium."
For Won, the silver medal in four-man bobsled is a career-best finish in the discipline, with his previous best being a fifth place finish in Lake Placid in December, 2016. Having been generally considered a two-man specialist, the silver medal is also a bit of redemption for the 2015/2016 World Cup two-man champion, as he failed to contend for a medal earlier in the week.
"Until one or two years ago we focused our training on two-man bobsled," Won said. "As a result, we got better at it. Last year we started putting equal work on both the two and four-man sleds. We didn't want to just be competitive in two-man, but also the four-man sled. Because of that extra work, we're here with a silver medal."
Rico Peter moved up the order in every heat, from eighth in his first run to a fourth place finish at the end of the event. Oskars Melbardis, the 2014 Olympic four-man champion, finished fifth, while Justin Kripps finished sixth.
Codie Bascue led the way for the United States with a ninth place finish. Bascue came into his second run in 12th, but three good runs to round out the Olympics moved him up to a top ten finish.
This was Bascue's first Olympics, and the American was happy with his top ten finish.
"I think it's hard to go into any competition, especially in the Olympic Games, without expecting to do well," Bascue told USA Bobsled & Skeleton. "We had the tools, but certain things didn't go our way. Ninth place is still a good start for a first Olympics, I'm happy with that."
Bascue's teammates, Nick Cunninigham and Justin Olsen, rounded out the top 20 in 19th and 20th respectively. Olsen came into the day in 21st and moved up into 20th with a quick and clean third run.
Behind Kripps' sixth place finish, the Canadian men couldn't piece four runs together. Nick Poloniato put down a quick fourth run to move up from 14th to 12th, while Chris Spring finished 16th.
For Great Britain, there was a lot of hope coming into the four-man competition. A tough start for both Brad Hall and Lamin Deen set the squads back early, but clean fourth runs for both kept them in 17th and 18th, respectively.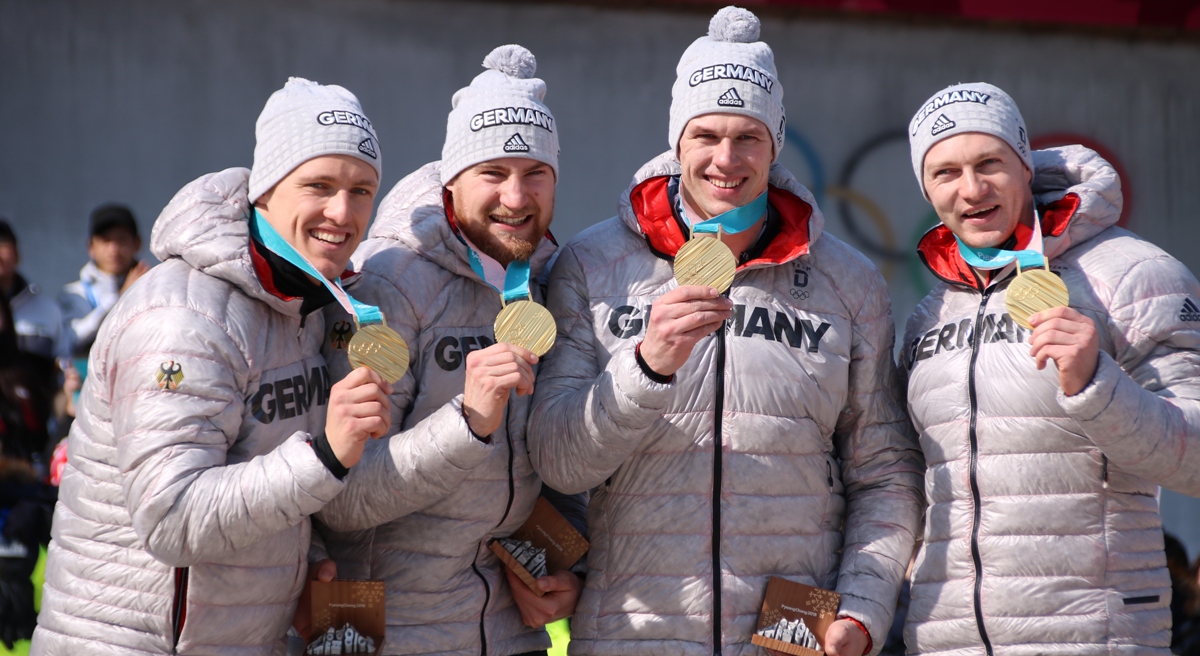 Results:
| | | | | | | | | |
| --- | --- | --- | --- | --- | --- | --- | --- | --- |
| Pos | Names | Nation | Bib | Run 1 | Run 2 | Run 3 | Run 4 | Total |
| 1 | Friedrich / Bauer / Grothkopp / Margis | GER | 7 | 48.54 | 49.01 | 48.76 | 49.54 | 3:15.85 |
| 2 | Walther / Kuske / Rödiger / Franke | GER | 8 | 48.74 | 49.16 | 48.90 | 49.58 | 3:16.38 |
| 3 | Won / Jun / Seo / Kim | KOR | 1 | 48.65 | 49.19 | 48.89 | 49.65 | 3:16.38 |
| 4 | Peter / Amrhein / Friedli / Kuonen | SUI | 16 | 49.05 | 49.16 | 48.87 | 49.51 | 3:16.59 |
| 5 | Melbardis / Dreiskens / Vilkaste / Strenga | LAT | 10 | 48.82 | 49.39 | 48.91 | 49.53 | 3:16.65 |
| 6 | Kripps / Lumsden / Kopacz / Smith | CAN | 9 | 48.85 | 49.28 | 48.95 | 49.61 | 3:16.69 |
| 7 | Maier / Walch / Sammer / Moldovan | AUT | 14 | 49.10 | 49.21 | 49.03 | 49.56 | 3:16.90 |
| 8 | Lochner / Poser / Weber / Rasp | GER | 6 | 48.95 | 49.26 | 49.10 | 49.80 | 3:17.11 |
| 9 | Bascue / Weinstock / Langton / McGuffie | USA | 13 | 49.09 | 49.34 | 49.08 | 49.77 | 3:17.28 |
| 10 | Kibermanis / Jansons / Lusis / Miknis | LAT | 12 | 49.18 | 49.26 | 49.34 | 49.63 | 3:17.41 |
| 11 | Costerg / Ricard / Castell / Hauterville | FRA | 18 | 49.09 | 49.36 | 49.19 | 49.92 | 3:17.56 |
| 12 | Poloniato / Stones / Kirkpatrick / Coakwell | CAN | 21 | 49.40 | 49.23 | 49.51 | 49.67 | 3:17.81 |
| 13 | Luty / Zdebiak / Miedzik / Kossakowski | POL | 5 | 49.04 | 49.59 | 49.46 | 49.80 | 3:17.89 |
| 14 | Bracher / Knuser / Meier / Badraun | SUI | 3 | 49.06 | 49.54 | 49.59 | 49.72 | 3:17.91 |
| 15 | Andrianov / Zaitsev / Kondratenko/ Samitov | OAR | 20 | 49.43 | 49.39 | 49.56 | 49.56 | 3:17.94 |
| 16 | Spring / Brown / Barnett / Wright | CAN | 11 | 49.06 | 49.58 | 49.46 | 49.86 | 3:17.96 |
| 17 | Hall / Gleeson / Fearon / Cackett | GBR | 17 | 49.25 | 49.68 | 49.64 | 49.69 | 3:18.26 |
| 18 | Deen / Simons / Olubi / Matthews | GBR | 15 | 49.44 | 49.45 | 49.66 | 49.74 | 3:18.29 |
| 19 | Cunningham / Abdul-Saboor / Kinney / Michener | USA | 22 | 49.60 | 49.50 | 49.74 | 49.70 | 3:18.54 |
| 20 | Olsen / Weber / Valdes / C. Fogt | USA | 19 | 49.62 | 49.71 | 49.66 | 49.56 | 3:18.55 |
| 21 | Dvorak / Kopriva / Sindelar / Nosek | CZE | 2 | 49.07 | 49.97 | 50.05 | | 2:29.09 |
| 22 | Treichl / Glück / Rangl / Bassey | AUT | 24 | 49.73 | 49.83 | 49.68 | | 2:29.24 |
| 23 | Bindilatti / Pessoni / Martins / Souza da Silva | BRA | 23 | 49.75 | 49.94 | 49.80 | | 2:29.49 |
| 24 | Vrba / Stoklaska / Suchy / Egydy | CZE | 28 | 49.73 | 49.81 | 50.05 | | 2:29.59 |
| 25 | Mata / Mari / Reidy / Smith | AUS | 4 | 49.72 | 49.91 | 50.07 | | 2:29.70 |
| 26 | Shao / Wang / Li / Shi | CHN | 26 | 49.79 | 50.01 | 49.94 | | 2:29.74 |
| 27 | Bertazzo / Fontana / Costa / Bilotti | ITA | 25 | 49.92 | 49.94 | 50.02 | | 2:29.88 |
| 28 | Silic / Nikpalj / Mezulic / Zelic | CRO | 27 | 50.18 | 50.64 | 50.63 | | 2:31.45 |
| 29 | Grigore / Muntean / Craciun / Bartha | ROU | 29 | 50.55 | 50.79 | 50.81 | | 2:32.15 |