From Igls, AUT
(Nov. 25, 2018) – Johanes Ludwig won a medal in his last race, the 2018 Olympic Games. The German kept his medal winning streak alive with a gold medal in the 2018/2019 season opening race in Igls.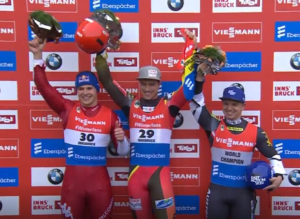 Ludwig came into the second heat tied for the lead with Russian Semen Pavlichenko. While Pavlichenko struggled to find pace in his second race, Ludwig did not, and finished the race with a second-fastest second run to take the gold medal.
Dominik Fischnaller finished second for Italy, moving up from fifth place. Defending World Champion Wolfgang Kindl struggled on his home track on his first run, but rallied back from 18th up to the podium in third on the strength of a race-fastest second run.
Davlid Gleirscher finished fourth, with the Olympic champion missing the podium by just .011. Pavlichenko finished fifth and Felix Loch rounded out the top six.
Jonathan Gustafson led the American contingent with a 15th place finish and a spot in the Sprint World Cup later on in the day. Olympic bronze medalist Chris Mazdzer finished 17th, with West finishing 19th to round out the American effort.
Reid Watts was the lone Canadian to qualify for the World Cup event in Igls, finishing 22nd.
Results:
| | | | | | | | | |
| --- | --- | --- | --- | --- | --- | --- | --- | --- |
| Pos | Name | Nation | Bib | Start 1 | Start 2 | Run 1 | Run 2 | Total |
| 1 | Johannes Ludwig | GER | 29 | 5.365 | 5.345 | 50.193 | 50.101 | 1:40.294 |
| 2 | Dominik Fischnaller | ITA | 30 | 3.375 | 5.375 | 50.275 | 50.117 | 1:40.392 |
| 3 | Wolfgang Kindl | AUT | 31 | 5.440 | 5.423 | 50.421 | 50.017 | 1:40.438 |
| 4 | David Gleirscher | AUT | 28 | 5.388 | 5.389 | 50.322 | 50.127 | 1:40.449 |
| 5 | Semen Pavlichenko | RUS | 27 | 5.375 | 5.375 | 50.193 | 50.374 | 1:40.567 |
| 6 | Felix Loch | GER | 26 | 5.407 | 5.399 | 50.256 | 50.312 | 1:40.568 |
| 7 | Chris Eißler | GER | 7 | 5.387 | 5.385 | 50.212 | 50.363 | 1:40.575 |
| 8 | Kevin Fischnaller | ITA | 20 | 5.420 | 5.425 | 50.275 | 50.313 | 1:40.588 |
| 9 | Roman Repilov | RUS | 32 | 5.404 | 5.372 | 50.456 | 50.150 | 1:40.606 |
| 10 | Reinhard Egger | AUT | 24 | 5.413 | 5.419 | 50.414 | 50.199 | 1:40.613 |
| 11 | Nico Gleirscher | AUT | 18 | 5.390 | 5.385 | 50.369 | 50.255 | 1:40.624 |
| 12 | Max Langenhan | GER | 13 | 5.406 | 5.408 | 50.339 | 50.299 | 1:40.638 |
| 13 | Aleksandr Gorbatcevich | RUS | 17 | 5.416 | 5.414 | 50.386 | 50.282 | 1:40.668 |
| 14 | Stepan Fedorov | RUS | 15 | 5.393 | 5.401 | 50.325 | 50.348 | 1:40.673 |
| 15 | Jonathan Gustafson | USA | 14 | 5.374 | 5.392 | 50.387 | 50.413 | 1:40.800 |
| 16 | Sebastian Bley | GER | 10 | 5.384 | 5.404 | 50.382 | 50.432 | 1:40.814 |
| 17 | Chris Mazdzer | USA | 22 | 5.416 | 5.412 | 50.410 | 50.419 | 1:40.829 |
| 18 | Maksim Aravin | RUS | 12 | 5.475 | 5.478 | 50.524 | 50.332 | 1:40.856 |
| 19 | Tucker West | USA | 23 | 5.361 | 5.355 | 50.399 | 50.510 | 1:40.909 |
| 20 | Inars Kivlenieks | LAT | 25 | 5.398 | 5.385 | 50.478 | 50.454 | 1:40.932 |
| 21 | Arturs Darznieks | LAT | 8 | 5.427 | 5.413 | 50.488 | 50.457 | 1:40.945 |
| 22 | Reid Watts | CAN | 11 | 5.397 | 5.397 | 50.483 | 50.481 | 1:40.964 |
| 23 | Jozef Ninis | SVK | 21 | 5.483 | 5.476 | 50.575 | 50.397 | 1:40.972 |
| 24 | Jonas Müller | AUT | 16 | 5.400 | 5.402 | 50.413 | 50.613 | 1:41.026 |
| 25 | Matuesz Pawel Sochowicz | POL | 6 | 5.436 | 5.424 | 50.599 | 50.621 | 1:41.220 |
| 26 | Maciej Kurowski | POL | 3 | 5.475 | 5.495 | 50.744 | 50.765 | 1:41.509 |
| 27 | Jakub Simonak | SVK | 9 | 5.405 | 5.399 | 50.677 | 50.897 | 1:41.574 |
| 28 | Anton Dukach | UKR | 1 | 5.433 | 5.437 | 50.806 | 50.827 | 1:41.633 |
| 29 | Riks Kristens Rozitis | LAT | 4 | 5.512 | 5.468 | 50.693 | 50.972 | 1:41.665 |
| 30 | Valentin Cretu | ROU | 5 | 5.399 | 5.422 | 50.781 | 50.890 | 1:41.671 |
| 31 | Alexander Michael Ferlazzo | AUS | 2 | 5.427 | 5.419 | 51.580 | 50.950 | 1:42.530 |
| DSQ | Kristers Aparjods | LAT | 19 | 5.441 | | DSQ | | |