From Winterberg, GER
(Dec. 14, 2018) –  Russian Alexander Tretiakov dominated in both heats of the IBSF World Cup race in Winterberg on the way to his first gold medal since January and his first in Winterberg in over a decade.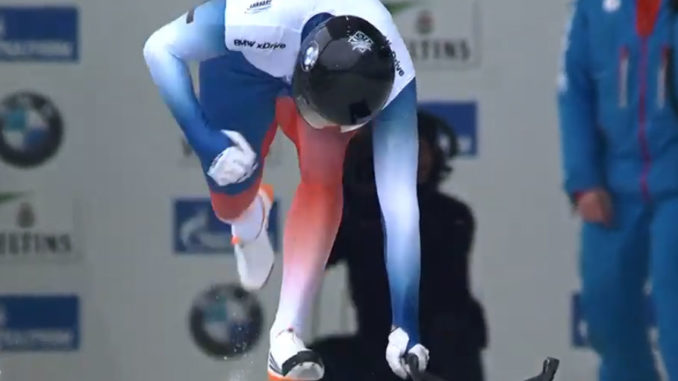 The Russian Rocket was the quickest in both heats on his way to a .83 second victory over German Axel Jungk. At no point along the German course was anyone quicker.
Despite a myriad of podiums throughout the years at the German track, the gold medal was the first for Tretiakov in Winterberg since the 2006/2007 season.
Jungk's silver medal came after a fifth place run in the first heat. His downtime in the second heat was only behind Tretiakov's and enough to propel him ahead of Olympic gold medalist Sungbin Yun by .01. Yun finished just .04 ahead of Sigulda winner Nikita Tregubov, who finished fourth.
Tomass Dukurs and Alexander Gassner rounded out the top six, while Martins Dukurs finished off the podium in Winterberg for the first time since 2004 in seventh place.
Marcus Wyatt finished tenth on his birthday to lead the way for Great Britain, ahead of teammates Jerry Rice and Jack Thomas who finished 15th and 23rd, respectively.
The United States continued to improve after losing 2/3 of their men's World Cup squad over the off-season. Kyle Brown finished 13th, Greg West finished 16th and Austin Florian 19th. The World Cup start was the first for Florian.
Kevin Boyer and Dave Greszczyszyn finished 14th and 21st for Canada.
Results:
| | | | | | | | | |
| --- | --- | --- | --- | --- | --- | --- | --- | --- |
| Pos | Name | Nation | Bib | Start 1 | Start 2 | Run 1 | Run 2 | Total |
| 1 | Alexander Tretiakov | RUS | 8 | 4.81 | 4.82 | 56.11 | 55.96 | 1:52.07 |
| 2 | Axel Jungk | GER | 4 | 4.96 | 4.92 | 56.69 | 56.21 | 1:52.90 |
| 3 | Sungbin Yun | KOR | 9 | 4.91 | 4.88 | 56.55 | 56.36 | 1:52.91 |
| 4 | Nikita Tregubov | RUS | 7 | 5.01 | 4.98 | 56.57 | 56.38 | 1:52.95 |
| 5 | Tomass Dukurs | LAT | 6 | 5.05 | 5.00 | 56.67 | 56.46 | 1:53.13 |
| 6 | Alexander Gassner | GER | 12 | 4.99 | 4.96 | 56.76 | 56.45 | 1:53.21 |
| 7 | Martins Dukurs | LAT | 5 | 4.95 | 4.92 | 56.87 | 56.47 | 1:53.34 |
| 8 | Felix Keisinger | GER | 13 | 4.94 | 4.93 | 56.87 | 56.57 | 1:53.44 |
| 9 | Vladislav Marchenkov | RUS | 25 | 5.10 | 5.04 | 57.19 | 56.68 | 1:53.87 |
| 10 | Marcus Wyatt | GBR | 15 | 4.91 | 4.97 | 56.93 | 57.07 | 1:54.00 |
| 11 | Wenqiang Geng | CHN | 20 | 5.08 | 5.08 | 57.18 | 56.98 | 1:54.16 |
| 12 | Florian Auer | AUT | 10 | 5.11 | 5.09 | 57.23 | 57.31 | 1:54.54 |
| 13 | Kyle Brown | USA | 2 | 5.10 | 5.07 | 57.35 | 57.23 | 1:54.58 |
| 14 | Kevin Boyer | CAN | 22 | 5.04 | 5.04 | 57.38 | 57.21 | 1:54.59 |
| 15 | Jerry Rice | GBR | 16 | 4.97 | 4.95 | 57.46 | 57.15 | 1:54.61 |
| 16 | Greg West | USA | 19 | 5.19 | 5.19 | 57.51 | 57.17 | 1:54.68 |
| 17 | Vladyslav Heraskevych | UKR | 11 | 5.26 | 5.20 | 57.39 | 57.33 | 1:54.72 |
| 18 | Ronald Auderset | SUI | 17 | 5.02 | 4.99 | 57.56 | 57.28 | 1:54.84 |
| 19 | Austin Florian | USA | 1 | 5.04 | 5.02 | 57.62 | 57.33 | 1:54.95 |
| 20 | Alexander Hanssen | NOR | 24 | 4.98 | 4.98 | 57.60 | 58.07 | 1:55.67 |
| 21 | Dave Greszczyszyn | CAN | 18 | 5.14 | | 57.74 | | |
| 22 | Junhyeon Kim | KOR | 3 | 4.99 | | 57.77 | | |
| 23 | Jack Thomas | GBR | 21 | 4.99 | | 57.78 | | |
| 24 | Manuel Schwärzer | ITA | 23 | 5.16 | | 58.01 | | |
| 25 | Ivo Steinbergs | LAT | 14 | 5.14 | | 58.29 | | |
| 26 | Mihail Enache | ROU | 26 | 5.15 | | 58.39 | | |