From Winterberg, GER
(Dec. 16, 2018) – Francesco Friedrich is now three for four on the season in IBSF World Cup bobsled races, adding 4-man gold to his pair of 2-man victories on the season.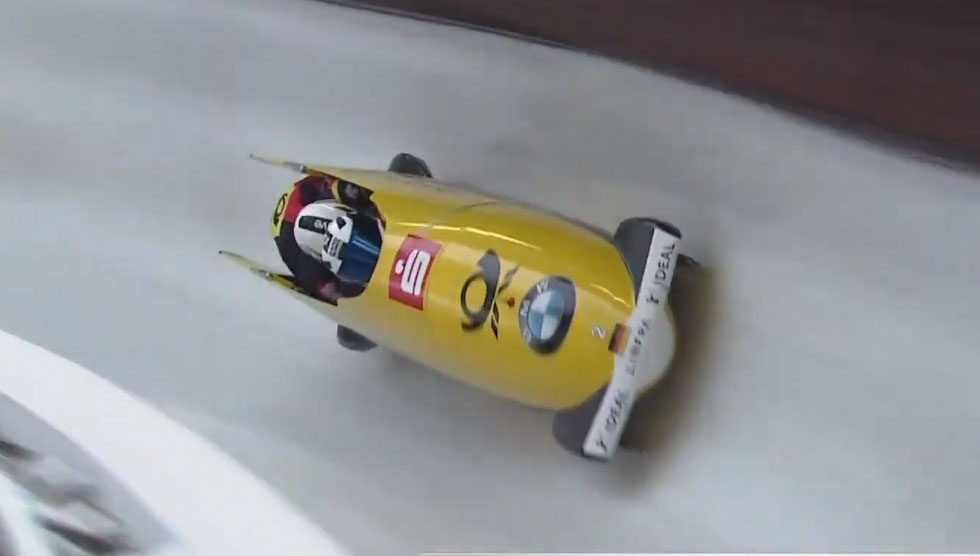 Friedrich was the only pilot to gain substantial time from his first run, coming down the Winterberg track .17 quicker in his second heat. That was all he needed to secure gold ahead of silver medalist Johannes Lochner, who came into the second heat just .02 behind Friedrich.
Lochner edged Race 1 gold medalist Nico Walther to secure silver, while Walther completed the German sweep of the podium with a bronze medal.
Benjamin Maier had a race-leading run going in the first heat, but nearly rolled his sled in the penultimate curve. That move dropped him back to third after the first heat. On the second run he ran into more trouble, with Killian Walch struggling to get into the sled. The subsequent effort to get into the sled scrubbed off speed and moved Maier back to fifth, behind Oskars Kibermanis in fourth.
Maxim Andrianov of Russia finished sixth.
Justin Olsen finished 14th to lead the way for the United States, while Elana Meyers Taylor finished 18th with an all-women squad. Meyers Taylor's two runs were both very clean, but the lack of speed at the start kept them in the back of the field.
Great Britain's Brad Hall finished 17th.
Results:
| | | | | | | | | |
| --- | --- | --- | --- | --- | --- | --- | --- | --- |
| Pos | Names | Nation | Bib | Start 1 | Start 2 | Run 1 | Run 2 | Total |
| 1 | Friedrich / Bauer / Grothkopp / Margis | GER | 11 | 5.09 | 5.06 | 54.37 | 54.20 | 1:48.57 |
| 2 | Lochner / Rademacher / Weber / Rasp | GER | 8 | 5.10 | 5.09 | 54.39 | 54.54 | 1:48.93 |
| 3 | Walther / Hübenbecker / Rödiger / Franke | GER | 13 | 5.16 | 5.15 | 54.52 | 54.51 | 1:49.03 |
| 4 | Kibermanis / Miknis / Lusis / Strenga | LAT | 12 | 5.12 | 5.08 | 54.57 | 54.56 | 1:49.13 |
| 5 | Maier / Walch / Sammer / Moldovan | AUT | 9 | 5.14 | 5.16 | 54.47 | 54.75 | 1:49.22 |
| 6 | Andrianov / Zaytsev / Kondratenko / Samitov | RUS | 7 | 5.16 | 5.11 | 54.51 | 54.75 | 1:49.26 |
| 7 | Bredikhin / Lylov / Malykh / Koshelev | RUS | 10 | 5.22 | 5.17 | 54.75 | 54.76 | 1:49.51 |
| 8 | Dvorak / Kopriva / Sindelar / Nosek | CZE | 4 | 5.18 | 5.18 | 54.68 | 54.89 | 1:49.57 |
| 9 | Won / Kim / Lee / Oh | KOR | 14 | 5.21 | 5.22 | 54.74 | 54.84 | 1:49.58 |
| 10 | Treichl / Glück / Mitterer / Huber | AUT | 5 | 5.27 | 5.20 | 54.88 | 54.94 | 1:49.82 |
| 11 | de Bruin / Dumas / Veenker / Franjic | NED | 2 | 5.28 | 5.22 | 54.94 | 55.01 | 1:49.95 |
| 12 | Vogt / Knuser / Meier / Michel | SUI | 17 | 5.22 | 5.27 | 54.94 | 55.03 | 1:49.97 |
| 13 | Berzins / Priekulis / Springis / Dambis | LAT | 6 | 5.26 | 5.18 | 55.03 | 55.06 | 1:50.09 |
| 14 | Olsen / Allison / Adams / Abdul-Saboor | USA | 1 | 5.22 | 5.18 | 54.96 | 55.23 | 1:50.19 |
| 15 | Meyerhans / Beiri / Nikpalj / Keller | SUI | 3 | 5.34 | 5.38 | 55.04 | 55.31 | 1:50.35 |
| 16 | Heinrich / Bytebier / Hauterville / Lefebvre | FRA | 15 | 5.23 | 5.25 | 55.06 | 55.37 | 1:50.43 |
| 17 | Hall / Hames / Toward / Simons | GBR | 16 | 5.27 | 5.28 | 55.22 | 55.35 | 1:50.57 |
| 18 | Meyers Taylor / Tiffeny / Gibbs / Kwaza | USA | 18 | 5.71 | 5.78 | 56.56 | 56.60 | 1:53.16 |