From Altenberg, GER
(Jan. 4, 2019) – Russian Alexander Tretiakov won his second race of the season, taking gold in snowy Altenberg.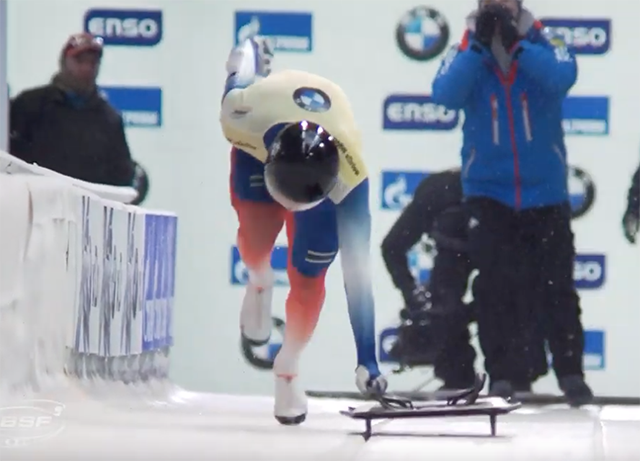 Tretiakov was the quickest both at the start and the finish in both heats on his way to gold, beating out Olympic gold medalist Sungbin Yun by .57. Tretiakov nearly overshot his sled on the load in his second run, but was able to correct himself and still be .04 quicker at the top in his second heat on his way to victory.
Yun's silver was a season-best finish and his third medal in as many races. Nikita Tregubov finished third for his second medal of the year.
Despite the home-ice advantage, track record holder Christopher Grotheer, Axel Jungk and Kilian von Schleinitz finished out of the medals in fourth through sixth, respectively.
The United States had their best showing of the young 2018/2019 season. Austin Florian finished ninth in his second career World Cup event to lead the way for the Americans. Kyle Brown moved up from 14th to 13th in the snowy second run, while Greg West finished 16th.
Dave Greszczyszyn finished just outside of the top ten in 11th for Canada, moving up a spot on his second trip down. Teammate Kevin Boyer finished 24th.
Marcus Wyatt scored a career-best World Cup finish with an eighth place run. Jerry Rice finished 19th and Jack Thomas 21st to round out the British effort.
Much like the women's race earlier in the day, snow played a bit of a factor during the men's event, but the snow seemed to be more consistent over the course of the second run for the men. Despite that, various sliders did see their runs come apart a bit by sliding into miniature snowbanks that lined the race groove.
Results:
| | | | | | | | | |
| --- | --- | --- | --- | --- | --- | --- | --- | --- |
| Pos | Name | Nation | Bib | Start 1 | Start 2 | Run 1 | Run 2 | Total |
| 1 | Alexander Tretiakov | RUS | 5 | 4.98 | 4.94 | 57.09 | 58.00 | 1:55.09 |
| 2 | Sungbin Yun | KOR | 13 | 5.09 | 5.04 | 57.58 | 58.08 | 1:55.66 |
| 3 | Nikita Tregubov | RUS | 6 | 5.19 | 5.13 | 57.64 | 58.29 | 1:55.93 |
| 4 | Christopher Grotheer | GER | 25 | 5.15 | 5.13 | 57.69 | 58.49 | 1:56.18 |
| 5 | Axel Jungk | GER | 10 | 5.05 | 5.04 | 57.83 | 58.36 | 1:56.19 |
| 6 | Kilian von Schleinitz | GER | 11 | 5.11 | 5.11 | 57.95 | 58.34 | 1:56.29 |
| 7 | Martins Dukurs | LAT | 7 | 5.01 | 5.05 | 57.67 | 58.65 | 1:56.32 |
| 8 | Marcus Wyatt | GBR | 12 | 5.00 | 5.02 | 57.96 | 58.64 | 1:56.60 |
| 9 | Austin Florian | USA | 1 | 5.08 | 5.09 | 57.89 | 58.78 | 1:56.67 |
| 10 | Tomass Dukurs | LAT | 4 | 5.20 | 5.22 | 58.06 | 58.77 | 1:56.83 |
| 11 | David Greszczyszyn | CAN | 21 | 5.34 | 5.29 | 58.44 | 58.53 | 1:56.97 |
| 12 | Florian Auer | AUT | 9 | 5.30 | 5.32 | 58.39 | 58.94 | 1:57.33 |
| 13 | Kyle Brown | USA | 16 | 5.24 | 5.15 | 58.66 | 59.45 | 1:58.11 |
| 14 | Vladyslav Heraskevych | UKR | 8 | 5.44 | 5.44 | 58.73 | 59.42 | 1:58.15 |
| 15 | Wenqiang Geng | CHN | 15 | 5.24 | 5.34 | 59.09 | 59.10 | 1:58.19 |
| 16 | Greg West | USA | 19 | 5.30 | 5.35 | 58.88 | 59.41 | 1:58.29 |
| 17 | Vladislav Marchenkov | RUS | 17 | 5.19 | 5.29 | 59.00 | 59.37 | 1:58.37 |
| 18 | Manuel Schwärzer | ITA | 23 | 5.37 | 5.40 | 59.10 | 59.45 | 1:58.55 |
| 19 | Jerry Rice | GBR | 14 | 5.11 | 5.08 | 59.44 | 59.63 | 1:59.07 |
| 20 | Ronald Auderset | SUI | 18 | 5.08 | 5.09 | 58.54 | 60.65 | 1:59.19 |
| 21 | Jack Thomas | GBR | 22 | 5.15 | | 59.46 | | |
| 22 | Alexander Hanssen | NOR | 2 | 5.19 | | 59.58 | | |
| 23 | Ivo Steinbergs | LAT | 3 | 5.36 | | 60.05 | | |
| 24 | Kevin Boyer | CAN | 20 | 5.19 | | 60.07 | | |
| 25 | Mihai Pacioianu | ROU | 24 | 5.12 | | 60.11 | | |