From Königssee, GER
(Jan. 5, 2019) – Luge is a winter sport, and in the winter sometimes it snows. By the time the women took to the ice in Königssee it had snowed for about five days straight. In turn, much like in the earlier doubles race, a snow race took place.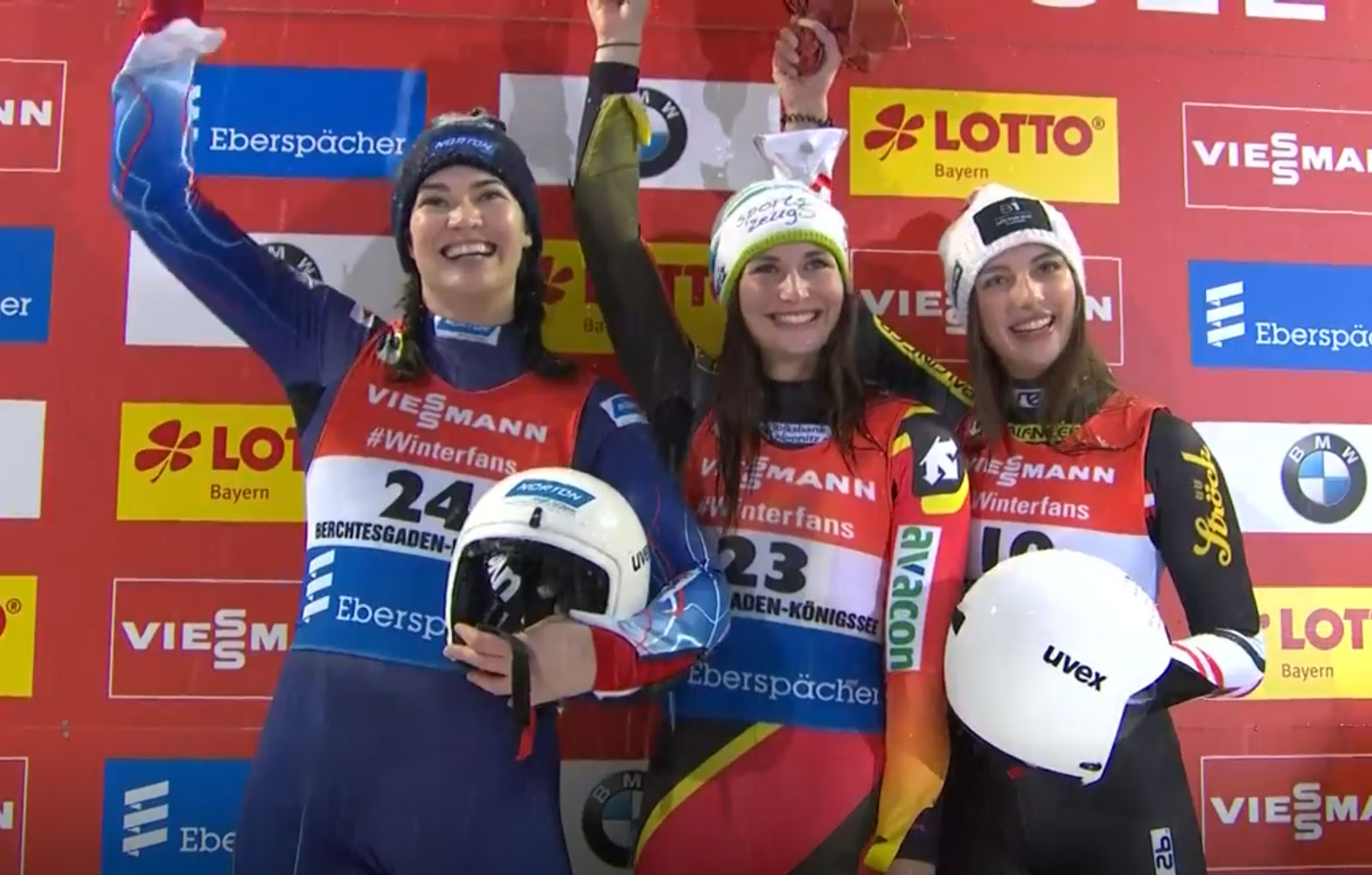 During the race with all of the snow in the track, a little bit of rain began to mix in as well. That, combined with a few long track holds due to crashes (including a scary crash where Viktoriia Demchenko landed face first through the labyrinth), led to track conditions deteriorating quickly.
The end result was a race that made little sense to anyone who's watched even a little bit of luge. Natalie Geisenberger,  Tatjana Hüfner and other usual contenders crossed the line in disbelief as they saw times well back into the teens despite otherwise flawless runs.
At the end of the first heat, it was Ekaterina Katnikova leading teammate Tatyana Ivanova and Austrian Lisa Schulte, with Geisenberger, Eitberger, and others all well outside of the top ten.
On the second run, as expected, moves were made. Geisenberger made a big jump from 16th to eighth. Latvian Eliza Cauce jumped up from 15th to fifth as well.
When the dust had settled and the craziness completed, Julia Taubitz of Germany came out on top, jumping up from sixth to take gold. Behind her was Summer Britcher, moving up from ninth to take silver. Hannah Prock of Austria rounded out the podium with a bronze medal on two oddly (for this race) consistent runs of fifth and eighth quickest.
Tatyana Ivanova fell from second to fourth in the second heat, while Eliza Cauce jumped up from 14th to fifth. Madeleine Egle finished sixth.
It was a disappointing day for the American women not named "Britcher", Brittney Arndt had a big skid in her first run, but mustered the fifth quickest run in the second heat to finish 19th. Emily Sweeney seemed to get the worst track of both heats and finished 21st.
Canadian Carolyn Maxwell finished 11th.
Results:
| | | | | | | | | |
| --- | --- | --- | --- | --- | --- | --- | --- | --- |
| Pos | Name | Nation | Bib | Start 1 | Start 2 | Run 1 | Run 2 | Total |
| 1 | Julia Taubitz | GER | 23 | 3.096 | 3.118 | 52.566 | 52.405 | 1:44.971 |
| 2 | Summer Britcher | USA | 24 | 3.079 | 3.118 | 52.676 | 52.715 | 1:45.391 |
| 3 | Hannah Prock | AUT | 10 | 3.180 | 3.175 | 52.544 | 53.042 | 1:45.586 |
| 4 | Tatyana Ivanova | RUS | 18 | 3.089 | 3.098 | 52.467 | 53.318 | 1:45.785 |
| 5 | Eliza Cauce | LAT | 21 | 3.107 | 3.117 | 52.925 | 52.964 | 1:45.889 |
| 6 | Madeleine Egle | AUT | 15 | 3.075 | 3.110 | 52.655 | 53.379 | 1:46.034 |
| 7 | Lisa Schulte | AUT | 13 | 3.150 | 3.155 | 52.476 | 53.566 | 1:46.042 |
| 8 | Natalie Geisenberger | GER | 25 | 3.074 | 3.088 | 52.958 | 53.085 | 1:46.043 |
| 9 | Ulla Zirne | LAT | 19 | 3.172 | 3.169 | 53.060 | 53.032 | 1:46.092 |
| 10 | Andrea Vötter | ITA | 20 | 3.108 | 3.117 | 52.724 | 53.381 | 1:46.105 |
| 11 | Carolyn Maxwell | CAN | 6 | 3.137 | 3.155 | 52.931 | 53.209 | 1:46.140 |
| 12 | Kendija Aparjode | LAT | 8 | 3.128 | 3.161 | 52.485 | 53.661 | 1:46.146 |
| 13 | Sandra Robatscher | ITA | 12 | 3.126 | 3.131 | 53.037 | 53.230 | 1:46.267 |
| 14 | Dajana Eitberger | GER | 27 | 3.065 | 3.087 | 52.910 | 53.565 | 1:46.475 |
| 15 | Tatjana Hüfner | GER | 28 | 3.050 | 3.067 | 53.787 | 52.773 | 1:46.560 |
| 16 | Natalie Maag | SUI | 9 | 3.133 | 3.171 | 52.640 | 53.930 | 1:46.570 |
| 17 | Ekaterina Katnikova | RUS | 7 | 3.128 | 3.194 | 52.453 | 54.240 | 1:46.693 |
| 18 | Katarina Simonakova | SVK | 4 | 3.172 | 3.211 | 52.851 | 53.895 | 1:46.746 |
| 19 | Brittney Arndt | USA | 17 | 3.169 | 3.185 | 54.010 | 52.794 | 1:46.804 |
| 20 | Raluca Stramaturaru | ROU | 11 | 3.173 | 3.201 | 54.160 | 52.784 | 1:46.944 |
| 21 | Emily Sweeney | USA | 26 | 3.107 | 3.150 | 53.089 | 53.957 | 1:47.046 |
| 22 | Aileen Frisch | KOR | 5 | 3.112 | 3.172 | 52.712 | 54.525 | 1:47.237 |
| 23 | Yulianna Tunytska | UKR | 1 | 3.211 | 3.263 | 53.527 | 54.224 | 1:47.751 |
| 24 | Klaudia Domaradzka | POL | 3 | 3.209 | 3.260 | 53.902 | 54.890 | 1:48.792 |
| 25 | Olena Stetskiv | UKR | 2 | 3.152 | 3.165 | 54.911 | 54.726 | 1:49.637 |
| DNF | Birgit Platzer | AUT | 14 | | | DNF | | |
| DNF | Viktoriia Demchenko | RUS | 16 | | | DNF | | |
| DNF | Ekaterina Baturina | RUS | 22 | | | DNF | | |