From Altenberg, GER
(Jan. 5, 2019) – Much like the women's race earlier in the day, the 2-man bobsled race in Altenberg was tight after one heat, with Canadian Justin Kripps at the front of a close pack of sleds. Unlike the women's race, there was one sled that was the class of the field to dominate the second run.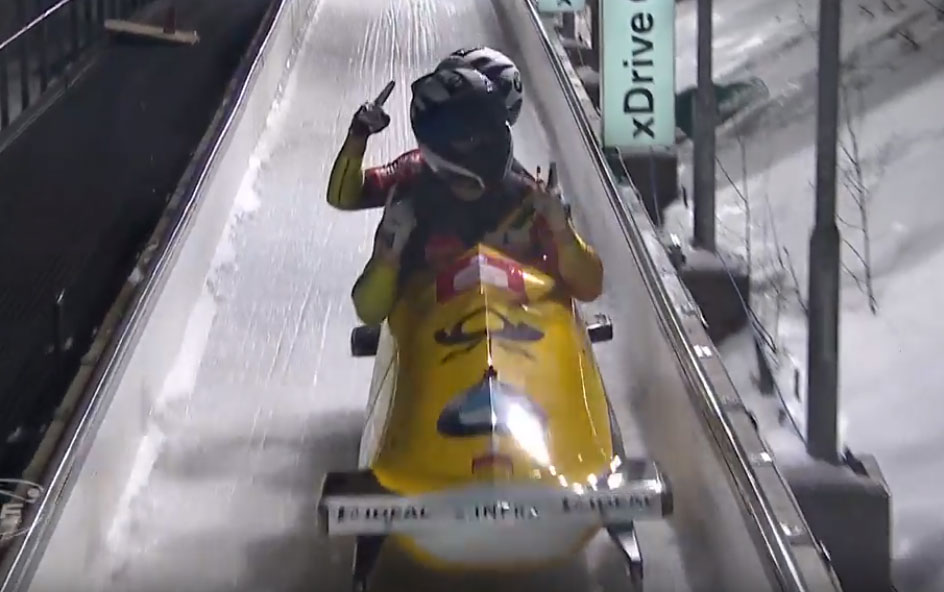 Kripps, one half of the Olympic co-champions in 2-man, led the race, but had Latvian Oskars Kibermanis and Olympic co-champion Francesco Friedrich just behind him. Only .08 separated the three pilots going into the second heat.
On the second run, it was Friedrich making the huge leap, coming down .45 faster than anyone else. Neither Kibermanis or Kripps could keep pace, and by the end of the competition Friedrich had his third 2-man event in as many tries to stay perfect on the season. Kripps finished second in his first World Cup race of the season, with Kibermanis finishing third.
Nico Walther finished just off the podium in fourth, while Romain Heinrich finished with the first top five finish for France in over a decade. Maxim Andrianov rounded out the top six in sixth.
Hours after his wife Christine scored a career-best second place in World Cup action, Dutch pilot Ivo de Bruin put down a great second run to move up from a tie for 11th to
Nursing an injury, Codie Bascue led the way for the United States. Unable to push his sled, Bascue sat-in with Hakeem Abdul-Saboor doing all of the pushing. Despite that, he was able to finish in 17th place in a 20 sled field. Justin Olsen finished 19th to round out the American effort.
Nick Poloniato finished 14th in the second Canadian sled, while Brad Hall finished 15th in the lone British sled.
Johannes Lochner scored a DNF after crashing out of Curve 12 on the first run and coming to a stop mere meters from the finish line.
Results:
| | | | | | | | | |
| --- | --- | --- | --- | --- | --- | --- | --- | --- |
| Pos | Names | Nation | Bib | Start 1 | Start 2 | Run 1 | Run 2 | Total |
| 1 | Friedrich / Margis | GER | 8 | 5.22 | 5.20 | 56.38 | 55.81 | 1:52.19 |
| 2 | Kripps / Stones | CAN | 3 | 5.27 | 5.24 | 56.30 | 56.26 | 1:52.56 |
| 3 | Kibermanis / Miknis | LAT | 5 | 5.27 | 5.25 | 56.37 | 56.30 | 1:52.67 |
| 4 | Walther / Krenz | GER | 13 | 5.26 | 5.29 | 56.41 | 56.32 | 1:52.73 |
| 5 | Heinrich / Hauterville | FRA | 16 | 5.36 | 5.34 | 56.56 | 56.57 | 1:53.13 |
| 6 | Andrianov / Malykh | RUS | 6 | 5.43 | 5.41 | 56.62 | 56.58 | 1:53.20 |
| 7 | de Bruin / Franjic | NED | 20 | 5.39 | 5.35 | 56.85 | 56.37 | 1:53.22 |
| 8 | Treichl / Mitterer | AUT | 11 | 5.37 | 5.40 | 56.88 | 56.43 | 1:53.31 |
| 9 | Won / Kim | KOR | 2 | 5.33 | 5.32 | 56.78 | 56.58 | 1:53.36 |
| 10 | Berzins / Springis | LAT | 12 | 5.31 | 5.30 | 56.82 | 56.61 | 1:53.43 |
| 11 | Luty / Tylkowski | POL | 7 | 5.35 | 5.39 | 56.77 | 56.72 | 1:53.49 |
| 12 | Bredikhin / Zaytsev | RUS | 4 | 5.37 | 5.40 | 56.75 | 56.77 | 1:53.52 |
| 13 | Dvorak / Nosek | CZE | 10 | 5.22 | 5.25 | 56.92 | 56.69 | 1:53.61 |
| 14 | Poloniato / Coakwell | CAN | 1 | 5.31 | 5.25 | 56.85 | 56.78 | 1:53.63 |
| 15 | Hall / Gleeson | GBR | 17 | 5.24 | 5.23 | 57.01 | 56.63 | 1:53.64 |
| 16 | Linyuchev / Korotkov | RUS | 19 | 5.46 | 5.44 | 57.28 | 57.00 | 1:54.28 |
| 17 | Bascue / Abdul-Saboor | USA | 14 | 5.78 | 5.77 | 57.60 | 57.09 | 1:54.69 |
| 18 | Maier / Walch | AUT | 9 | 5.89 | 5.93 | 57.42 | 57.59 | 1:55.01 |
| 19 | Olsen / Adams | USA | 18 | 5.36 | 5.44 | 57.73 | 57.65 | 1:55.38 |
| DNF | Lochner / Webet | GER | 15 | 5.29 | | DNF | | |