From Altenberg, GER
(Jan. 5, 2019) – Germany stayed perfect in the IBSF World Cup women's bobsled season, with Mariama Jamanka winning her second World Cup race of her career.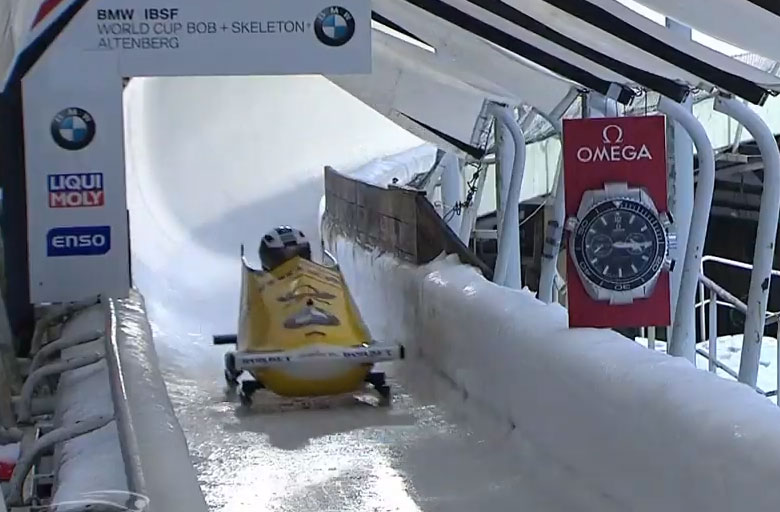 The Olympic gold medalist came into the second run in the middle of a tight pack, with Great Britain's Mica McNeill holding a lead of only .04 ahead of her and Canada's Alysia Rissling. Less than a quarter second separated the top seven after the first heat.
On the second run things got mixed up as expected. Rissling made a few small mistakes, as did McNeill, sending them both down the scoring sheet.
That's all Jamanka needed to take the lead. She put down the best run of the race, and cruised to victory over Canada's Christine de Bruin.
The Canadian's silver medal was a career-best in the IBSF World Cup.
Elana Meyers Taylor came into the second heat tied for fourth, and had a good enough run to keep her in the medals, finishing third.
Mica McNeill finished fourth. Anna Köhler, who Meyers Taylor was tied with coming into the second run, finished fifth, ahead of teammate Stephanie Schneider in sixth.
Rissling finished 10th after a rough second run sent her down the leaderboard. The United States' Brittany Reinbolt finished one spot ahead of Rissling in 9th.
Results:
| | | | | | | | | |
| --- | --- | --- | --- | --- | --- | --- | --- | --- |
| Pos | Names | Nation | Bib | Start 1 | Start 2 | Run 1 | Run 2 | Total |
| 1 | Jamanka / Drazek | GER | 13 | 5.66 | 5.68 | 59.07 | 58.18 | 1:57.25 |
| 2 | de Bruin / Bujnowski | CAN | 2 | 5.79 | 5.78 | 59.18 | 58.38 | 1:57.56 |
| 3 | Meyers Taylor / Kwaza | USA | 11 | 5.68 | 5.70 | 59.13 | 58.51 | 1:57.64 |
| 4 | McNeill / Douglas | GBR | 6 | 5.93 | 5.90 | 59.03 | 58.65 | 1:57.68 |
| 5 | Köhler / Fiebig | GER | 8 | 5.89 | 5.82 | 59.13 | 58.61 | 1:57.74 |
| 6 | Schneider / Strack | GER | 7 | 5.73 | 5.74 | 59.29 | 58.75 | 1:58.04 |
| 7 | Sergeeva / Belomestnykh | RUS | 9 | 5.77 | 5.82 | 59.45 | 58.83 | 1:58.28 |
| 8 | Vannieuwenhuyse / Aerts | BEL | 4 | 6.01 | 6.03 | 59.55 | 58.84 | 1:58.39 |
| 9 | Beierl / Oasanya | AUT | 12 | 5.89 | 5.83 | 59.27 | 59.31 | 1:58.58 |
| 10 | Rissling / Ribi | CAN | 3 | 5.90 | 5.91 | 59.07 | 59.54 | 1:58.61 |
| 11 | Reinbolt / Davis | USA | 5 | 5.84 | 5.86 | 59.61 | 59.04 | 1:58.65 |
| 12 | Fontanive / Pasternack | SUI | 1 | 5.94 | 5.90 | 59.83 | 59.25 | 1:59.08 |
| 13 | Chernykh / Egoshenko | RUS | 10 | 5.94 | 5.96 | 59.95 | 59.35 | 1:59.30 |