From Königssee, GER
(Jan. 5, 2019) – In the 2010s there's been exactly one team to win in doubles luge in Königssee: Tobias Wendl & Tobias Arlt. It seemed as though it may take an act of God to keep them from the top of the podium, and that may have been just the thing to keep them from sweeping the 2010s.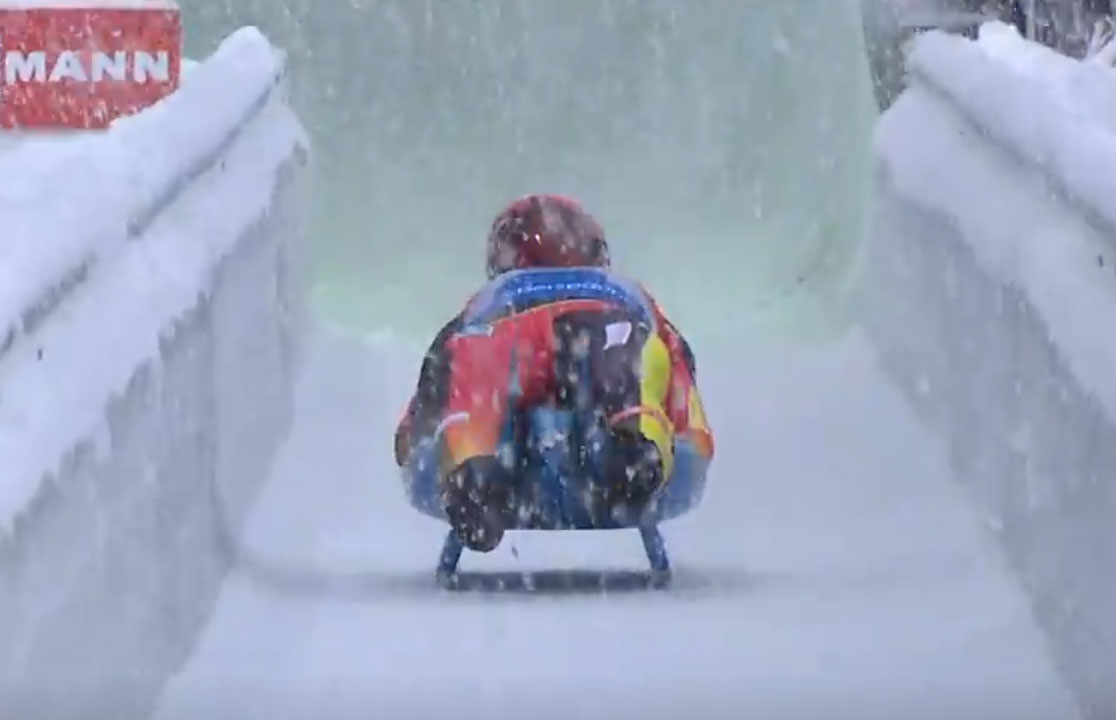 In heavy snow, Toni Eggert and Sascha Benecken ended their teammates' dominance in Bavaria, winning by .306 and handing Wendl & Arlt their first loss in Königssee of the decade.
Snow tends to be great equalizer in sliding sports, and in Königssee there was plenty of it to go around. In the first heat, the FIL decided to sweep after every five sleds, meaning those later in between sweeps seemed to be at a disadvantage. That was most evident when Wendl & Arlt put down what seemed to be another flawless run, yet they found themselves over .3 back of Eggert & Benecken coming into the second heat. On the second run with both teams coming down in similar conditions, Wendl & Arlt were quicker. The difference wasn't enough to overcome the advantage from the first heat.
Thomas Steu & Lorenz Koller continued a solid start to the 2018/2019 season with a bronze medal, keeping Germany from sweeping the podium. The Latvian duo of Andris & Juris Sics moved up from seventh to fourth, while German national champions Robin Geueke & David Gamm finished fifth. Ludwig Rieder & Patrick Rastner rounded out the top six.
The American duo of Chris Mazdzer & Jayson Terdiman finished ninth, moving up from 11th after their first run. Canadians Tristan Walker & Justin Snith finished 13th, seemingly having bad luck with a snowy track in both heats.
Results:
| | | | | | | | | |
| --- | --- | --- | --- | --- | --- | --- | --- | --- |
| Pos | Names | Nation | Bib | Start 1 | Start 2 | Run 1 | Run 2 | Total |
| 1 | Eggert / Benecken | GER | 16 | 2.902 | 2.905 | 50.693 | 51.158 | 1:41.851 |
| 2 | Wendl / Arlt | GER | 19 | 2.873 | 2.877 | 51.006 | 51.151 | 1:42.157 |
| 3 | Steu / Koller | AUT | 20 | 2.911 | 2.936 | 51.237 | 51.446 | 1:42.683 |
| 4 | Sics / Sics | LAT | 18 | 2.973 | 2.975 | 51.387 | 51.414 | 1:42.801 |
| 5 | Geueke / Gamm | GER | 21 | 2.907 | 2.918 | 51.177 | 51.634 | 1:42.811 |
| 6 | L. Rieder / Rastner | ITA | 14 | 2.945 | 2.883 | 51.514 | 51.440 | 1:42.954 |
| 7 | Gudramovics / Kalnins | LAT | 7 | 2.985 | 3.012 | 51.371 | 51.694 | 1:43.065 |
| 8 | Putins / Marcinkevics | LAT | 12 | 2.953 | 2.935 | 51.394 | 51.686 | 1:43.080 |
| 9 | Mazdzer / Terdiman | USA | 17 | 3.014 | 3.014 | 51.578 | 51.746 | 1:43.324 |
| 10 | Nagler / Malleier | ITA | 3 | 2.947 | 2.924 | 51.344 | 52.057 | 1:43.401 |
| 11 | Kashkin / Korshunov | RUS | 11 | 2.970 | 3.023 | 51.527 | 52.038 | 1:43.565 |
| 12 | E. Rieder / Kainzwaldner | ITA | 6 | 2.993 | 3.030 | 51.725 | 51.878 | 1:43.603 |
| 13 | Walker / Snith | CAN | 15 | 2.946 | 2.947 | 51.902 | 51.801 | 1:43.703 |
| 14 | Yuzhakov / Prokhorov | RUS | 13 | 2.980 | 2.987 | 51.775 | 52.042 | 1:43.817 |
| 15 | Denisev / Antonov | RUS | 5 | 2.952 | 2.973 | 51.964 | 51.858 | 1:43.822 |
| 16 | Chmielewski / Kowalewski | POL | 10 | 2.945 | 2.943 | 52.075 | 51.937 | 1:44.012 |
| 17 | Park / Kang | KOR | 4 | 3.034 | 3.052 | 52.242 | 52.216 | 1:44.458 |
| 18 | Vejdelek / Pekny | CZE | 2 | 3.119 | 3.099 | 53.117 | 53.104 | 1:46.281 |
| 19 | Stakhiv / Lysetskyy | UKR | 1 | 3.186 | 3.241 | 55.979 | 54.574 | 1:50.553 |
| DNF | Vavercak / Zmij | SVK | 9 | 2.990 | | DNF | | DNF |
| DNF | Gitlan / Musei | ROU | 8 | 3.021 | 3.079 | 53.451 | DNF | DNF |