From Igls, AUT
(Jan. 18, 2019) – Janine Flock has been a World Cup gold medal contender at some point or another at almost every track she's been to. She's won gold in St. Moritz and Lake Placid, and been in contention at some point or another at almost every track on tour. Somehow, through all of that, a gold medal on her home track of Igls has eluded her. In the 2019 European Championships that finally changed.z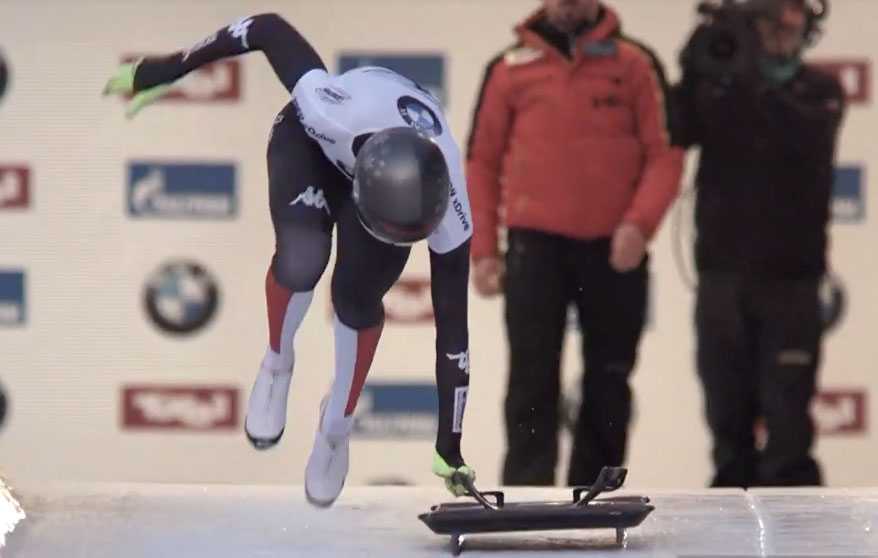 Flock was utterly dominant in both of her runs on home ice, setting a quick time in the first heat and then besting it in the second on her way to a .43 victory over World Cup leader Elena Nikitina of Russia. Her two runs were the two quickest of the race.
Nikitina edged out Jacqueline Lölling by .02 for the silver medal, while Lölling would take bronze after an uncharacteristically pair of bumpy runs down the Austrian track.
Tina Hermann jumped up from seventh to fourth, while Olympic bronze medalist Laura Deas moved from eighth to fifth in the second run. Canadian Elisabeth Maier finished sixth.
The World Cup stop in Igls doubled as the European Championships after the race in Königssee was caneled due to snow. Yulia Kanakina finished sixth in that, replacing non-European Elisabeth Maier.
It was a really great day for Great Britain. Matching their men's skeleton counterparts, the women's squad scored two top tens with Deas in fifth and Madelaine Smith in eighth after a really quick first run put her in medal contention. Kimberley Murray finished 20th.
Kendall Wesenberg overcame a slip on the start in her first run to finished 12th, up from a tie for 13th with Kimberley Bos, missing a top ten by just .03. Teammate Savannah Graybill also put down a solid second run to move up from 17th to 16th after track conditions in the first heat appeared to deteriorate.
Mimi Rahneva and Jane Channell finished 13th and 15th to round out the Canadian effort in Igls.
Results:
| | | | | | | | | |
| --- | --- | --- | --- | --- | --- | --- | --- | --- |
| Pos | Name | Nation | Bib | Start 1 | Start 2 | Run 1 | Run 2 | Total |
| 1 | Janine Flock | AUT | 4 | 5.53 | 5.49 | 54.34 | 54.30 | 1:48.64 |
| 2 | Elena Nikitina | RUS | 8 | 5.20 | 5.22 | 54.43 | 54.64 | 1:49.07 |
| 3 | Jacqueline Lölling | GER | 6 | 5.57 | 5.59 | 54.53 | 54.56 | 1:49.09 |
| 4 | Tina Hermann | GER | 11 | 5.50 | 5.49 | 54.79 | 54.66 | 1:49.45 |
| 5 | Laura Deas | GBR | 13 | 5.44 | 5.40 | 54.87 | 54.61 | 1:49.48 |
| 6 | Elisabeth Maier | CAN | 12 | 5.36 | 5.35 | 54.74 | 54.81 | 1:49.55 |
| 7 | Yulia Kanakina | RUS | 9 | 5.27 | 5.32 | 54.77 | 54.92 | 1:49.69 |
| 8 | Madelaine Smith | GBR | 17 | 5.47 | 5.47 | 54.74 | 54.99 | 1:49.73 |
| 9 | Sophia Griebel | GER | 10 | 5.55 | 5.50 | 55.19 | 54.56 | 1:49.76 |
| 10 | Valentina Margaglio | ITA | 3 | 5.41 | 5.35 | 54.99 | 54.79 | 1:49.78 |
| 11 | Marina Gilardoni | SUI | 16 | 5.46 | 5.46 | 54.92 | 54.88 | 1:49.80 |
| 12 | Kendall Wesenberg | USA | 15 | 5.70 | 5.58 | 55.18 | 54.63 | 1:49.81 |
| 13 | Mirela Rahneva | CAN | 5 | 5.34 | 5.39 | 54.97 | 54.90 | 1:49.87 |
| 14 | Renata Khuzina | RUS | 1 | 5.51 | 5.44 | 55.23 | 54.80 | 1:50.03 |
| 15 | Jane Channell | CAN | 7 | 5.36 | 5.33 | 55.12 | 54.92 | 1:50.04 |
| 16 | Savannah Graybill | USA | 18 | 5.64 | 5.57 | 55.23 | 54.95 | 1:50.18 |
| 17 | Kimberley Bos | NED | 14 | 5.56 | 5.46 | 55.18 | 55.06 | 1:50.24 |
| 18 | Kim Meylemans | BEL | 2 | 5.44 | 5.42 | 55.20 | 55.08 | 1:50.28 |
| 19 | Lelde Priedulena | LAT | 20 | 5.67 | 5.61 | 55.50 | 55.25 | 1:50.75 |
| 20 | Kimberley Murray | GBR | 19 | 5.55 | 5.43 | 55.52 | 55.42 | 1:50.94 |
| 21 | Marta Orlowska | POL | 21 | 5.73 | | 55.87 | | |