From Igls, AUT
(Jan. 18, 2019) – The last time Martins Dukurs lost in Igls, it was to Frank Rommel in the 2008/2009 season. The last time he lost a European Championship event, it was that same season, also to Frank Rommel.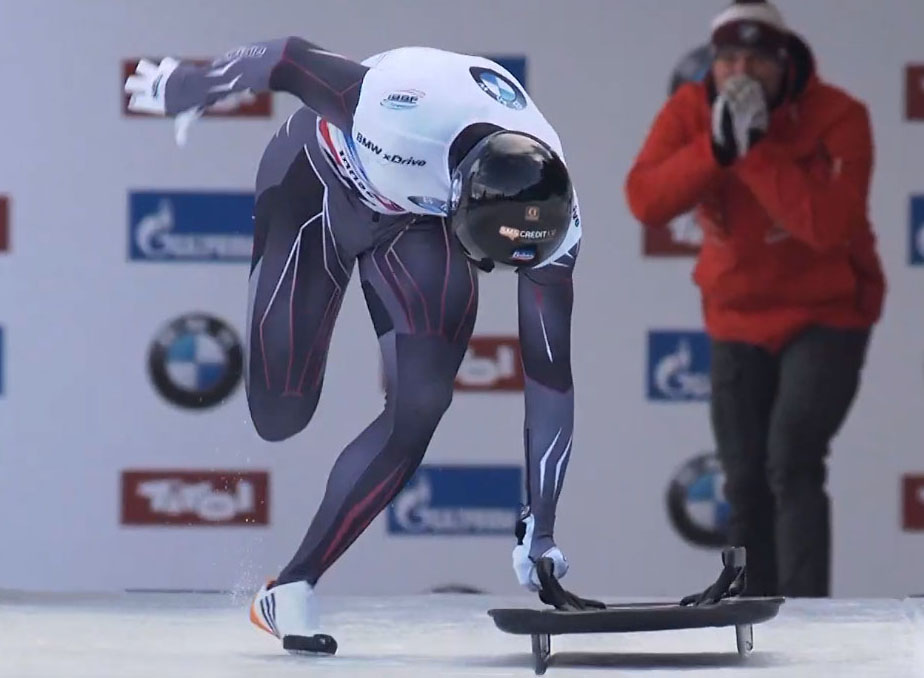 Since then, the Latvian has been perfect both in Austria and in the European Championships. He kept that streak alive on Friday, cruising to victory on a track that he's dominated on.
Dukurs was the quickest in the first heat by .22 over a trio of men vying for medals, with 2018 Olympic champion Sungbin Yun, Tomass Dukurs, and Axel Jungk all tied for second. On the second run the younger Dukurs was quicker than the other three medal contenders to win his first gold medal of the 2018/2019 season.
Yun broke the tie with Tomass Dukurs and Axel Jungk to win silver, edging out Jungk by .01 for the position. Jungk finished third.
Alexander Tretiakov had the fastest start and fastest run in the second heat to move up from fifth to fourth, but missed a medal by .08. Tomass Dukurs couldn't match his first heat's pace and fell back to fifth, while Marcus Wyatt finished sixth, moving up from ninth in the first heat.
The race also doubled as the European Championships for skeleton after the previous week's event in Königssee was canceled. With Yun's run not counting toward the Euros, Jungk took silver and Tretiakov bronze, while Kilian von Schleinitz moved up into sixth place.
British Bobsleigh & Skeleton had a great start to the weekend in Igls. Marcus Wyatt and Jerry Rice both scored top tens with Wyatt leading the way with a sixth place run, while Rice moved up one spot in the second heat to tie for ninth with Nikita Tregubov. Jack Thomas rounded out the British effort with a 15th place finish.
Kyle Brown had a really nice second run, moving from 18th in the first heat to 14th after two runs to lead the way for the United States. Greg West also moved up in the second run, improving from 19th to 17th. Austin Florian, the 2017/2018 IBSF North American Cup champion, struggled on his first run and finished 25th.
Kevin Boyer led the way for Canada. He finished 18th (up from 20th), while Dave Greszczyszyn just missed the cut for the second run, finishing 21st.
Results:
| | | | | | | | | |
| --- | --- | --- | --- | --- | --- | --- | --- | --- |
| Pos | Name | Nation | Bib | Start 1 | Start 2 | Run 1 | Run 2 | Total |
| 1 | Martins Dukurs | LAT | 8 | 4.92 | 4.88 | 53.02 | 53.15 | 1:46.17 |
| 2 | Sungbin Yun | KOR | 7 | 4.92 | 4.90 | 53.24 | 53.21 | 1:46.45 |
| 3 | Axel Jungk | GER | 6 | 4.93 | 4.93 | 53.24 | 53.22 | 1:46.46 |
| 4 | Alexander Tretiakov | RUS | 12 | 4.88 | 4.81 | 53.50 | 53.04 | 1:46.54 |
| 5 | Tomass Dukurs | LAT | 4 | 5.01 | 5.05 | 53.24 | 53.45 | 1:46.69 |
| 6 | Marcus Wyatt | GBR | 13 | 4.92 | 4.91 | 53.73 | 53.36 | 1:47.09 |
| 7 | Kilian von Schleinitz | GER | 11 | 5.02 | 4.97 | 53.65 | 53.66 | 1:47.31 |
| 8 | Vladislav Marchenkov | RUS | 18 | 5.13 | 5.09 | 53.70 | 53.82 | 1:47.52 |
| 9 | Jerry Rice | GBR | 17 | 4.98 | 4.99 | 53.74 | 53.80 | 1:47.54 |
| 9 | Nikita Tregubov | RUS | 9 | 5.06 | 5.04 | 53.72 | 53.82 | 1:47.54 |
| 11 | Florian Auer | AUT | 5 | 5.06 | 5.07 | 53.79 | 53.78 | 1:47.57 |
| 12 | Christopher Grotheer | GER | 24 | 5.07 | 5.06 | 53.85 | 53.77 | 1:47.62 |
| 13 | Samuel Maier | AUT | 3 | 5.13 | 5.13 | 53.85 | 53.88 | 1:47.73 |
| 14 | Kyle Brown | USA | 14 | 5.11 | 5.01 | 54.03 | 53.79 | 1:47.82 |
| 15 | Jack Thomas | GBR | 23 | 4.99 | 5.02 | 53.94 | 53.92 | 1:47.86 |
| 16 | Wenqiang Geng | CHN | 15 | 5.13 | 5.14 | 54.02 | 53.95 | 1:47.97 |
| 17 | Greg West | USA | 20 | 5.15 | 5.15 | 54.13 | 53.86 | 1:47.99 |
| 18 | Kevin Boyer | CAN | 22 | 5.05 | 5.04 | 54.24 | 53.77 | 1:48.01 |
| 19 | Ivo Steinbergs | LAT | 2 | 5.18 | 5.20 | 53.89 | 54.17 | 1:48.06 |
| 20 | Ronald Auderset | SUI | 21 | 5.01 | 5.03 | 53.87 | 54.25 | 1:48.12 |
| 21 | David Greszczyszyn | CAN | 16 | 5.15 | | 54.42 | | |
| 22 | Vladyslav Heraskevych | UKR | 10 | 5.37 | | 54.43 | | |
| 23 | Ander Mirambell | ESP | 1 | 5.46 | | 54.53 | | |
| 24 | Alexander Hanssen | NOR | 26 | 5.05 | | 54.60 | | |
| 25 | Austin Florian | USA | 19 | 5.04 | | 54.64 | | |
| 26 | Manuel Schwärzer | ITA | 25 | 5.27 | | 54.91 | | |
| 27 | Basil Sieber | SUI | 27 | 5.28 | | 55.16 | | |
| 28 | Denis Lorenčič | SLO | 28 | 5.68 | | 57.19 | | |