From Igls, AUT
(Jan. 19, 2019) – Germany stayed perfect in the 2018/2019 bobsled season, with Stephanie Schneider winning gold over Olympic champion Mariama Jamanka.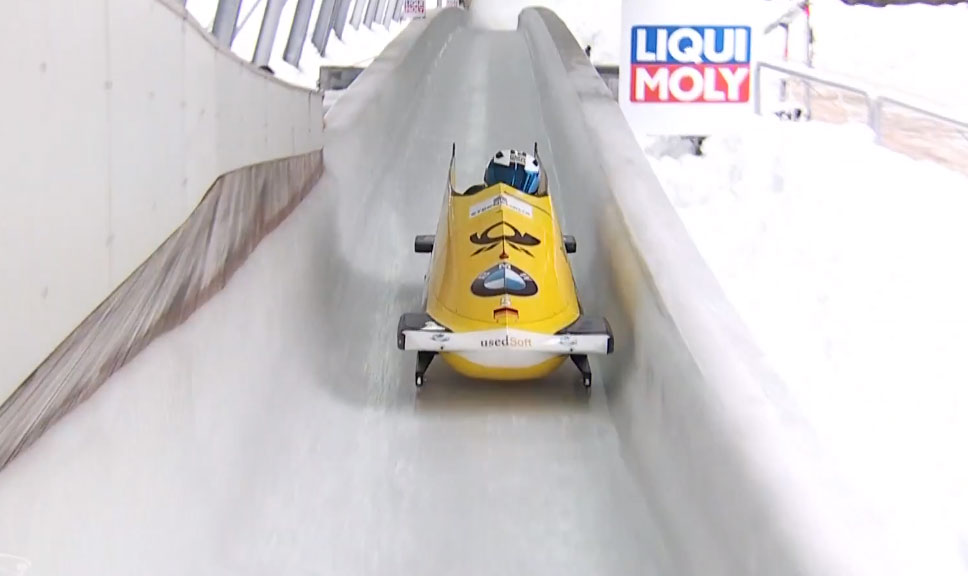 Schneider came into the second run in third behind American Elana Meyers Taylor and Jamanka, with all three women separated by just .06. Schneider put the pressure on the top two with a blazing second run, the quickest of the race and the only trip down under 53 seconds. Neither Jamanka nor Meyers Taylor could answer, with Schneider taking gold by .11 over Jamanka.
The win was the fifth for Germany's women's bobsled team this season, with Schneider winning two and Jamanka three. Not since St. Moritz on January 13, 2018 has a non-German won gold in World Cup competition.
Elana Meyers Taylor finished third despite an illness that put her in the hospital earlier in the week. The American took only two training runs prior to the race, but despite the setbacks the Olympic silver medalist finished on the podium with a bronze medal.
Germany's Anna Köhler finished fourth, ahead of Russian Nadezhda Sergeeva and Austrian Kati Beierl.
Mica McNeill had a swap of brakewomen a few hours prior to the race, with Aleasha Kiddle jumping onto the brakes. McNeill and Kiddle finished 11th despite two very clean drives.
Brittany Reinbolt missed out on a top six by .08 with a seventh place run in the second American sled, while Breeana Walker finished 13th in her World Cup debut.
Results:
| | | | | | | | | |
| --- | --- | --- | --- | --- | --- | --- | --- | --- |
| Pos | Names | Nation | Bib | Start 1 | Start 2 | Run 1 | Run 2 | Total |
| 1 | Schneider / Strack | GER | 8 | 5.53 | 5.49 | 53.10 | 52.96 | 1:46.06 |
| 2 | Jamanka / Lipperheide | GER | 13 | 5.57 | 5.54 | 53.09 | 53.08 | 1:46.17 |
| 3 | Meyers Taylor / Hoffmann | USA | 4 | 5.55 | 5.52 | 53.04 | 53.19 | 1:46.23 |
| 4 | Köhler / Fiebig | GER | 6 | 5.62 | 5.58 | 53.20 | 53.21 | 1:46.41 |
| 5 | Sergeeva / Egoshenko | RUS | 11 | 5.62 | 5.61 | 53.36 | 53.36 | 1:46.72 |
| 6 | Beierl / Onasanya | AUT | 5 | 5.62 | 5.63 | 53.28 | 53.46 | 1:46.74 |
| 7 | Reinbolt / Davis | USA | 9 | 5.63 | 5.63 | 53.32 | 53.54 | 1:46.86 |
| 8 | Chernykh / Belomestnykh | RUS | 12 | 5.63 | 5.66 | 53.44 | 53.50 | 1:46.94 |
| 9 | Fontanive / Strebel | SUI | 2 | 5.70 | 5.65 | 53.45 | 53.58 | 1:47.03 |
| 10 | Grecu / Vlad | ROU | 1 | 5.67 | 5.67 | 53.49 | 53.66 | 1:47.15 |
| 11 | McNeill / Kiddle | GBR | 7 | 5.81 | 5.79 | 53.57 | 53.60 | 1:47.23 |
| 12 | Vannieuwenhuyse / Aerts | BEL | 10 | 5.78 | 5.80 | 53.86 | 53.87 | 1:47.73 |
| 13 | Walker / Scroop | AUS | 3 | 5.71 | 5.60 | 53.87 | 53.91 | 1:47.78 |