From Igls, AUT
(Jan. 19, 2019) – Francesco Friedrich stayed perfect on the 2018/2019 IBSF World Cup season, beating out teammate Johannes Lochner for gold in Igls.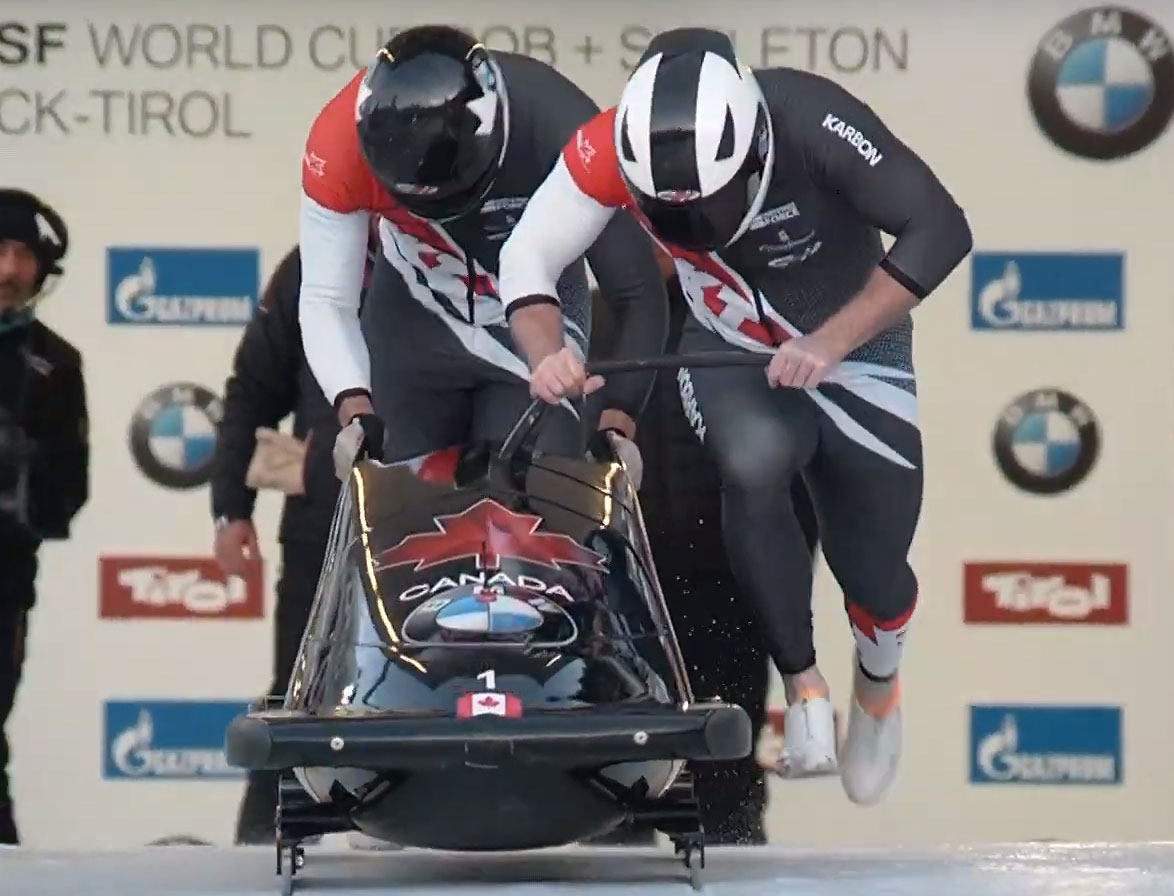 Friedrich set the two fastest runs of the race on his way to his sixth consecutive World Cup win and tenth consecutive World Cup medal. Lochner finished just behind him in second for his best finish of the World Cup 2-man season. Oskars Kibermanis finished with a bronze medal for his fourth medal in five races this season.
Justin Kripps finished just outside of the medals in fourth. The fourth place finish is the Olympic gold medalist's 11th straight top-four run in World Cup 2-man bobsled.
Behind Kripps, Dominik Dvorak continued his breakout season in fifth, while Christoph Hafer finished sixth.
Nick Poloniato finished seventh in the second Canadian sled. The seventh place run was his best World Cup 2-man finish since a fourth place run in Altenberg in the 2017/2018 season.
The United States struggled to put together a pair of good runs, with both Justin Olsen and Codie Bascue dropping from their first heat positions. Olsen fell from tenth in the first heat and Bascue from 15th, with both men joining a three-way tie for 17th with Maxim Andrianov of Russia.
Great Britain's Brad Hall finished tied for eighth with France's Romain Heinrich.
Results:
| | | | | | | | | |
| --- | --- | --- | --- | --- | --- | --- | --- | --- |
| Pos | Names | Nation | Bib | Start 1 | Start 2 | Run 1 | Run 2 | Total |
| 1 | Friedrich / Margis | GER | 12 | 5.08 | 5.03 | 51.39 | 51.46 | 1:42.85 |
| 2 | Lochner / F. Bauer | GER | 19 | 5.05 | 5.05 | 51.47 | 51.53 | 1:43.00 |
| 3 | Kibermanis / Miknis | LAT | 9 | 5.08 | 5.08 | 51.49 | 51.70 | 1:43.19 |
| 4 | Kripps / Stones | CAN | 11 | 5.11 | 5.13 | 51.60 | 51.70 | 1:43.30 |
| 5 | Dvorak / Nosek | CZE | 4 | 5.07 | 5.05 | 51.58 | 51.77 | 1:43.35 |
| 6 | Hafer / Sommer | GER | 15 | 5.20 | 5.19 | 51.75 | 51.71 | 1:43.46 |
| 7 | Poloniato / Coakwell | CAN | 16 | 5.12 | 5.12 | 51.83 | 51.81 | 1:43.64 |
| 8 | Hall / Gleeson | GBR | 18 | 5.09 | 5.10 | 51.90 | 51.85 | 1:43.75 |
| 8 | Heinrich / Lefebvre | FRA | 7 | 5.25 | 5.21 | 51.86 | 51.89 | 1:43.75 |
| 10 | Won / Kim | KOR | 13 | 5.17 | 5.20 | 51.96 | 51.96 | 1:43.92 |
| 11 | Treichl / Glück | AUT | 8 | 5.19 | 5.17 | 51.96 | 51.97 | 1:43.93 |
| 12 | Vogt / Knuser | SUI | 2 | 5.21 | 5.24 | 51.87 | 52.11 | 1:43.98 |
| 13 | Rinaldi / Vain | MON | 20 | 5.22 | 5.21 | 52.06 | 51.93 | 1:43.99 |
| 14 | Luty / Tylkowski | POL | 6 | 5.20 | 5.21 | 51.96 | 52.04 | 1:44.00 |
| 15 | de Bruin / Franjic | NED | 21 | 5.27 | 5.24 | 52.12 | 51.89 | 1:44.01 |
| 16 | Berzins / Springis | LAT | 14 | 5.17 | 5.17 | 52.12 | 51.97 | 1:44.09 |
| 17 | Andrianov / Malykh | RUS | 10 | 5.26 | 5.27 | 52.10 | 52.01 | 1:44.11 |
| 17 | Bascue / Abdul-Saboor | USA | 17 | 5.14 | 5.18 | 52.04 | 52.07 | 1:44.11 |
| 17 | Olsen / Williamson | USA | 3 | 5.14 | 5.17 | 51.88 | 52.23 | 1:44.11 |
| 20 | Suk / Jang | KOR | 23 | 5.25 | 5.26 | 52.08 | 52.05 | 1:44.13 |
| 21 | Bredikhin / Zharovtsev | RUS | 5 | 5.28 | | 52.16 | | |
| 22 | Geiger / Huber | AUT | 1 | 5.29 | | 52.23 | | |
| 23 | Rohner / Fässler | SUI | 24 | 5.25 | | 52.28 | | |
| 24 | Popov / Mytcyk | RUS | 22 | 5.26 | | 52.35 | | |
| 25 | Silic / Krajisnik | CRO | 25 | 5.48 | | 53.62 | | |