From Oberhof, GER
(Feb. 9, 2019) – Tobias Wendl & Tobias Arlt won their third European Championship doubles title of the decade, dominating the race in Oberhof to win gold.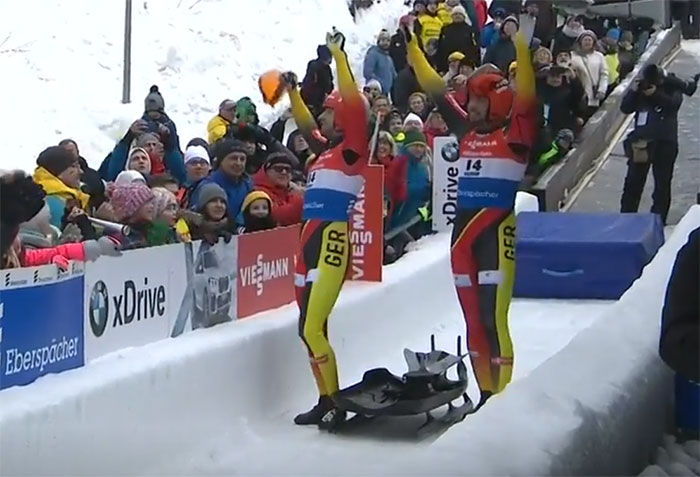 Wendl & Arlt had the two fastest runs of the race, and were the fastest at every timing line but the first on their way to a .2 second lead over teammates Toni Eggert & Sascha Benecken. Over the course of the last decade, Wendl & Arlt have not finished off the podium in the European Championships.
Eggert & Benecken finished second, well ahead of the Latvian duo of Andris & Juris Sics in third.
Thomas Steu & Lorenz Koller finished fourth, ahead of Canadians Tristan Walker & Justin Snith, and Aleksandr Denisev & Antonov who rounded out the top six respectively.
Prior to today's race Chris Mazdzer announced that the race weekend in Oberhof would be his last of the 2018/2019 season due to an injury sustained prior to the FIL World Championships. Since the injury, Mazdzer had been concentrating on only racing in the doubles competition. He and Jayson Terdiman finished tenth, moving up from 11th in the first heat. Their final race of the season will be the Team Relay on Sunday.
Results:
| | | | | | | | | |
| --- | --- | --- | --- | --- | --- | --- | --- | --- |
| Pos | Names | Nation | Bib | Start 1 | Start 2 | Run 1 | Run 2 | Total |
| 1 | Wendl / Arlt | GER | 14 | 6.576 | 6.596 | 40.963 | 40.988 | 1:21.951 |
| 2 | Eggert / Benecken | GER | 16 | 6.959 | 6.563 | 41.154 | 40.997 | 1:22.151 |
| 3 | Sics / Sics | LAT | 18 | 6.676 | 6.659 | 41.159 | 41.115 | 1:22.274 |
| 4 | Steu / Koller | AUT | 17 | 6.627 | 6.615 | 41.232 | 41.269 | 1:22.501 |
| 5 | Walker / Snith | CAN | 2 | 6.611 | 6.611 | 41.254 | 41.419 | 1:22.673 |
| 6 | Denisev / Antonov | RUS | 7 | 6.650 | 6.646 | 41.275 | 41.414 | 1:22.689 |
| 7 | Putins / Marcinkevics | LAT | 9 | 6.642 | 6.655 | 41.199 | 41.540 | 1:22.739 |
| 8 | Rieder / Kainzwaldner | ITA | 13 | 6.701 | 6.684 | 41.425 | 41.352 | 1:22.777 |
| 9 | Gudramovics / Kalnins | LAT | 15 | 6.720 | 6.708 | 41.332 | 41.510 | 1:22.842 |
| 10 | Mazdzer / Terdiman | USA | 11 | 6.725 | 6.718 | 41.420 | 41.454 | 1:22.874 |
| 11 | Kashkin / Korshunov | RUS | 5 | 6.696 | 6.644 | 41.493 | 41.459 | 1;22.952 |
| 12 | Yuzhakov / Prokhorov | RUS | 10 | 6.723 | 6.694 | 41.290 | 41.814 | 1:23.104 |
| 13 | Park / Kang | KOR | 4 | 6.699 | 6.780 | 41.823 | 41.986 | 1:23.809 |
| 14 | Stakhiv / Lysetskyy | UKR | 3 | 6.858 | 6.877 | 41.919 | 42.084 | 1:24.003 |
| 15 | Vejdelek / Pekny | CZE | 1 | 6.876 | 6.869 | 42.534 | 42.492 | 1:25.026 |
| 16 | Geueke / Gamm | GER | 12 | 6.651 | 6.598 | 41.330 | 44.200 | 1:25.530 |
| 17 | Chmielewski / Kowalewski | POL | 6 | 6.659 | 6.659 | 48.028 | 41.471 | 1:29.499 |
| DSQ | Nagler / Malleier | ITA | 8 | | | | | DSQ |