From Oberhof, GER
(Feb. 9, 2019) – Semen Pavlichenko won his second straight European Championships, coming from behind in Oberhof to take gold.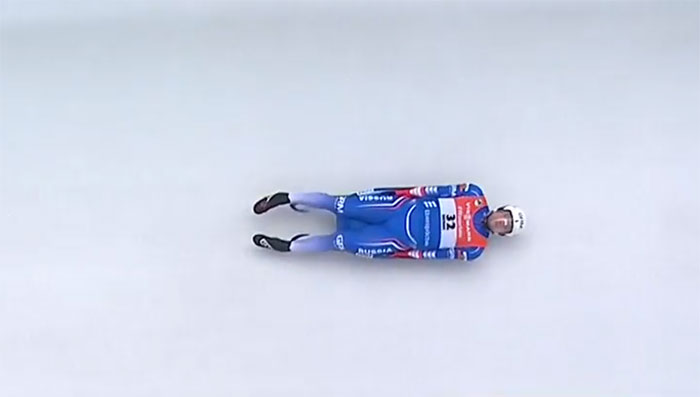 The Russian came into the second heat just behind teammate Roman Repilov despite a small hiccup at the start setting him back early. On that second run Pavlichenko set the fastest time of the race (and the only run under 43 seconds) to stay ahead of his teammate and win gold.
Repilov would settle for second, ahead of Kristers Aparjods of Latvia who finished third.
Reinhard Egger continued his strong 2018/2019 season with a fourth place medal, just ahead of Johannes Ludwig of Germany. Olympic champion David Gleirscher jumped up from 13th to sixth on the strength of a third-fastest run in the second heat.
Germany uncharacteristically struggled in Oberhof, with Ludwig finishing as the lone German in the top six. Felix Loch dropped from fourth to seventh in the second heat. Chris Eißler finished tenth.
Both American men in the field found themselves moving up the running order in the second heat. Tucker West was over .2 faster in his second run, and that combined with a plethora of mistakes by other athletes around him propelled him up to  14th overall. Jonny Gustafson had a mistake out of Curve 11 in his first run, leaving him 29th. His second run was clean and quick, and he moved up to 27th
Reid Watts moved up from 21st to 19th on his second run as the lone Canadian in the race.
Results:
| | | | | | | | | |
| --- | --- | --- | --- | --- | --- | --- | --- | --- |
| Pos | Name | Nation | Bib | Start 1 | Start 2 | Run 1 | Run 2 | Total |
| 1 | Semen Pavlichenko | RUS | 32 | 7.160 | 7.118 | 43.231 | 42.972 | 1:26.203 |
| 2 | Roman Repilov | RUS | 20 | 7.140 | 7.140 | 43.188 | 43.059 | 1:26.247 |
| 3 | Kristers Aparjods | LAT | 26 | 7.163 | 7.179 | 43.290 | 43.094 | 1:26.384 |
| 4 | Reinhard Egger | AUT | 29 | 7.217 | 7.210 | 43.259 | 43.140 | 1:26.399 |
| 5 | Johannes Ludwig | GER | 27 | 7.176 | 7.176 | 43.302 | 43.143 | 1:26.445 |
| 6 | David Gleirscher | AUT | 30 | 7.163 | 7.159 | 43.398 | 43.078 | 1:26.476 |
| 7 | Felix Loch | GER | 28 | 7.133 | 7.149 | 43.290 | 43.191 | 1:26.481 |
| 8 | Nico Gleirscher | AUT | 14 | 7.222 | 7.174 | 43.357 | 43.163 | 1:26.520 |
| 9 | Dominik Fischnaller | ITA | 31 | 7.207 | 7.200 | 43.362 | 43.214 | 1:26.576 |
| 10 | Chris Eißler | GER | 19 | 7.129 | 7.185 | 43.386 | 43.269 | 1:26.655 |
| 11 | Maksim Aravin | RUS | 15 | 7.220 | 7.235 | 43.350 | 43.335 | 1:26.685 |
| 12 | Inars Kivlenieks | LAT | 18 | 7.129 | 7.133 | 43.605 | 43.170 | 1:26.775 |
| 13 | Sebastian Bley | GER | 23 | 7.197 | 7.219 | 43.412 | 43.375 | 1:26.787 |
| 14 | Tucker West | USA | 16 | 7.146 | 7.122 | 43.551 | 43.321 | 1:26.872 |
| 15 | Arturs Darznieks | LAT | 9 | 7.196 | 7.265 | 43.396 | 43.510 | 1:26.906 |
| 16 | Jonas Müller | AUT | 24 | 7.162 | 7.150 | 43.447 | 43.514 | 1:26.961 |
| 17 | Riks Rozitis | LAT | 12 | 7.285 | 7.281 | 43.383 | 43.598 | 1:26.981 |
| 18 | Stepan Fedorov | RUS | 10 | 7.174 | 7.126 | 43.491 | 43.577 | 1:27.068 |
| 19 | Reid Watts | CAN | 13 | 7.209 | 7.217 | 43.552 | 43.518 | 1:27.070 |
| 20 | Kevin Fischnaller | ITA | 17 | 7.184 | 7.223 | 43.447 | 43.625 | 1:27.072 |
| 21 | Mateusz Sochowicz | POL | 7 | 7.213 | 7.219 | 43.565 | 43.508 | 1:27.073 |
| 22 | Max Langenhan | GER | 11 | 7.167 | 7.140 | 43.471 | 43.605 | 1:27.076 |
| 23 | Jozef Ninis | SVK | 22 | 7.291 | 7.307 | 43.519 | 43.560 | 1:27.079 |
| 24 | Aleksandr Gorbatcevich | RUS | 25 | 7.206 | 7.221 | 44.140 | 43.240 | 1:27.380 |
| 25 | Valentin Cretu | ROU | 5 | 7.241 | 7.227 | 43.915 | 43.726 | 1:27.641 |
| 26 | Jonathan Gustafson | USA | 6 | 7.190 | 7.185 | 44.309 | 43.525 | 1:27.834 |
| 27 | Svante Kohala | SWE | 3 | 7.269 | 7.287 | 43.991 | 43.863 | 1:27.854 |
| 28 | Andriy Mandziy | UKR | 2 | 7.226 | 7.215 | 44.227 | 44.010 | 1:28.237 |
| 29 | Maciej Kurowski | POL | 8 | 7.229 | 7.258 | 43.682 | 43.699 | 1:28.381 |
| 30 | Michael Lejsek | CZE | 1 | 7.286 | 7.324 | 44.395 | 44.463 | 1:28.858 |
| DNF | Anton Dukach | UKR | 4 | 7.202 | | DNF | | |
| DNF | Wolfgang Kindl | AUT | 21 | 7.197 | | DNF | | |