From Lillehammer, NOR
Jan. 19, 2020 – Dominik Fischnaller won his first gold medal of the FIL World Cup season, coming from behind for the win.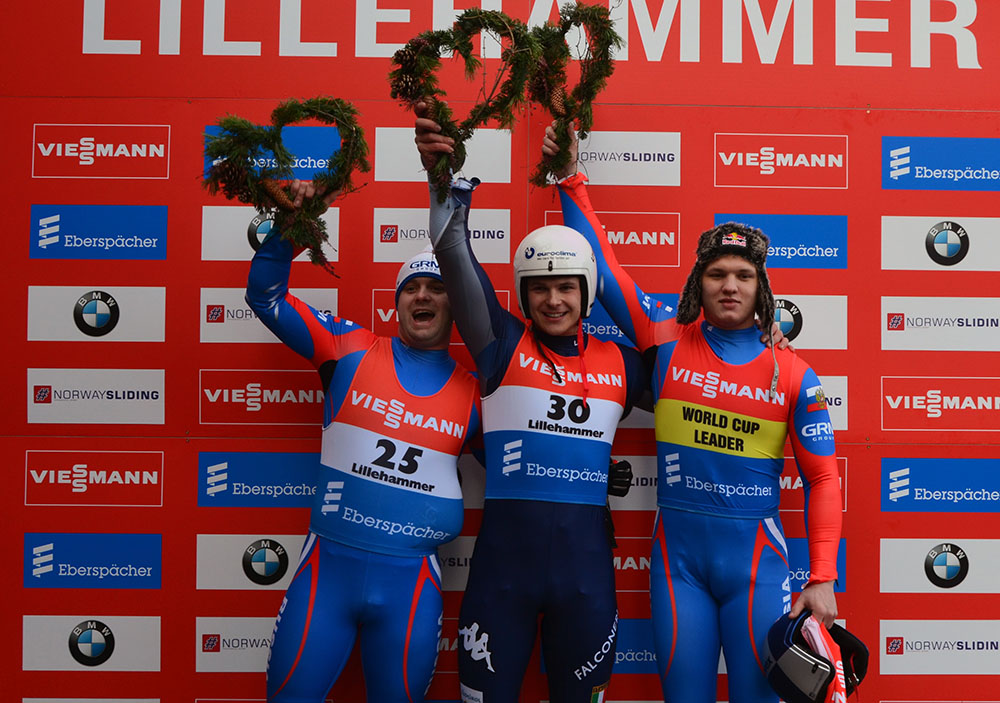 Fischnaller came into the second heat just .002 behind Russia's Semen Pavlichenko and well ahead of most anyone else. His second run of 48.974 couldn't be matched by anyone, and it was enough to give him gold.
Pavlichenko finished second, ahead of teammate Roman Repilov in third.
The gold for Fischnaller was his fifth medal in seven races on the season.
Olympic gold medalist David Gleirscher finished fourth, with Russian Aleksandr Gorbatcevich fifth and Kevin Fischnaller sixth.
For the second time in Lillehammer, Germany was left out of the top six, with Johannes Ludwig  the top German in eighth.
Despite finishing third, Repilov holds a commanding lead in the race to the Crystal Globe, leaving Lillehammer with an 86 point lead over Fischnaller.
Jonny Gustafson was the top-finishing American in 13th. Teammate Tucker West moved up from 19th to 17th in the second heat.
Results:
| | | | | | | | | |
| --- | --- | --- | --- | --- | --- | --- | --- | --- |
| Pos | Name | Nation | Bib | Start 1 | Start 2 | Run 1 | Run 2 | Total |
| 1 | Dominik Fischnaller | ITA | 30 | 4.392 | 4.404 | 48.763 | 48.974 | 1:37.737 |
| 2 | Semen Pavlichenko | RUS | 25 | 4.373 | 4.393 | 48.761 | 49.150 | 1:37.911 |
| 3 | Roman Repilov | RUS | 32 | 4.385 | 4.387 | 48.889 | 49.076 | 1:37.965 |
| 4 | David Gleirscher | AUT | 28 | 4.408 | 4.427 | 48.944 | 49.260 | 1:38.204 |
| 5 | Aleksandr Gorbatcevich | RUS | 8 | 4.440 | 4.435 | 49.110 | 49.287 | 1:38.397 |
| 6 | Kevin Fischnaller | ITA | 23 | 4.454 | 4.460 | 49.003 | 49.407 | 1:38.410 |
| 7 | Stepan Fedorov | RUS | 15 | 4.395 | 4.396 | 49.015 | 49.425 | 1:38.440 |
| 8 | Johannes Ludwig | GER | 20 | 4.373 | 4.373 | 49.032 | 49.438 | 1:38.470 |
| 9 | Wolfgang Kindl | AUT | 24 | 4.464 | 4.458 | 49.305 | 49.262 | 1:38.567 |
| 10 | Kristers Aparjods | LAT | 29 | 4.413 | 4.404 | 49.206 | 49.418 | 1:38.624 |
| 11 | Jonas Müller | AUT | 27 | 4.407 | 4.408 | 49.386 | 49.320 | 1:38.706 |
| 12 | Max Langenhan | GER | 21 | 4.442 | 4.393 | 49.341 | 49.412 | 1:38.753 |
| 13 | Jonathan Gustafson | USA | 14 | 4.394 | 4.395 | 49.240 | 49.561 | 1:38.801 |
| 14 | Maksim Aravin | RUS | 22 | 4.452 | 4.465 | 49.558 | 49.258 | 1:38.816 |
| 15 | Felix Loch | GER | 26 | 4.397 | 4.388 | 49.668 | 49.149 | 1:38.817 |
| 16 | Nico Gleirscher | GER | 26 | 4.388 | 4.406 | 49.541 | 49.486 | 1:39.027 |
| 17 | Tucker West | USA | 31 | 4.399 | 4.395 | 49.570 | 49.521 | 1:39.091 |
| 18 | Riks Rozitis | LAT | 13 | 4.484 | 4.503 | 49.441 | 49.654 | 1:39.095 |
| 19 | Jozef Ninis | SVK | 16 | 4.460 | 4.468 | 49.654 | 49.484 | 1:39.138 |
| 20 | Inars Kivlenieks | LAT | 19 | 4.393 | 4.401 | 49.436 | 49.795 | 1:39.231 |
| 21 | Moritz Bollmann | GER | 11 | 4.414 | 4.408 | 49.531 | 49.900 | 1:39.431 |
| 22 | Arturs Darznieks | LAT | 6 | 4.415 | 4.420 | 49.600 | 49.883 | 1:39.483 |
| 23 | Valentin Cretu | ROU | 5 | 4.423 | 4.424 | 49.742 | 49.765 | 1:39.507 |
| 24 | Alexaner Ferlazzo | AUS | 2 | 4.455 | 4.435 | 49.957 | 49.583 | 1:39.540 |
| 25 | Reihard Egger | AUT | 18 | 4.454 | 4.453 | 49.689 | 49.974 | 1:39.663 |
| 26 | Sebastian Bley | GER | 17 | 4.398 | 4.428 | 49.675 | 50.067 | 1:39.742 |
| 27 | Svante Kohala | SWE | 4 | 4.476 | 4.467 | 49.853 | 50.193 | 1:40.046 |
| 28 | Mateusz Sochowicz | POL | 3 | 4.448 | 4.434 | 49.800 | 50.435 | 1:40.235 |
| 29 | Jakub Simonak | SVK | 9 | 4.409 | 4.432 | 50.511 | 49.757 | 1:40.268 |
| 30 | Leon Felderer | ITA | 1 | 4.451 | 4.489 | 50.606 | 50.546 | 1:41.152 |
| 31 | Andriy Mandziy | UKR | 7 | 4.459 | 4.441 | 50.040 | 73.116 | 2:03.206 |
| 32 | Anton Dukach | UKR | 12 | 4.432 | 4.439 | 76.012 | 49.977 | 2:05.989 |