From Winterberg, GER
Feb. 22, 2020 – Eliza Cauce had been close many times, but prior to the race in Winterberg she'd never made it to the top of the podium. On Saturday she did just that, edging out both World Cup point leaders to do so.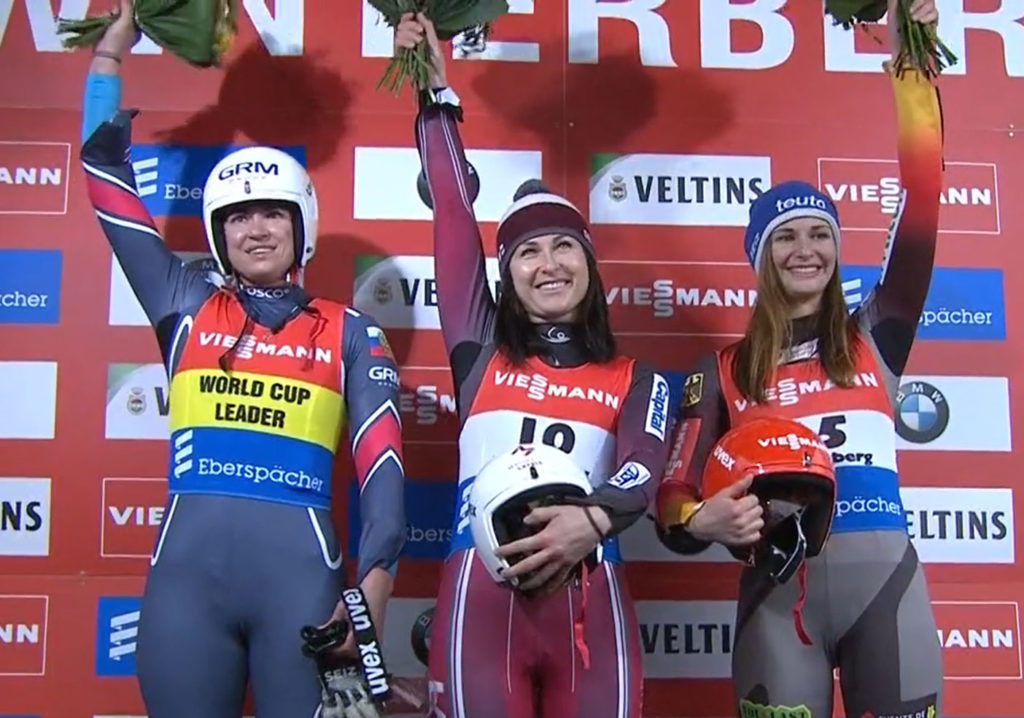 The Latvian slider came into the second heat ahead of everyone but World Cup point leader Tayana Ivanova. On the second run Cauce set the quick time of the race to put pressure on the Russian. Ivanova answered, only a tenth of a second slower than Cauce, but that was enough to give Cauce her first career gold medal.
Cauce's final margin of victory was .08, with Ivanova finishing second and Julia Taubitz of Germany finishing third.
The gold medal for Cauce was the first ever World Cup gold medal for a Latvian singles competitor.
Viktoriia Demchenko had a couple of small mistakes on her second run to drop her off the podium in to fourth, just ahead of Germany's Anna Berreiter and Italy's Sandra Robatscher, who rounded out the top six.
There was controversy leading up to the race. The track was deemed unsafe by many athletes, but the FIL deemed everything to be fine, leading to both the United States and Austria pulling their athletes from competition. American Summer Britcher was later penalized by the FIL for "unsporting behavior" as it related to her protests about the track conditions in Winterberg.
As a response to the athletes' criticism, after all training had been completed the FIL decided to lower the starts for all competitons over the weekend, with the men moving to the women's/doubles start and the women and doubles sleds moving one start down from there.
With Austria and the United States pulling out, as well as Germany only fielding two of their women's sliders, the field was reduced to 18 sleds, the smallest in recent memory.
Heading into the season finale, Ivanova holds a 27 point lead over Taubiz with just the one race to go. Demchenko is third, but out of contention for the World Cup championship, while Anna Berreiter, Ekaterina Katnikova, and Summer Britcher sit fourth through sixth, respectively.
Results:
| | | | | | | | | |
| --- | --- | --- | --- | --- | --- | --- | --- | --- |
| Pos | Name | Nation | Bib | Start 1 | Start 2 | Run 1 | Run 2 | Total |
| 1 | Eliza Cauce | LAT | 10 | 3.127 | 3.123 | 43.805 | 43.676 | 1:27.481 |
| 2 | Tatyana Ivanova | RUS | 16 | 3.121 | 3.124 | 43.785 | 43.776 | 1:27.561 |
| 3 | Julia Taubitz | GER | 15 | 3.172 | 3.168 | 43.883 | 43.790 | 1:27.673 |
| 4 | Viktoriia Demchenko | RUS | 17 | 3.156 | 3.161 | 43.879 | 43.896 | 1:27.775 |
| 5 | Anna Berreiter | GER | 18 | 3.136 | 3.119 | 43.941 | 43.892 | 1:27.833 |
| 6 | Sandra Robatscher | ITA | 8 | 3.145 | 3.133 | 43.968 | 43.917 | 1:27.885 |
| 7 | Kendija Aparjode | LAT | 12 | 3.164 | 3.154 | 43.974 | 44.134 | 1:28.108 |
| 8 | Ulla Zirne | LAT | 9 | 3.165 | 3.186 | 44.150 | 44.037 | 1:28.187 |
| 9 | Andrea Vötter | ITA | 14 | 3.149 | 3.154 | 44.052 | 44.215 | 1:28.267 |
| 10 | Raluca Stramaturaru | ROU | 6 | 3.168 | 3.169 | 44.237 | 44.209 | 1:28.446 |
| 11 | Natalie Maag | SUI | 11 | 3.189 | 3.173 | 44.163 | 44.491 | 1:28.654 |
| 12 | Olesya Mikhaylenko | RUS | 7 | 3.161 | 3.164 | 44.171 | 44.579 | 1:28.750 |
| 13 | Ekaterina Katnikova | RUS | 13 | 3.151 | 3.174 | 44.479 | 44.310 | 1:28.789 |
| 14 | Olena Stetskiv | UKR | 5 | 3.175 | 3.187 | 44.435 | 44.438 | 1:28.837 |
| 15 | Katarina Simonakova | SVK | 4 | 3.199 | 3.205 | 44.534 | 44.570 | 1:29.104 |
| 16 | Olena Smaha | UKR | 3 | 3.186 | 3.192 | 44.775 | 44.877 | 1:29.652 |
| 17 | Tove Kohala | SWE | 2 | 3.184 | 3.204 | 45.048 | 45.011 | 1:30.059 |
| 18 | Natalia Jamroz | POL | 1 | 3.266 | 3.255 | 45.439 | 45.463 | 1:30.902 |