From Altenberg, GER
Feb. 29, 2020 – It was going to take something special to beat Marina Gilardoni in the 2020 World Championships. For three runs the Swiss slider was basically untouchable, coming into the final heat over a half second ahead of anyone else.
Enter Tina Hermann.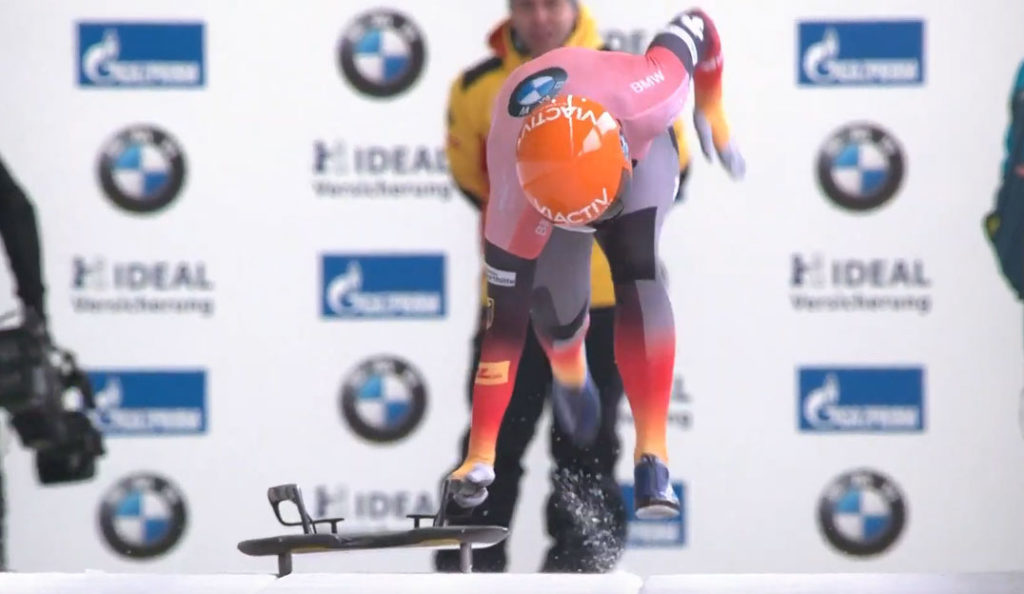 Hermann knew she needed a perfect slide to beat Gilardoni, and on her final run she broke the track record with a 57.77 downtime, seemingly finding speed out of every corner. Gilardoni's final run was quick, but couldn't match either her third run's time or Hermann's final downtime. While the Swiss slider had a clean run, Hermann's final trip down was flawless and enough to edge out Gilardoni by .22.
The win for Hermann gave her a third World Championship title in five starts. She's never finished out of the top five in a four-heat race, finishing fifth in her first World Championships in Winterberg and again in the 2018 Olympic Games in Pyeongchang.
Marina Gilardoni had struggled with injury over the past few seasons, unable to start like she'd been able to. In the 2019/2020 season she finally was back to full form, pushing and sliding better than ever. Her silver medal in Altenberg was her first World Championship medal, two years removed from an 18th place effort in Königssee.
Janine Flock had the fastest run of the third heat to move into medal contention, but couldn't match the speed of either Hermann or Gilardoni in the other three heats. She finished with a bronze medal, her second World Championship medal of her career. She had previously won silver in Igls during the 2016 World Championships.
Germany's Jacqueline Lölling came into the World Championships as one of the favorites for gold, but the 2019/2020 World Cup champion struggled to put together four consistent runs and finished fourth, .18 out of the medals.
Elena Nikitina fell out of medal contention with a rough third run. The Russian broke the start record three times on her way to a fifth place finish. Sophia Griebel rounded out the top six in sixth, edging out Czechia's Anna Fernstädt in seventh.
Both Jane Channell and Mimi Rahneva had nice starts to their World Championships, but both had trouble that left them out of the medals. Channell had two difficult runs in her second and third trips down the German track. Around those, though, she threw down two very strong runs to finish eighth.. Rahneva's third run was only 20th quickest, which dropped her out of the top ten, she eventually finished 16th.
The United States put all three women in the top 20 in Altenberg. Kendall Wesenberg hung around the top ten all race, eventually finishing tenth. Teammates Megan Henry and Savannah Graybill jockeyed back and forth for 19th position, with Henry entering the final heat just .02 ahead of Graybill. On the fourth heat Graybill had a really nice slide but Henry threw down her fastest run of the race by over a full second to move up to 18th, while Graybill finished just behind in 20th.
For Great Britain, Altenberg was mostly forgettable. Laura Deas started her World Championships by cracking her helmet. The Germans gifted her a new helmet for the World Championships, and in that helmet she finished 19th. Deas' teammates Madelaine Smith and Kimberley Murray both had a rough heat in the first day of sliding. Smith was able to move up to into 21st while Murray moved up to 23rd in their final heat of the season.
Results:
| | | | | | | | | |
| --- | --- | --- | --- | --- | --- | --- | --- | --- |
| Pos | Name | Nation | Bib | Run 1 | Run 2 | Run 3 | Run 4 | Total |
| 1 | Tina Hermann | GER | 8 | 59.52 | 58.94 | 58.29 | 57.77 | 3:54.52 |
| 2 | Marina Gilardoni | SUI | 10 | 58.96 | 58.87 | 58.26 | 58.65 | 3:54.74 |
| 3 | Janine Flock | AUT | 4 | 59.50 | 59.43 | 58.11 | 58.69 | 3:55.73 |
| 4 | Jacqueline Lölling | GER | 7 | 59.66 | 59.28 | 58.38 | 58.59 | 3:55.91 |
| 5 | Elena Nikitina | RUS | 5 | 59.27 | 59.33 | 58.93 | 58.49 | 3:56.02 |
| 6 | Sophia Griebel | GER | 12 | 59.65 | 59.72 | 58.66 | 58.36 | 3:56.39 |
| 7 | Anna Fernstädt | CZE | 11 | 59.66 | 59.68 | 58.88 | 58.28 | 3:56.50 |
| 8 | Jane Channell | CAN | 15 | 59.36 | 60.50 | 59.30 | 58.45 | 3:57.61 |
| 9 | Kim Meylemans | BEL | 13 | 60.44 | 59.82 | 59.07 | 58.69 | 3:58.02 |
| 10 | Kendall Wesenberg | USA | 14 | 60.14 | 59.96 | 59.61 | 58.93 | 3:58.64 |
| 11 | Renata Khuzina | RUS | 17 | 60.30 | 60.16 | 59.38 | 59.06 | 3:58.90 |
| 12 | Yulia Kanakina | RUS | 21 | 59.90 | 60.00 | 59.44 | 59.56 | 3:58.90 |
| 13 | Huiyang Lin | CHN | 26 | 60.38 | 60.25 | 59.63 | 59.01 | 3:59.27 |
| 14 | Agathe Bessard | FRA | 2 | 60.34 | 60.16 | 59.48 | 59.33 | 3:59.31 |
| 15 | Kimberley Bos | NED | 24 | 60.23 | 60.65 | 59.41 | 59.05 | 3:59.34 |
| 16 | Mirela Rahneva | CAN | 6 | 59.97 | 60.08 | 59.86 | 59.60 | 3:59.51 |
| 17 | Valentina Margaglio | ITA | 23 | 60.55 | 60.45 | 59.58 | 58.94 | 3:59.52 |
| 18 | Megan Henry | USA | 9 | 60.57 | 60.44 | 59.81 | 58.76 | 3:59.58 |
| 19 | Laura Deas | GBR | 18 | 60.31 | 60.59 | 59.57 | 59.42 | 3:59.89 |
| 20 | Savannah Graybill | USA | 20 | 60.44 | 60.56 | 59.84 | 59.37 | 4:00.21 |
| 21 | Madelaine Smith | GBR | 16 | 61.55 | 60.95 | 60.07 | | 3:02.57 |
| 22 | Alessia Crippa | ITA | 3 | 61.15 | 61.00 | 60.46 | | 3:02.61 |
| 23 | Kimberley Murray | GBR | 19 | 62.37 | 60.60 | 60.15 | | 3:03.12 |
| 24 | Nicole Silveira | BRA | 1 | 61.48 | 61.76 | 60.63 | | 3:03.87 |
| 25 | Yangqi Zhu | CHN | 25 | 61.17 | 62.26 | 60.71 | | 3:04.14 |
| 26 | Leslie Stratton | SWE | 27 | 61.17 | 61.51 | 61.52 | | 3:04.20 |
| 27 | Jaclyn Narracott | AUS | 22 | 60.63 | 63.13 | 60.76 | | 3:04.52 |
| 28 | Darta Zunte | LAT | 28 | 62.24 | 61.61 | 60.95 | | 3:04.80 |