From Altenberg, GER
Feb. 28, 2020 – Coming into the second day of sliding for the men's skeleton world championship, everyone knew that Germany would likely win gold. The "who" and "how" part was up for discussion.
But nobody could have expected the amazingly tight show that the German team put on while racing for gold.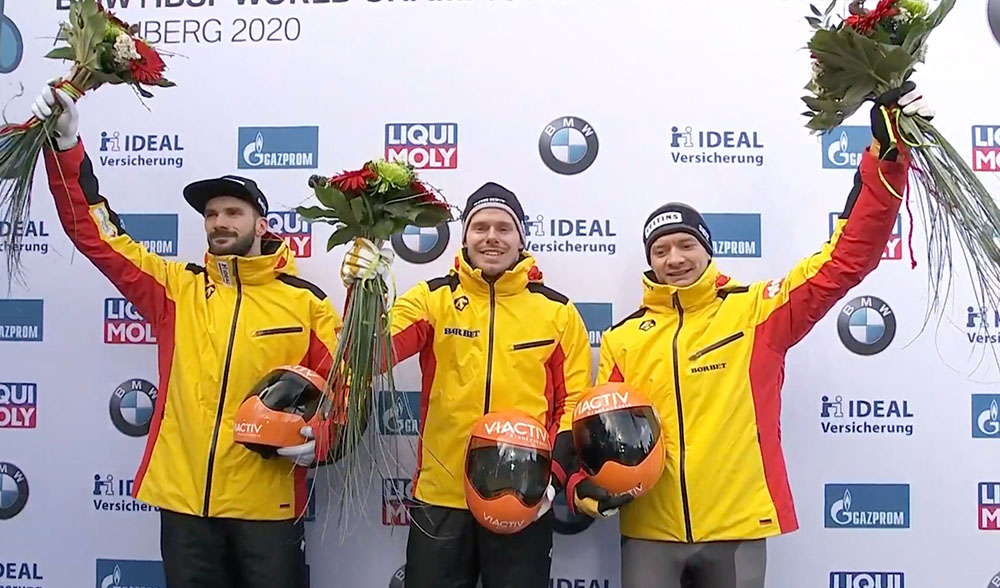 Christopher Grotheer came into the third run as the leader by .09 over Alexander Gassner and .35 over Axel Jungk. On that third run both Gassner and Jungk closed the gap, with Gassner edging closer by .02 and Jungk closing to within .20, shaping up the fourth run to be an exciting one no matter where the medals shook out.
The crowd in Altenberg got their money's worth on the fourth and final run alone. Of the three sliders Jungk was first down and he put down the fastest run of the day (56.04) to guarantee Germany's gold medal. Next was Gassner, who could not match Jungk's pace, falling just behind his teammate by .03, out of a chance for gold but no worse than a bronze medal.
All that stood between Jungk and a gold medal was Christopher Grotheer.
Grotheer spent the entire 2019/2020 season on the Intercontinental Cup, one step away from competing at the top level of sliding. During that time he won six gold medals and a pair of bronzes on his way to a definitive ICC championship. He was also the last German to win a men's skeleton race in Altenberg. It's likely the track that he's been best on over the course of his career.
Grotheer's final run wasn't the fastest, but it didn't need to be. Despite one skid prior to the Kreisel curve the ICC champ was able to find enough speed at the bottom to edge out Jungk by .02 over four runs to win Germany's first men's skeleton world championship in 20 years. Jungk tied a career-best men's skeleton World Championships finish with a silver medal, while Gassner tied his best ever World Championships finish with a bronze.
The German sweep of the podium was the first men's skeleton sweep since Austria swept the 1991 podium in Igls.
Martins Dukurs had won four straight World Championship gold medals and seven straight World Championship medals overall but never could match the speed of the Germans in Altenberg. His fourth place finish was his first non-medal effort since the 2009 World Championships in Lake Placid.
Dukurs was able to prevent a German sweep of the top four positions, holding off Felix Keisinger in fifth. Keisinger, the junior world champion, put down a blistering third heat to close the gap between himself and Dukurs, but was beaten in the fourth run by the Lativan.
Like Dukurs, Olympic champion Sungbin Yun was expected to contend for a medal in Altenberg, but never could quite find his pace. His sixth place finish was his third straight stop six in four World Championship starts.
Great Britain's Marcus Wyatt came into the second day of sliding in 13th. His third and fourth runs were the eighth and seventh quickest of their respective heats, enough to move him up into tenth. Teammate Matt Weston couldn't match the success of his first two, falling from 12th to 16th over the course of his final two runs, while Craig Thompson put down a top three fastest start in all four heats on his way to a 20th place finish in his first World Championships.
The American men just missed out on the fourth and final run of the heat. Austin Florian moved up from 24th to 22nd on his final run of the day on the strength of the third run's 19th fastest time . Teammate Andrew Blaser crashed on his final run, causing him to fall from 22nd to 27th in his first ever trip to Altenberg.
Canada's Dave Greszczyszyn got the call about going to World Championships two days before he had to be in Altenberg. Without him knowing, a friend put together a GoFundMe for him, and in two days all the funding needed for him to fly to Germany and participate was raised. Greszczyszyn finished in 23rd, two spots ahead of teammate Kevin Boyer in 25th.
Results:
| | | | | | | | | |
| --- | --- | --- | --- | --- | --- | --- | --- | --- |
| Pos | Name | Nation | Bib | Run 1 | Run 2 | Run 3 | Run 4 | Total |
| 1 | Christopher Grotheer | GER | 19 | 56.17 | 55.86 | 56.56 | 56.22 | 3:44.81 |
| 2 | Axel Jungk | GER | 9 | 56.15 | 56.23 | 56.41 | 56.04 | 3:44.83 |
| 3 | Alexander Gassner | GER | 8 | 56.21 | 55.91 | 56.54 | 56.20 | 3:44.86 |
| 4 | Martins Dukurs | LAT | 4 | 56.30 | 56.25 | 56.77 | 56.06 | 3:45.38 |
| 5 | Felix Keisinger | GER | 6 | 56.66 | 56.35 | 56.46 | 56.14 | 3:45.61 |
| 6 | Sungbin Yun | KOR | 7 | 56.47 | 56.45 | 56.66 | 56.33 | 3:45.91 |
| 7 | Tomass Dukurs | LAT | 10 | 56.75 | 56.34 | 56.88 | 56.66 | 3:46.63 |
| 8 | Alexander Tretiakov | RUS | 5 | 57.00 | 56.31 | 56.77 | 56.85 | 3:46.93 |
| 9 | Nikita Tregubov | RUS | 13 | 56.90 | 56.49 | 57.18 | 56.51 | 3:47.08 |
| 10 | Marcus Wyatt | GBR | 11 | 57.03 | 56.91 | 56.84 | 56.37 | 3:47.15 |
| 11 | Wengang Yan | CHN | 17 | 56.64 | 57.07 | 57.25 | 56.95 | 3:47.91 |
| 12 | Jisoo Kim | KOR | 12 | 56.93 | 56.76 | 57.51 | 57.07 | 3:48.27 |
| 13 | Evgeniy Rukosuev | RUS | 16 | 56.91 | 57.13 | 57.44 | 56.87 | 3:48.35 |
| 14 | Vladyslav Heraskevych | UKR | 18 | 57.25 | 57.12 | 57.36 | 56.64 | 3:48.37 |
| 15 | Matt Weston | GBR | 29 | 57.26 | 56.66 | 57.72 | 56.82 | 3:48.46 |
| 16 | Seunggi Jung | KOR | 15 | 57.31 | 57.01 | 57.17 | 57.34 | 3:48.83 |
| 17 | Florian Auer | AUT | 25 | 57.32 | 56.74 | 57.93 | 57.17 | 3:49.16 |
| 18 | Nathan Crumpton | ASA | 26 | 57.93 | 57.05 | 57.46 | 57.17 | 3:49.61 |
| 19 | Samuel Maier | AUT | 23 | 57.40 | 57.39 | 57.60 | 57.46 | 3:49.85 |
| 20 | Craig Thompson | GBR | 20 | 57.53 | 57.10 | 57.54 | 58.09 | 3:50.26 |
| 21 | Wenqiang Geng | CHN | 14 | 57.18 | 57.66 | 57.92 | | 2:52.76 |
| 22 | Austin Florian | USA | 24 | 57.58 | 57.71 | 57.63 | | 2:52.92 |
| 23 | Dave Greszczyszyn | CAN | 1 | 57.74 | 57.49 | 57.98 | | 2:53.21 |
| 24 | Wenhao Chen | CHN | 22 | 58.45 | 57.66 | 57.66 | | 2:53.77 |
| 25 | Kevin Boyer | CAN | 2 | 57.79 | 57.67 | 58.40 | | 2:53.86 |
| 26 | Mattia Gaspari | ITA | 27 | 57.78 | 57.90 | 58.31 | | 2:53.99 |
| 27 | Andrew Blaser | USA | 30 | 57.54 | 57.58 | 58.94 | | 2:54.06 |
| 28 | Mihail Enache | ROU | 3 | 58.56 | 57.94 | 58.55 | | 2:55.05 |
| 29 | Basil Seiber | SUI | 31 | 59.11 | 58.42 | 58.66 | | 2:56.19 |
| 30 | Samuel Keiser | SUI | 28 | 58.59 | 58.63 | 59.12 | | 2:56.34 |
| 31 | Amedeo Bagnis | ITA | 21 | 60.04 | 58.25 | 58.46 | | 2:56.75 |
| DNS | Ander Mirambell | ESP | 32 | 58.25 | DNS | | | |