From Königssee, GER
Feb. 29, 2020 – There were two races going on in the doubles luge finale in Königssee: The race to win the World Cup finale and the race to win the World Cup title.
Both came down to the final run between two German teams.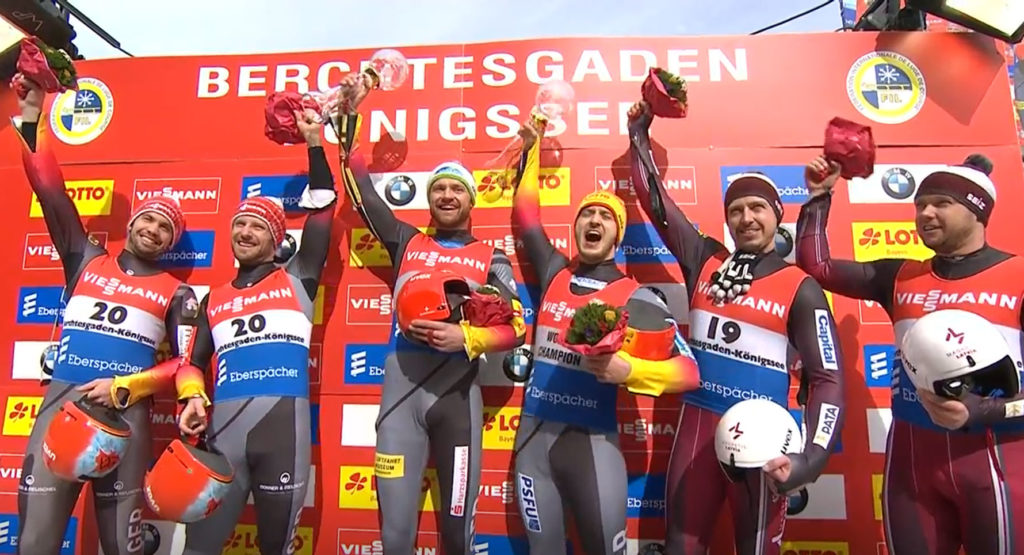 Between the teams of Toni Eggert and Sascha Benecken and Tobias Wendl and Tobias Arlt, whoever finished ahead of the other would win the season title, and after one run it was clear those two sleds were the class of the field.
Eggert and Benecken led Wendl and Arlt by .081 going into the second heat, with no other team within a half second of the Germans. On the second run Wendl and Arlt came down first, easily moving into the lead by nearly .75 over the field with just Eggert and Benecken to go.
Eggert and Benecken started slightly slower than Wendl and Arlt, but immediately pulled ahead at the next timing split and never looked back, cruising to a .226 victory over teammates Wendl and Arlt and over a full second ahead of Latvians Andris and Juris Sics in third.
The win gave Eggert and Benecken the World Cup title by 25 points. Sics and Sics finished both the race and the season in third place.
Italy finished the race in fourth and fifth, with Ivan Nagler and Fabian Nagler edging out Emanuel Rieder and Simon Kainzwaldner, while Germans Robin Geueke and David Gamm finished the race in sixth.
The American duo of Chris Mazdzer and Jayson Terdiman finished a season-best seventh, while teammates Dana Kellogg and Duncan Segger also finished a season-best in 11th.
Results:
| | | | | | | | | |
| --- | --- | --- | --- | --- | --- | --- | --- | --- |
| Pos | Names | Nation | Bib | Start 1 | Start 2 | Run 1 | Run 2 | Total |
| 1 | Eggert / Benecken | GER | 11 | 2.843 | 2.853 | 49.863 | 49.914 | 1:39.777 |
| 2 | Wendl / Arlt | GER | 20 | 2.842 | 2.846 | 49.944 | 50.099 | 1:40.043 |
| 3 | Sics / Sics | LAT | 19 | 2.912 | 2.886 | 50.418 | 50.418 | 1:40.836 |
| 4 | Nagler / Malleier | ITA | 12 | 2.898 | 2.904 | 50.475 | 50.530 | 1:41.005 |
| 5 | Rieder / Kainzwaldner | ITA | 13 | 2.891 | 2.933 | 50.657 | 50.432 | 1:41.089 |
| 6 | Geueke / Gamm | GER | 16 | 2.912 | 2.890 | 50.611 | 50.580 | 1:41.191 |
| 7 | Mazdzer / Terdiman | USA | 7 | 2.925 | 2.990 | 50.673 | 50.771 | 1:41.444 |
| 8 | Rieder / Rastner | ITA | 10 | 2.809 | 2.885 | 50.670 | 50.777 | 1:41.447 |
| 9 | Yuzhakov / Prokhorov | RUS | 8 | 2.894 | 2.885 | 50.851 | 50.717 | 1:41.568 |
| 10 | Gudramovics / Kalnins | LAT | 18 | 2.922 | 2.937 | 50.911 | 50.721 | 1:41.632 |
| 11 | Kellogg / Segger | USA | 2 | 3.021 | 3.021 | 51.094 | 51.206 | 1:42.300 |
| 12 | Chmielewski / Kowalewski | POL | 15 | 2.919 | 2.914 | 51.165 | 51.158 | 1:42.323 |
| 13 | Denisev / Antonov | RUS | 17 | 2.960 | 2.918 | 51.135 | 51.208 | 1:42.343 |
| 14 | Vavercak / Zmij | SVK | 6 | 2.906 | 2.929 | 51.291 | 51.329 | 1:42.620 |
| 15 | Stakhiv / Lysetskyi | UKR | 4 | 3.030 | 3.036 | 51.824 | 51.749 | 1:42.573 |
| 16 | Vejdelek / Pekny | CZE | 5 | 3.042 | 3.053 | 51.818 | 51.757 | 1:43.575 |
| 17 | Gitlan / Serban | ROU | 1 | 3.045 | 3.048 | 52.360 | 52.310 | 1:44.670 |
| 18 | Hoi / Levkovych | UKR | 3 | 3.277 | 3.128 | 55.030 | 52.381 | 1:47.411 |
| DNF | Müller / Frauscher | AUT | 9 | 2.933 | 2.978 | 50.763 | DNF | |
| DNF | Kashkin / Korshunov | RUS | 14 | 2.949 | | DNF | | |