From Altenberg, GER
Feb. 29, 2020 – In the men's skeleton race earlier in the week, the podium was separated by just .05. The 4-man bobsled race is shaping up to be just as close.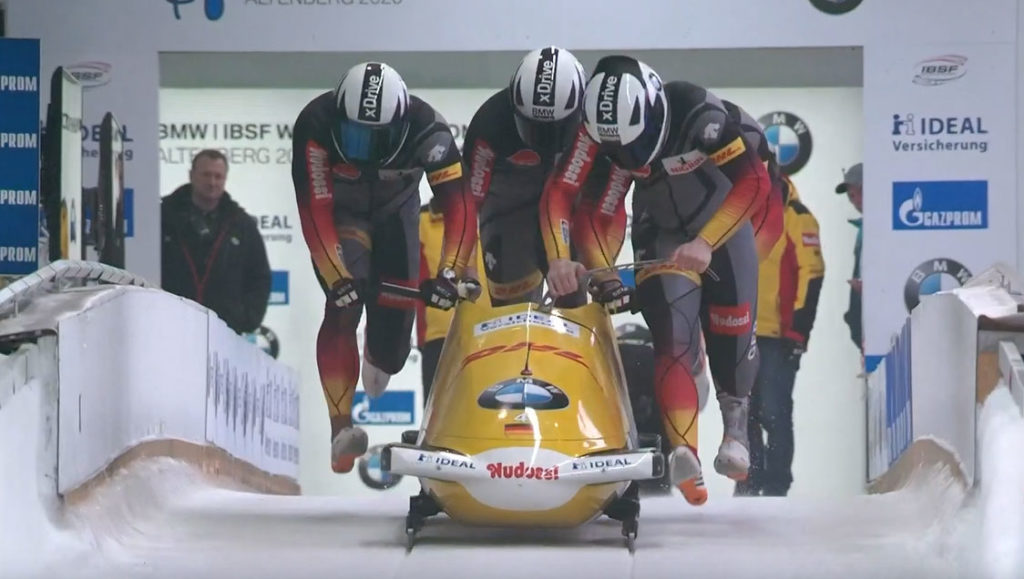 Nico Walther entered the overnight break as the leader by just .05 over Oskars Kibermanis, and .06 over Johannes Lochner, while Justin Kripps and defending champion Francesco Friedrich are tied for fourth, just .09 out.
Coming into the second heat, Lochner and Friedrich were tied for the lead, just ahead of Walther. On that second run, Walther put down what was the cleanest run of the leaders to move into the lead with just Lochner and Friedrich to come. Neither Lochner nor Friedrich could match Walther's time, with both men coming down not just behind Walther but Kibermanis as well.
Kibermanis had a crew member nearly fall over while loading in the sled, but still managed both the fastest start and fastest run of the heat to move up from fifth into second, .01 ahead of Lochner.
Canada's Justin Kripps is tied with Friedrich in fourth, only .09 behind Walther. One skid and a hit going into Curve 5 both were likely the difference between Kripps being in the lead and sitting fourth.
Austria's Benjamin Maier moved up from ninth in the first heat into sixth with one of the quickest runs of the second heat.
The United States' Hunter Church well spend the night between the second and third runs in 17th. His team had trouble loading in the second heat, and that caused him to drop behind 2014 Olympic champion Oskars Melbardis.
Brad Hall is tenth at the halfway break for Great Britain, .03 ahead of France's Romain Heinrich. Lamin Deen will go into the second day of sliding in 20th place.
The third heat for the 4-man bobsled World Championships will start at 7:00 AM Eastern on Sunday morning, to be followed at 9:30 AM ET by the fourth and final heat.
Results After 2 Runs:
| | | | | | | | | |
| --- | --- | --- | --- | --- | --- | --- | --- | --- |
| Pos | Names | Nation | Bib | Start 1 | Start 2 | Run 1 | Run 2 | Total |
| 1 | Walther / Krenz / Bluhm / Franke | GER | 11 | 5.13 | 5.15 | 54.30 | 54.20 | 1:48.50 |
| 2 | Kibermanis / Kaufmanis / Springis / Miknis | LAT | 7 | 5.05 | 5.02 | 54.36 | 54.19 | 1:48.55 |
| 3 | Lochner / F. Bauer / Weber / Rasp | GER | 5 | 5.07 | 5.09 | 54.25 | 54.31 | 1:48.56 |
| 4 | Friedrich / C. Bauer / Grothkopp / Schüller | GER | 4 | 5.01 | 5.02 | 54.25 | 54.34 | 1:48.59 |
| 4 | Kripps / Sommer / Stones / Coakwell | CAN | 6 | 5.12 | 5.15 | 54.31 | 54.28 | 1:48.59 |
| 6 | Maier / Rangl / Sammer / Moldovan | AUT | 14 | 5.18 | 5.22 | 54.55 | 54.25 | 1:48.80 |
| 7 | Dvorak / Suchy / Sindelar / Nosek | CZE | 10 | 5.14 | 5.14 | 54.48 | 54.45 | 1:48.93 |
| 8 | Won / Kim / Lee / Chae | KOR | 13 | 5.22 | 5.23 | 54.50 | 54.55 | 1:49.05 |
| 8 | Vogt / Friedli / Bieri / Michel | SUI | 12 | 5.15 | 5.19 | 54.39 | 54.66 | 1:49.05 |
| 10 | Hall / Taylor / Dawes / Cackett | GBR | 1 | 5.24 | 5.26 | 54.60 | 54.63 | 1:49.23 |
| 11 | Heinrich / Lefebvre / Alais / Hauterville | FRA | 2 | 5.22 | 5.22 | 54.71 | 54.55 | 1:49.26 |
| 12 | Andrianov / Lylov / Antyukh / Koshelev | RUS | 22 | 5.18 | 5.19 | 54.85 | 54.43 | 1:49.28 |
| 13 | Stulnev / Zaytsev / Kondratenko / Malykh | RUS | 9 | 5.21 | 5.21 | 54.74 | 54.57 | 1:49.31 |
| 14 | Treichl / Glück / Mitterer / Huber | AUT | 16 | 5.22 | 5.22 | 54.81 | 54.62 | 1:49.43 |
| 15 | Baumgartner / Ughi / Verginer / Bilotti | ITA | 3 | 5.29 | 5.31 | 54.88 | 54.62 | 1:49.50 |
| 16 | Melbardis / Nemme / Dambis / Pirogs | LAT | 19 | 5.22 | 5.31 | 55.07 | 54.49 | 1:49.56 |
| 17 | Church / Williamson / Reed / Horn | USA | 8 | 5.14 | 5.20 | 54.99 | 54.81 | 1:49.80 |
| 18 | Tentea / Daroczi / Dobre / Radu | ROU | 18 | 5.24 | 5.29 | 55.26 | 54.61 | 1:49.87 |
| 19 | Rohner / Leimgruber / Fearon / Giumma | SUI | 17 | 5.34 | 5.37 | 55.26 | 55.10 | 1:50.36 |
| 20 | Deen / Butterworth / Simons / Gilling | GBR | 15 | 5.26 | 5.29 | 55.34 | 55.15 | 1:50.49 |
| 21 | Bredikhin / Kazantsev / Zharovtsev / Gryaznov | RUS | 20 | 5.26 | 5.28 | 55.54 | 55.36 | 1:50.90 |
| 22 | Shinohara / Kaneko / Takahashi / Homma | JPN | 21 | 5.36 | 5.39 | 56.04 | 56.20 | 1:52.24 |