From Durham, USA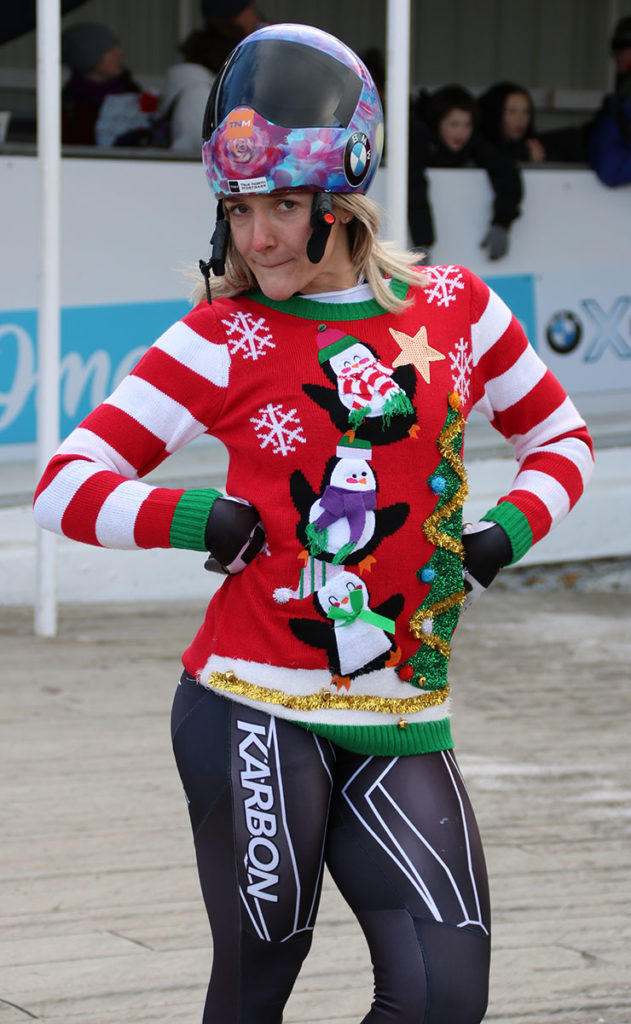 (May 25, 2020) – For the third installment of "Getting to Know…" we catch up with Canada's Mimi Rahneva. Mimi is a three-time IBSF World Cup gold medalist, and has nine World Cup medals to her name. In the 2018/2019 season she finished third overall for the second time in her career (2016/2017 being the other). Mimi took a break from painting her basement to chat for the latest copy of "Getting to Know…"
If there's a slider you'd like to get to know, please drop me a note with who on Twitter: @TheKenChilds
Slider: Mimi Rahneva
Team: CAN skeleton
Home track: Whistler
Hometown: Ottawa, Ontario
Sponsors: True North Mortgage, Classroom Champions, Fast and Female
What's your favorite track and why?
There's tracks that are my favorite that I'm not very good at, and then there's tracks that I'm pretty good at but aren't necessarily my favorite. To narrow it down to the one I enjoy the most…I feel like it's expected of me to say St. Moritz, but I feel like it might be Winterberg?
No…you know what, it has to be Moritz because of the speed at the bottom. Purely because it's got these long transitions and you're going so fast but you have the space to enjoy it. Like in Whistler you're going so fast but you're trying to stay on top of everything and your brain's going a mile a minute. St. Moritz, you've got time to enjoy it before you set up for the next corner because of the long straights.
Canadian skeleton helmets are generally amazing works of art. Could you tell us about yours and what the inspiration was behind it?
I remember seeing Sarah Reid and Melissa Hollingsworth's helmets and thinking "oh my goodness these are so iconic and so beautiful", and it represents the athlete. In skeleton you don't usually get to see the athlete's face, when the television comes on it's just "helmet", no facial expressions or anything.
I thought it was a really neat way to express who you are and what you stand for. When I met up with an artist who I met doing a CBC TV shoot, he really liked my sled art and said "This is really cool, I like how you put people's names on it and people who have supported you!" and it was a tree, with roots for my family. He said he did art and he loved this stuff and to let him know if I needed anything done. So I call him up and tell him I'm looking to get my helmet done because I'd never had my helmet painted. We talked about my mom, and how I immigrated from Canada from Bulgaria and how I identify with being a Canadian but also being Bulgarian. I'm an immigrant, I'm not a "first generation", I actually came over.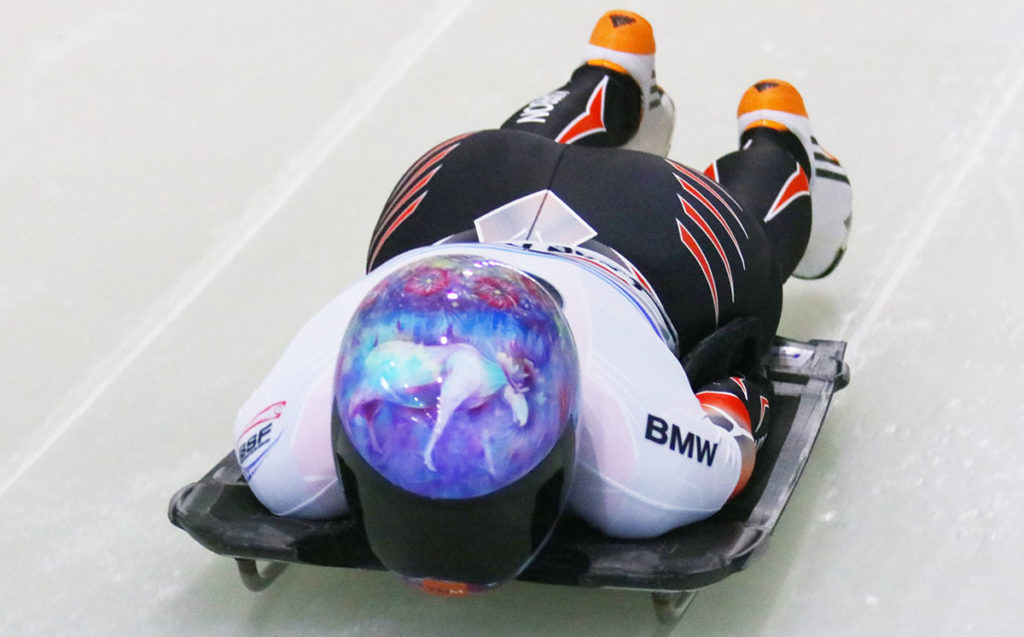 So he took a few of those concepts, some of the Bulgarian traditions I told him about Martenitsa on March 1 you wear this red and white little female and male that represent the coming of spring and he put that on the helmet. He put a praying goddess on the back of the helmet, she's a warrior but gentle. He took the creative on it, but put everything I wanted in a helmet on it. It somehow came up that my mom and I say "Love you to the moon and back", and he put a moon on the side of the helmet. The white moose was the Canadian take on my identity. To this day I'm still noticing things on it that I hadn't seen before. There's a lot going on, and it's busy, but I think it keeps me entertained and I identify with the business of a skeleton athlete's brain and what it goes through and it's on the helmet.
Do you have pre-race music you listen to? If so, what's your go-to?
I definitely have a playlist, it's called my "gametime playlist". I don't even know the names of the songs, I just know the songs. Every year there's a new playlist, this year "Dance Monkey" was the staple of the season, it came on probably four times before a race, whether it was in the car on the way over or just warming up. But nothing too specific, mostly dance music, but there's a new curated list every season.
Where's your favorite place to visit that's not on the IBSF schedule?
I go to Hallstatt, it's two hours out of Königssee. It's this tiny little village that's pedestrian only, it's right on the lake, and I saw a photo of it once and thought "I need to go there!" When I looked up where it was, it was right near Königssee so of course I go there almost every time I'm there. It's only a two hour drive, I've done it with Kim Bos, gone there by myself, I just LOVE going there. Even if it's a half day excursion I'll take the opportunity to go there just to recharge.
It's on a lake, the village is built into the mountain, and it's got these colorful bright houses that are so old, but they're all built into the cliff. So the reflection of the village into the lake is amazing, and there's a boat tour that I've never done but want to next time I go. It's just gorgeous, you walk down these tiny little streets because there's no cars going through. It just brings you back to a different time I think.

Are you watching anything on Netflix/Hulu/etc?
I am watching "Modern Family", just kind of when I'm getting ready for bed. And I'm re-watching "The Marvelous Mrs. Maisel", which is on Prime. It's just so witty and you go through the emotional embarrassments and life struggles and it's just so good! Those two are my go to right now.
When the season's over everyone likes to take a bit of time to unwind, what's your preferred way to kick back and relax?
Normally I want to go somewhere hot. I just want to go warm up my body after being frozen for six or seven months. I've only been able to do that once when I went to Barbados. But usually the first thing I do is go visit my family, like my sister and my niece. That's what I did this year, and luckily I got stuck out there in Ottawa, so I got to hang out for a month and a half. But most of the time I just want to go somewhere hot!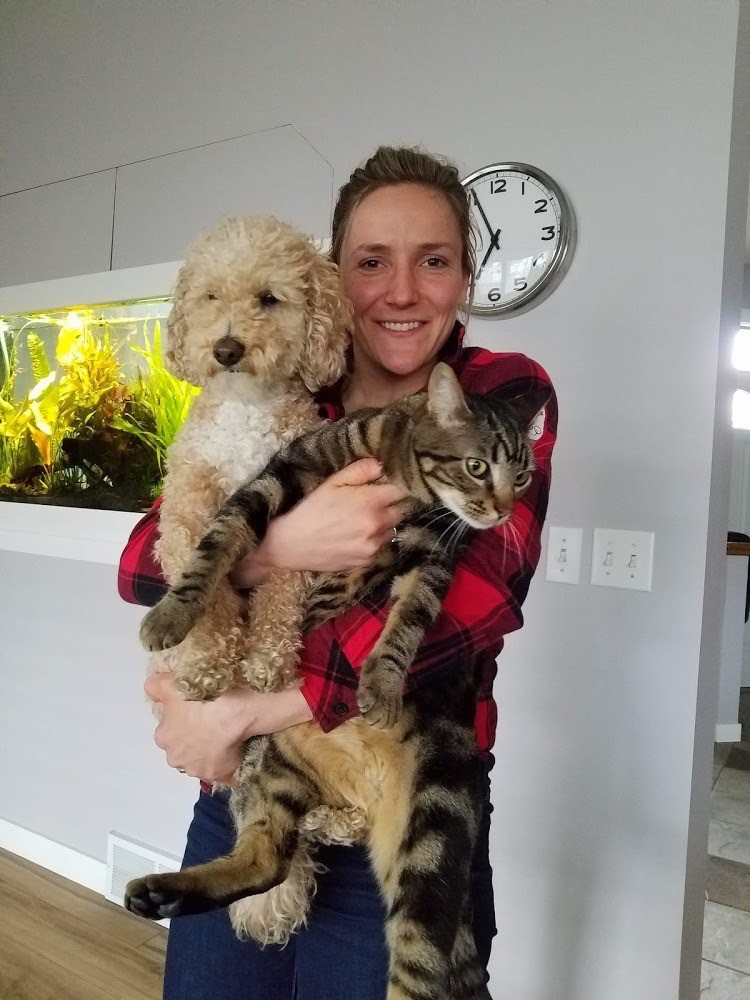 Tell us about your pets.
I have my pup Riley (11), and he's my little shadow! [Mimi points to the floor where Riley's by her feet], and then I have Bravo (3), but he's not been given back to me by the pet sitter yet! Bravo is my cat, and the friend who's watching him loves him so much that he won't give him to me. He said "Oh, it's kind of cold today and I was thinking he wouldn't like to go back home when it's cold, he needs to be acclimated into a new home" then the next time it's "Hey, I was going to come over and bring him but he's outside and I can't find him so I can't bring him over".
I've been home two weeks now and I've seen him, but just not recently!
What has been your favorite sliding sport memory?
I would say it was when Elisabeth [Maier] and I both were on the podium in Winterberg. She won the race and I came in third. When we had the two Canadian flags going up I've just never experienced a feeling like that, it was so nice. Usually you see two German flags or two Russian flags or something. The Canadian flag is just so beautiful, and just having two of them up there and a teammate like Elisabeth stand up there, I felt like I was a part of something bigger than myself or my performance. It was just amazing.
I'd love to see that again maybe at an Olympics or a World Championships, you know, like one of those important championships that you'll never forget. Even though it was just a World Cup race it just meant so much.
On the other side, what's been your most difficulty moment?
I'd say perhaps this past Altenberg World Championships was especially difficult. Altenberg for some reason evokes this crazy anxiety and fear, and it's just an unsettling feeling. I'd been not looking forward to Altenberg World Champs for years, I felt like I don't want to be there and I'd like it if other teammates qualified or whatever. I wanted to give up, but everyone was like "what message does that send?" I couldn't disappoint my Classroom Champions and my Fast and Female girls and I can't disappoint them.
I got to the point where I knew what I needed to be comfortable, what equipment I needed and everything. I asked for the help and I actually started to like Altenberg through our official trainings to the point it got really comfortable.
Then the race happened. The first day was great, but on day two I let that emotion creep in and I fell apart. It was bittersweet because I started to like Altenberg, I really liked the staff we had. We had Eric Bernotas coaching us, it was so special, but bitter because I almost had it and almost had a top ten but fell back to 16th or whatever. It's just a track that really scares me.
You do a lot of great work with both Classroom Champions and Fast and Female, what has it been like to be a mentor to those kids?
I think it gives me a greater purpose. It's not just me doing the sport for me, I feel like a lot of people relate to athletes and struggles and obstacles, and it's really great to share that with Classroom champions and the Fast and Female community. I think that it's really interesting to be able to take those kids and communities on your journey and be like "this is my journey to the Olympic Games." If I'd known someone who was trying to make it to the Olympics when I was growing up I would have been losing my mind! It would have been so cool, I'd have been glued to whatever they said.
It's really neat at the end of the season to hear from the kids directly and have them tell you that they connected with you with something you said in a video or something. I usually don't think of it as big when I said it or did something but it's amazing to see that it's had an impact on someone's life or goals. It's just really cool to share it with people who appreciate your sport.
Though this year I'm not able to go to my classrooms which is really sad and heartbreaking.
Guest question: Ashleigh Werner: "What is your favorite or funniest piece of advice that you've ever been given by a coach?"
The first time we went to Sigulda, we had Ivo Steinbergs do a track walk with us and he was  coaching us down the track. He'd say "In Corner 1 you steer here and steer here, then you 'sleep sleep sleep sleep sleep'…", and his "going neutral" was just the word "sleep", and for the first corner we're like "okay", but then that went on for 16 corners, just "sleep sleep sleep sleep", and I think it was the funniest track walk I've done. It was so technical and such a hard track, yet here's this amazing slider going "you sleep here, you do work here, then you sleep there".