From Durham, USA
(May 25, 2020) – For the fourth installment of "Getting to Know…" we catch up with USA Luge's Brittney Arndt.  Brittney has just come off her second season on the FIL World Cup tour, and finished third overall in the Nation's Cup standings on the strength of a Nation's Cup silver medal in Lillehammer.
If there's a slider you'd like to get to know, please drop me a note with who on Twitter: @TheKenChilds
Slider: Brittney Arndt
Team: USA Luge
Home track: Park City
Hometown: Park City, Utah
Sponsors: Protect Our Winters
What is your favorite track, and why?
You kind of like a bunch for different reasons, you know? I love Lillehammer, it's just so fun. It's probably my favorite because I've had so many runs there, we go there every fall and I take like 45 runs in a week. It's exhausting, but it's so fun! It was my first Junior Worlds, so my first international race when I was like 16, and it's just really fun.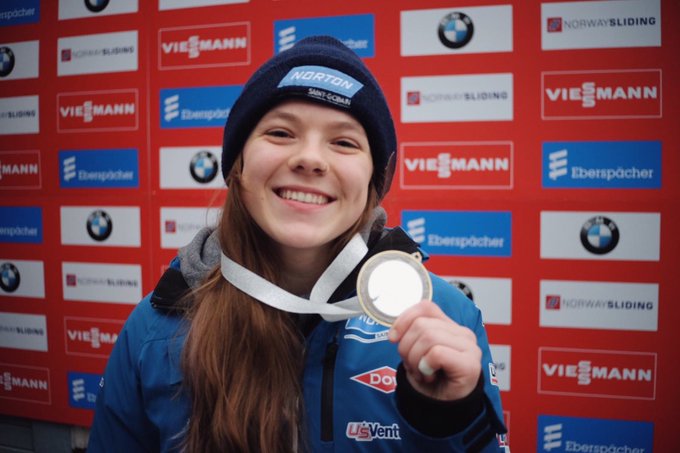 Of course I also like Park City because it's my home track and I can just go here, and I don't know the lines and I just go take my runs. I came here last year with Raychel Germaine to train and I hadn't slid here in like three years. John Owen, my original coach when I was sliding out here, was coaching me and I said "John, I don't know the lines! Can you tell me what to do in Curve 11?" and he said "No, I'm not telling you anything! You go take runs and you're going to know what to do, then we can talk about lines after the first session"
How did that work out for you?
It was fine! Then Raychel comes to me and she says "I need a track walk and some lines!" and I said to her "I can't tell you how to do it, I just go down the track!"
You've been known to dabble in video games some. What are you playing now, and do you have a favorite game?
I mainly play Destiny 2. It's a bunch of fun! I play Animal Crossing a lot now that it just came out, I think that it's just lighthearted and you don't have to think about anything.
Destiny is fun, we have a whole clan that we play with every day, so that one's probably my favorite. I honestly don't know why I like it so much, there's just always something to do and I have a bunch of fun people to play with! Codie [Bascue, Brittney's boyfriend] and I play with Justin Olsen a lot, it's always the three of us on.
Animal Crossing is kind of like Sims, you're basically just building a town, but it's fun and cute. You just catch fish and tarantulas and stuff.
Where's your favorite place to visit that's not on the FIL schedule?
I went to St. Moritz for a bobsled race once. In luge we never race there, I think it's on the schedule for Olympic year though. But watching the bobsled race there was super fun, and I'd really like to slide there at some point. It's just unbelievably gorgeous with the mountains and everything.
I'd really like to travel around Switzerland in the summer and go hiking and stuff. I really enjoy rock climbing, and I think there's a lot of good climbing there.
What got you into rock climbing? And with it being in the Summer Olympics, do you have any interest in trying to be a two-sport athlete?
No! Those people that are going to be competing in the Olympics for rock climbing are like 16, and they're amazing!
When I was a kid we were members at a gym and I used to rock climb there a lot. My parents were firefighters so when we had time and they weren't working that's sort of what we did. We moved to Florida and we didn't really do any climbing there, but when we moved to Utah I kind of got back into it. I worked at the Olympic Park, and there's a climbing wall over the aerials  pool where the ski team trains in the summer time, so I kind of got back into it then. Then my brother is really into climbing, he went to Patagonia and did a lot of climbing there. So we're both kind of into it.
I'm kind of scared of heights, so the first time I climbed outside was in Lake Placid and I was up toward the top and looked down and thought "I have to come down!" Now I'm more used to it though, I'm more scared of putting my hand in a crack and a spider biting me or something.
Do you listen to music prior to your run, if so what is your go-to?
I usually listen to music when I warm up, I usually have a play list of random songs. It's funny, Codie will look at my playlist and go "This is what you listen to?!" I really like Drake, J. Cole, Beyonce, I don't know. I don't usually listen to music when I'm getting dressed and waiting because I like to hear what's going on. I don't want to be stressed about things like if I'm supposed to be outside weighing in and getting on ice or whatever, so I try to relax.
I think I'm still trying to figure out my routine for World Cup, because Junior World Cups are very different and a lot less stressful.
So I try to relax and whenever one of us goes out all of the girls go out and fist-bump and wish each other good luck and everything.
So since Codie is judging your music, what does he listen to?
He listens to a lot of heavy metal, I don't even know. Nothing I would even listen to!
When was the moment you decided you wanted to be a luge athlete?
I moved to Park City in the spring of 2010, I was 12, and I went to school with Anthony Espinoza's little sister. I would hang out and they were telling me I should just give it a shot. So the fall of 2010 I got on ice in an after school program. I did that, then I joined the club team and just had so much fun.
I hadn't been very good at anything sports-wise. I come from a family that play soccer religiously, my dad and uncle were both semi-pro, and they played some hockey as well. So moving to Park City I thought "I have to play something, and I really liked luge. I made the development team, and was just having so much fun. I never thought to myself "Yeah, I'm going to go to the Olympics" or anything. But then a few years later I was talking to one of my teammates and thought "Yeah, I think this is something where we could maybe go to the Olympics!"
My coach at the time told me I was kind of too old, and that athletes at my level were way ahead of me and I'd never make it. But I figured I'd just kind of keep trying, and I'm still here! I mean, if you talk to Chris [Mazdzer], he traveled on Junior World Cup when he was like 12, so at 16 I was definitely older.
The inexperience is definitely real at some tracks. This year was my first year from the women's start at Winterberg, and I took one run before we decided not to race. So I'm battling things like that, it was also my first time on the women's start in Altenberg because junior women don't race from ladies' start.
What are you watching right now on TV/Netflix/etc?
I just finished "The Marvelous Mrs. Maisel" again, I had watched it for a while but then Codie wanted to watch it so I re-watched it with him. I'm also watching "Kim's Convenience" with my family, which is funny. I'm not watching a ton of TV at the moment because I'm taking some classes right now and training and playing video games in my free time.
What classes are you taking?
I'm taking an English class and then a folklore class right now for a humanities credit.
What are you studying? And when do you think you'll be done?
[Laughs] I have no idea, and I have no idea! I was just telling Gordy [Sheer] that I have no idea what I want to do when I grow up and I'm done with luge. I'm just trying to get my general education stuff done right now, and I'll be done with my associates degree with that by the end of this summer, I think. I've been putting my final math class off for about two years now, though.
Tell us about your pets.
When I was in middle school my mom and brother went out of town and my dad and I went to get some dog food and came home with a puppy. We had two Boston Terriers at the time, and they were awesome. Then we got Millie who's a German shorthair who's just so sweet. She's like nine now, and she's the best. She's so goofy and also so picky. For instance, she's got her own spot on the couch, if I'm sitting on her spot on the couch she won't get on and I have to move over for her to get onto her spot.
My dad just rescued a little puppy who we named Aspen. We think she's some kind of blue healer and pit bull? She was all white with one brown ear when we got her but now her skin is getting some black spots. She's super cute and goofy and she's just kind of like a wet noodle. She needs so much attention! A while back we were doing yoga and she was just whining and whining that we weren't petting her. Then when we got done she at on Codie's lap and was super happy. She just loves going and playing with other dogs.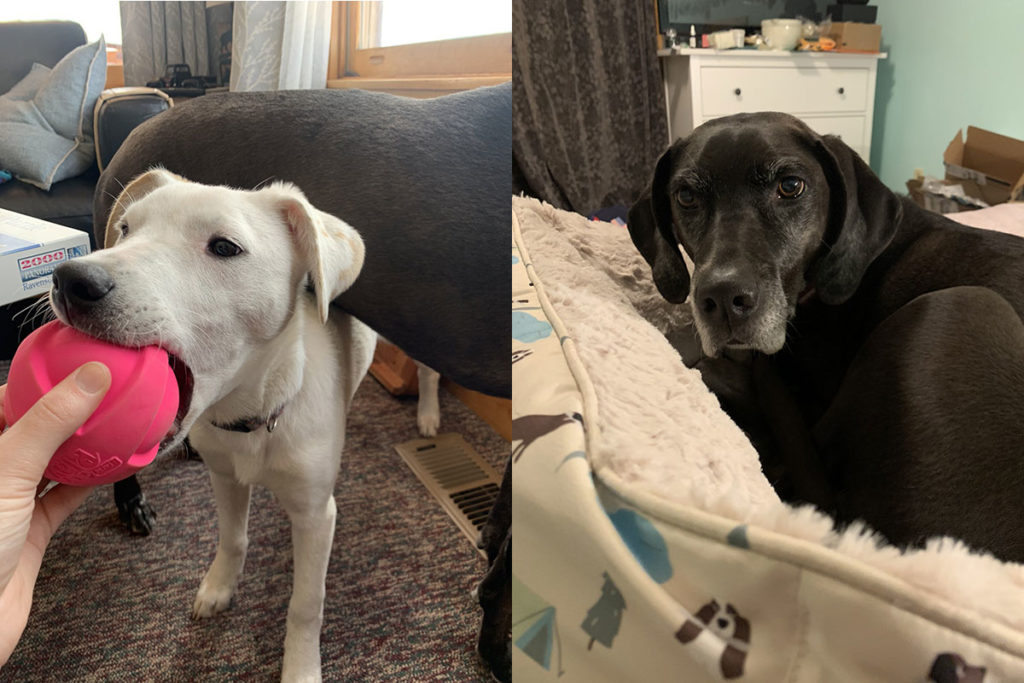 What's been your favorite sliding sport moment?
The Lake Placid World Cup 2018/2019 was just so fun for me. It was my first season on World Cup and I was in like seventh after the first run but thought "I have no idea how to handle this!" but then I really put together two runs which was a such an awesome feeling. It was so fun to be there with Summer [Britcher] and Emily [Sweeney], and we had Sprint World Cup later that day and though I was nervous it was a lot of fun. My family was there and everything, so it was just really special.
On the flip side, what has been your hardest sliding sport moment?
World Championships this year was really hard for me. I didn't put a clean run together in all of training. We went to Sochi in the fall, and it was mine and Ashley's [Farquharson] first time there. We just got totally wrecked, we were having such a hard time and it was a long week and a half in Russia. We went back for Worlds and I couldn't put runs together, making stupid mistakes in places where I was just fine in the fall. I finally put runs together but I was slow and I didn't qualify for Sprint World Championships.
So that night I sat down with my coaches and said "I've got to do something. I can't go into tomorrow not having tried something else." So we talked about it and completely changed my sled, I slid on entirely different equipment that I hadn't trained on at all in Sochi. So I had absolutely no idea what to expect and am on totally different steels and everything. I was basically going into my first World Championships with no idea what's going to happen at the bottom. It worked out, I was faster, but not really as fast as I wanted to be. I knew I had more potential in me, so that was hard. I'm happy I made the decision to change things up, though.
Question from Mimi Rahneva: I know that you grow succulents, I want to know how your garden is going and if you have any tips on how to grow your succulents. Mimi has succulents but can't divide them. So how do you multiply them and get them to shoot off?!
Oh man! I actually have been expanding all of my stuff way too much. I decided to plant some sunflowers and planted all of the seeds in one place which was not a good idea, so now I have like ten sunflower plants! My garden is going great, my succulents are growing like crazy! I have taught myself how to propagate them: What Mimi should do is take a leaf, break it clean off the stalk, and then let it dry out and callous over for three days. Then drop it on some soil and spray it every day and it'll grow roots and a new little plant! It takes some time.
I have a whole little planter of succulents that I've propagated  and now I don't know what I'm doing to do with them, there's like 15 extra plants!
How long have you been gardening for?
A little over a year. I got into it with my cousin in Wisconsin, but then I kind of went crazy and bought a bunch of plants!