From Durham, USA
(June 8, 2020) – For the fifth installment of "Getting to Know…" we catch up with USA Bobsled & Skeleton's Adrian Adams. Adrian is a second generation slider from North Carolina who will be going into his ninth season in IBSF competition.
If there's a slider you'd like to get to know, please drop me a note with who on Twitter: @TheKenChilds
Slider: Adrian Adams
Team: USA Bobsled & Skeleton
Home track: Lake Placid
Hometown: Reidsville, NC
Starting off: What's your favorite track and why?
For me, the first place that comes to mind as far as the track itself is St. Moritz, just because it's the only naturally made track that's left. It's the birthplace of bobsled, and it's just a really smooth track and has absolutely amazing views!
You're from Reidsville, NC (just up the road from SlidingOnIce.com headquarters), how does someone from North Carolina get hooked into bobsledding?
For me, my father used to be a bobsledder. It's pretty cool to be able to follow in his footsteps an continue the family tradition of competing in the sport.
Growing up my father competed, and the only unfortunate thing for me was that being as active as I was as a kid, playing a lot of sports year-round, it wasn't as easy for me to go watch him as he competed. So I really only heard and saw photos of him racing, but that's how I became involved in this great sport!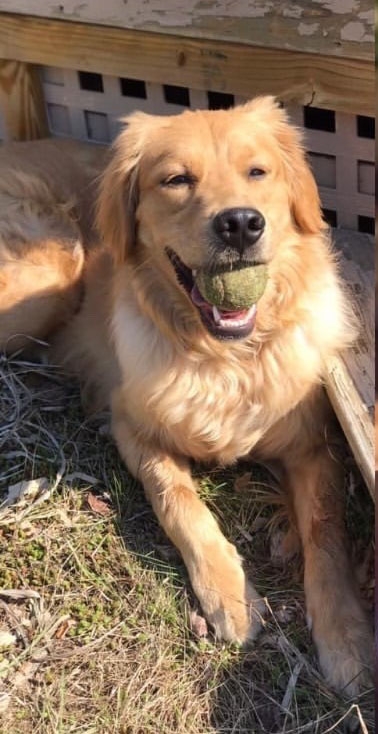 So when you told him you were going to do the combine, what was his reaction?
He was the one who actually mentioned it! He said "I know you're at a crossroads with football, and you've had workouts here and there and playing Arena Football and everything, and you might be coming to the end of the road for that. I know you're not going to be ready to give up athletics easy and quick, maybe you should go try out of rthe bobsled team! And hearing him say that, I laughed it off at first but then I thought about it, and thought "Maybe I should! I'm an adrenaline junkie, and why not?!" And now here I am.
Tell us about your pets.
We have a golden retriever, he's about a year and a few months. His name is Max, and is a good guy!
Where's your favorite place to visit not on the schedule?
I really like and enjoy Munich. I've been there just bypassing or flying in to compete or whatever, but I really like that particular city. It's really fun.
If you weren't doing bobsled, what would you be doing with your life right now?
It's hard to say, because I'm kind of into a few different things. I've got experience coaching some high school kids and I really want to get into the fitness industry possibly after this is all said and done. So maybe coaching?
You talked about arena football, how long did you do that for?
On and off for two or three years. I was originally with the Huntington Hammer [Ultimate Indoor Football League] out of West Virginia. And you know how the arena football thing goes, with most of the professional teams end up folding. So I started with them back in 2011, then went to the Columbus Lions [National Arena League] out of Georgia and the Tulsa Talons [Arena Football League], a and few different teams I played for or worked out with.
But that arena football stuff is tough on the body, it's not forgiving at all. The tough thing for me was just the injuries. My first game I caught a simple hitch and went to turn and make a move on a guy and broke my toe!
Most pilots have raced as a brakeperson first. Do you have any interest in moving up to the pilot's seat?
That's definitely something that's crossed my mind a several times. My coach at one point back around 2015/2016 said "Man, something about you, we just feel like you'd take to driving, you should think about it! And I know you just really got started breaking into World Cup and you want to fulfill what you're doing as a brakeman but it's something to think about."
It's something I've definitely thought about, but ultimately I've been trying to really make it happen as the best brakeman I can be where I am right now.
What are you watching right now on TV/Netflix/etc?
Just watched that Michael Jordan "The Last Dance", but I'm spending most of my time outside. I've got this grass out here [Adrian did his interview from his back yard], and have a lot of projects around the house. I'm trying to stay active with that to keep me busy. And then obviously I have my offseason training that I've been doing outside on my deck.
What's your favorite sliding sport memory?
I've got two that really come to mind! For me it was pretty cool making history being a part of Elana's [Meyers Taylor] team. It was me, Dustin Greenwood and Nic Taylor. That was an awesome moment, and a lot of firsts for me including my first time being on the national team. Going in the history books is always a really cool thing and doing it with my teammates was just a really great experience.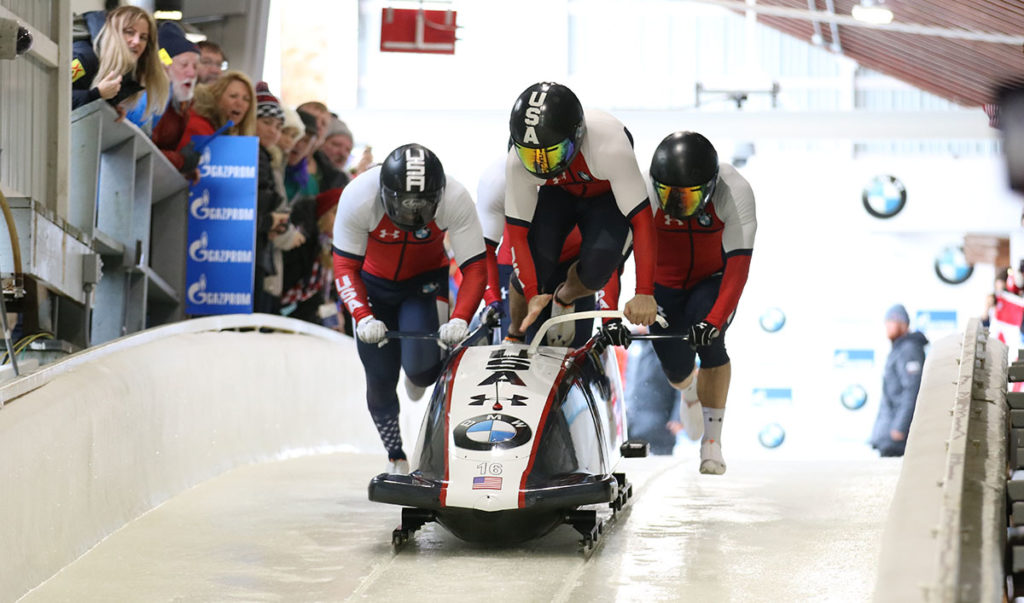 The other one was with Codie Bascue, the year of the 2016/2017 season. We ended up sweeping national team trials, and that was a really huge deal with Codie coming out and showing his progression going into that season. Doing that with Frankie Del Duca and Christopher Kinney, it was just awesome to have our teammates support and it was a really huge moment to cross that finish line and having the support of other teammates. Guys like Evan Weinstock and Carlo Valdes, who are accomplished competitors and standup guys. I remember crossing the finish line and seeing those guys and you're expecting them to congratulate you, but competition is competition. It was a really great memory for me.
On the other side, what's been your toughest sliding memory?
For me it was the [2017/2018] Olympic year, dealing with injuries and everything. Not being able to help my team the year of the Games just hurt a lot as a competitor and an athlete. It stung really bad watching my teammates on TV, and thinking that it could have been me up there. I was making really good pace to make that happen. But that's life and you have ups and downs and it's not about how you get knocked down but it's about how you get back up! I'm taking the punches and going with it.
Question from Brittney Arndt (USA Luge): You've always got great music on in the weight room, what is your warm-up playlist at the track?
For me I like to have some good ol' hardcore metal or hardcore rap, I like to have something like that initially. But as I get to the point of narrowing down my warm-up and getting to the competition itself I'll finish with some soothing and calm music!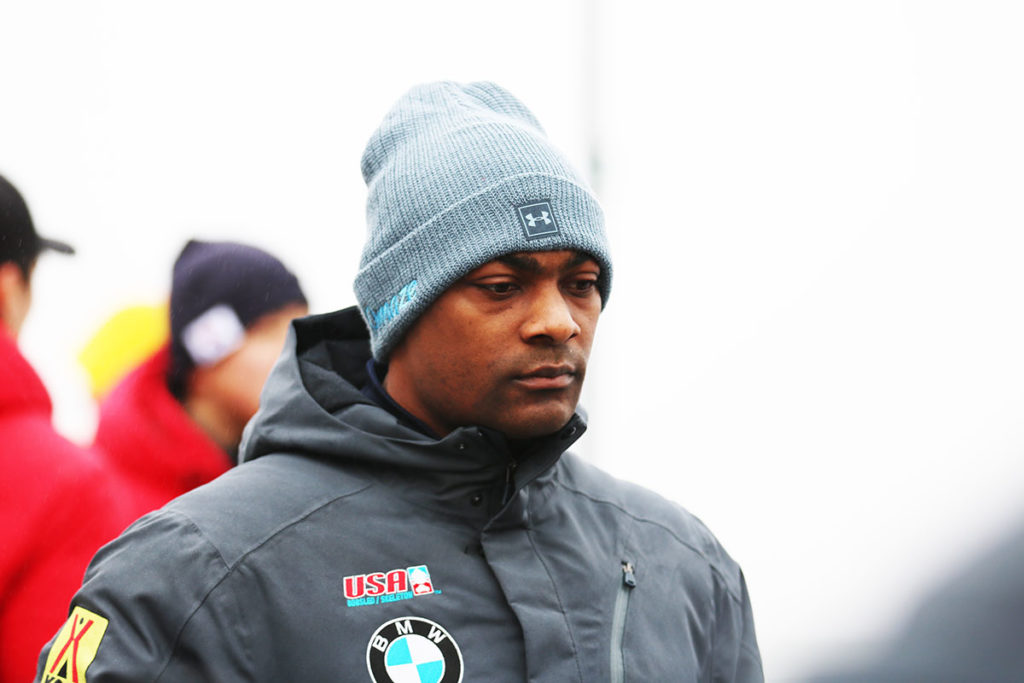 Do you have a go-to or anything like that?
I do have go-to artists or songs that REALLY get my hyped. If I were to name one for sure it'd be G Herbo. He emphasizes a lot of tough times and pain and how to keep fighting. Which I can relate to with some of my toughest times and what have you.