(June 15, 2020) – For the sixth installment of "Getting to Know…" we catch up with USA Bobsled & Skeleton's Kendall Wesenberg. Kendall, a 2018 Olympian, finished tenth in the 2020 World Championships in Altenberg and has a career best World Cup season finish of sixth (2018/2019). Here, we discuss family, St. Moritz, and the head-clearing potential of the 2022 Olympic track in Yanqing!
If there's a slider you'd like to get to know, please drop me a note with who on Twitter: @TheKenChilds
Slider: Kendall Wesenberg
Team: USA Bobsled & Skeleton
Home track: Park City
Hometown: Modesto, CA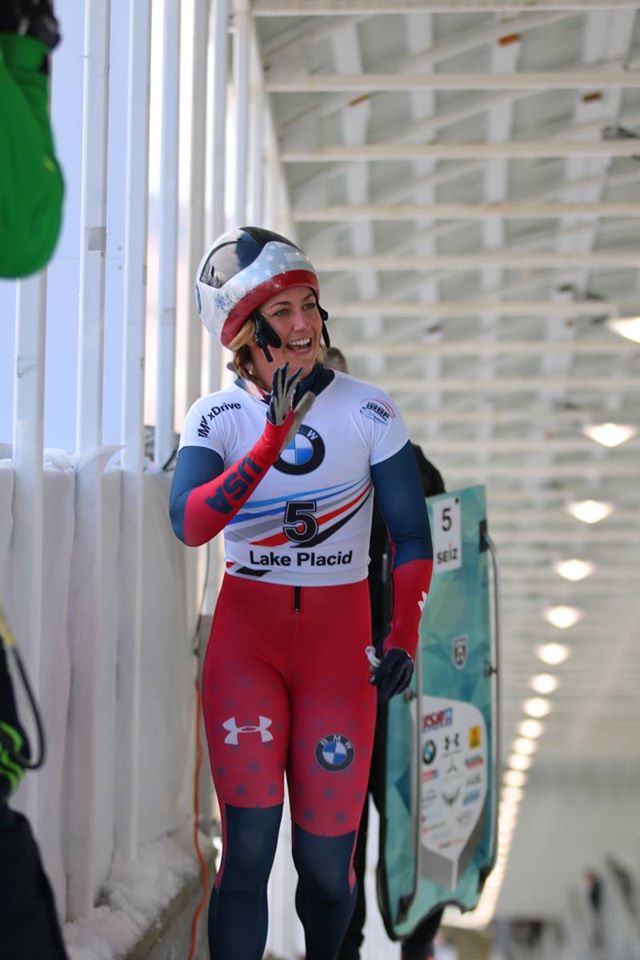 What's your favorite track, and why?
That's a tough one! So normally in the conversations I've been in with this one you can't choose St. Moritz. If St. Moritz is out, then I think Königssee. I LOVE Königssee. It's cool, it's a quick track and the way I see it it's like three pieces of a track: You've got the S Curves into Bendaway, then you have the Kreisel section, then you have post-Kreisel to the finish. For me it's almost three different mentalities, but it's also just fun pieces of the puzzle to get each section connected in a fun, fast way.
Do you have a favorite town on tour to visit?
I love Innsbruck. I think it's beautiful. I think the contrast of the city in the valley with the Alps, and the colors and buildings and food. The Christmas Market is epic, it's just really fun!
Is there a certain time in the season you prefer to be there?
I think if the Christmas markets are there then that's ideal!
If you weren't a skeleton athlete what would you be doing with your life?
My degree is in business marketing, I've always been interested in that. I have a certificate in the business of sports, so I think I'll transition back to the other side of the sports world when I'm done with all this, and that's probably what I'd be doing now. The "players operations" section of things interest me a lot, so probably something in that realm.
Have you talked with anyone who is in that world about how to transition from being an athlete to that kind of role?
I had an internship at the Players' Tribune last summer, and have been trying to pick the brains of people I come across to figure out what that looks like and how to get experience, and where I go from here.
Did the Players' Tribune internship sort of solidify a feeling of "Yes, this is what I want to do"?
Yeah! It has such a wide range of what they do with athletes: They're telling athletes' stories, and marketing to other companies and also marketing to the reader, so they have a very interesting business model. But it definitely helped me get a better grasp on the "behind the scenes" of some of those pieces.
Your family shows up to a lot of stuff, most recently in St. Moritz. What does that mean to you? Do you ever feel like "everyone's here, I need to step it up"?
So I'm from a really big family, my mom is one of six and my dad is one of five. So I grew up in the same hometown as a lot of my cousins and seeing them a lot, having dinner with them living around the corner. My dad's side of the family is just up in the Bay Area so they were less than a day's drive away. So even when you did normal things like a high school sport people would show up, that's just kind of how my family is. They're super supportive in anything you're doing and if they can show up for something that's really great.
Obviously it's pretty cool that we go to cool spots, and if you don't have anywhere that you want to vacation you can kind of look at the IBSF schedule and kind of pick a track that works with your schedule that year and show up. So they've been really great about doing that.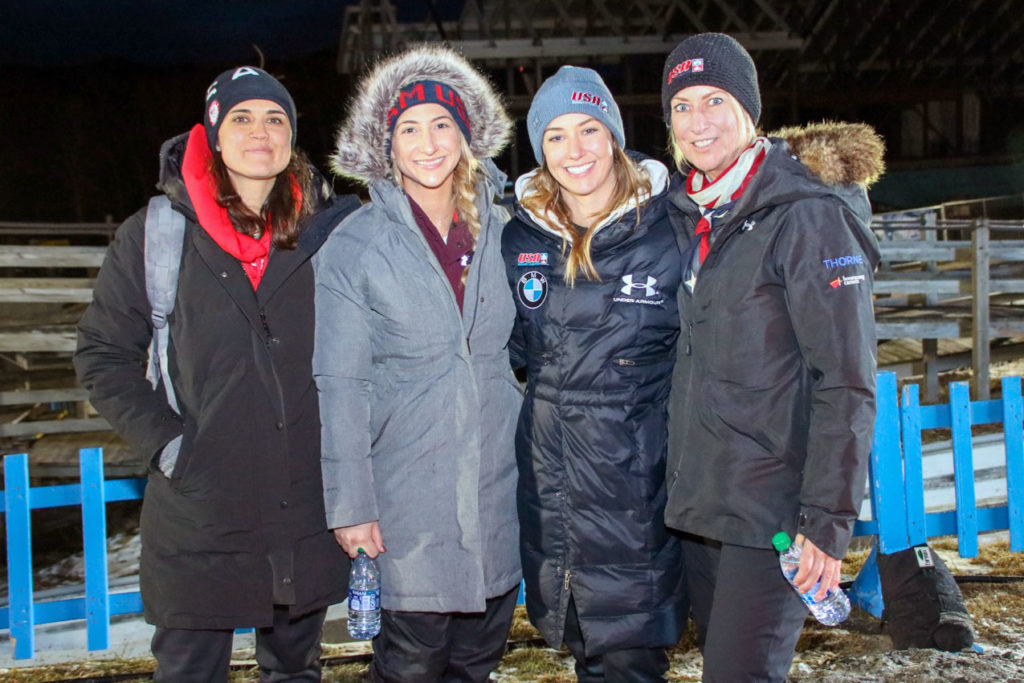 Then the other half of that is my friends, my family and my friends become this one conglomerate. My friends are usually the really loud ones, so that's how you can tell them apart. They've been incredible too, they're the same kind of people, where they just show up for one another.
I think at first it felt like a lot of pressure, and more than anything I'd want to be doing what they were doing. So when they get to town I'd be trying to do sled work and get PT done and they'd be out at a bar or having dinner and I'd be checking my Instagram stories and group chats to see what they're doing. I've gotten better at balancing that, but the learning curve was a big one.
Have you found a way to make more time for them in between everything else?
I have. I think for me it's just getting them to visit at the end of a race week so I can work and then enjoy some time with them before we leave or they leave.
How cool was it having the family in St. Moritz this year?
That was really cool! My mom loves St. Moritz, as pretty much anyone who visits St. Moritz does, but since I've started sliding it was on my friends' list and they made it out there which was awesome!
Do you have a specific pre-race meal/routine or any superstitions?
I'm not superstitious or anything, but I kind of have a pattern of things that happen. I like to get my sled work done as quickly as possible and get that all set and feel good about it, and have it all zipped up and ready to go for the next day. I get PT done, dinner done, and then I'm just really quiet the rest of the time. I'm usually really talkative and outgoing and down to have a good time. But from dinner until race time the next day I'm a pretty quiet person, kind of just locked in. It's not like I'm weird about what I'm doing, but everything kind of gets quiet for me.
Is that a focus thing?
I think it's a little of everything. I'm not necessarily trying to guide my brain one way or another but I just think the nerves build up and I'm just ready to race.
What are you watching right now on TV/Netflix/etc?
I saw this question on another interview and asked my girlfriend "What have ween been watching?!" and honestly we haven't watched as much TV as a lot of people have! I'm not exactly sure what I'm doing with my time, but we did watch "Outer Banks" which is a drama on Netflix and it's actually pretty good and pretty intense. So we just finished that up, and we've been watching a lot of "Modern Family" reruns or whatever's on TV at the moment. I bought a big projector pretty cheap on Amazon so we put up a sheet and have movies and stuff like that. But I haven't been crushing the series like I thought I would.
Tell me about pets.
I don't have pets! I was in 4-H growing up, so I was in heifers and rabbits! So helped raise a couple of heifers, and had a rabbit but didn't make it to fair.
Other than that, my brother just got a puppy in quarantine. He's at my mom's house around the corner from where I'm staying, and he's got a five month old Australian shepherd puppy! So it's the perfect amount of puppy for me: I get to hang out, watch it for a couple of hours and then give it back. I get to do all the fun stuff, then be like "alright, come get your dog!"
Give me your best sliding sport memory.
That's a big question! That European Cup season my first year and really getting to race and travel and all of that. I was with Gracie Clapp-Taylor and it was basically just the two of us in a car traveling around Europe and no one really gave us directions or anything. Neither of us had been over there, neither of us had raced these tracks, we had no idea where the start houses were, and we didn't know how to get to the tracks or anything. The internet wasn't the same at the time, so we had to map it before because we didn't have cell service all the time.
We ended up driving up the middle of the track road in St. Moritz because our GPS kept routing us around! So it would take us around town to the bottom through Celerina and we couldn't figure out how to get to the top. We saw these gates, so we just waited until the city bus came through and we followed it in, and ended up at Horseshoe and the British guys were like "What are you guys doing?" and we yelled back "WHERE'S THE START HOUSE?!"
And that first race that season Gracie and I shared the podium in Lillehammer [Gold on Nov. 21, 2014], so a lot of little pieces of that were pretty special.
On the other side of that, what's your hardest sliding sport memory?
There's a lot! You're riding an emotional roller coaster a lot of the time. Last season coming back from hip surgery was really tough, but really just week-in and week-out the toll it takes being on the road and not with your loved ones, and going through your good weeks and bad weeks and trying to turn those around when stuff is going wrong week after week is definitely a challenge.
I think probably one of the hardest moments I can think of was after that first night in Pyeongchang. I had a tough time with Curves 2 and 3 since we'd gotten there and I knew I could stick it on sharper runners so I had decisions to make. I made the decisions I did and I hit the wall and kind of knew I was out of that race. But then I still had another night of racing and have to sled prep and I didn't have to go hang out with my family who was all there. I just had to go do my sled stuff, get back to my dorm, sleep, and do what I had to do to slide two more runs. I had to mentally get to a place where I could do two more runs I was proud of and not walk away thinking the whole experience was terrible was definitely one of my toughest moments.
What was it like coming back from hip surgery as a skeleton athlete?
As it turns out, your hips are involved in basically everything you're doing! I think everyone has different experiences, and I think my first surgery was easier. I didn't really have a baseline for performance or anything, I'd just had my first World Cup season and was in so much pain that it wasn't really an option. I just did it, and dealt with it and it was just one foot after the other to get back and make the World Cup team and be fine.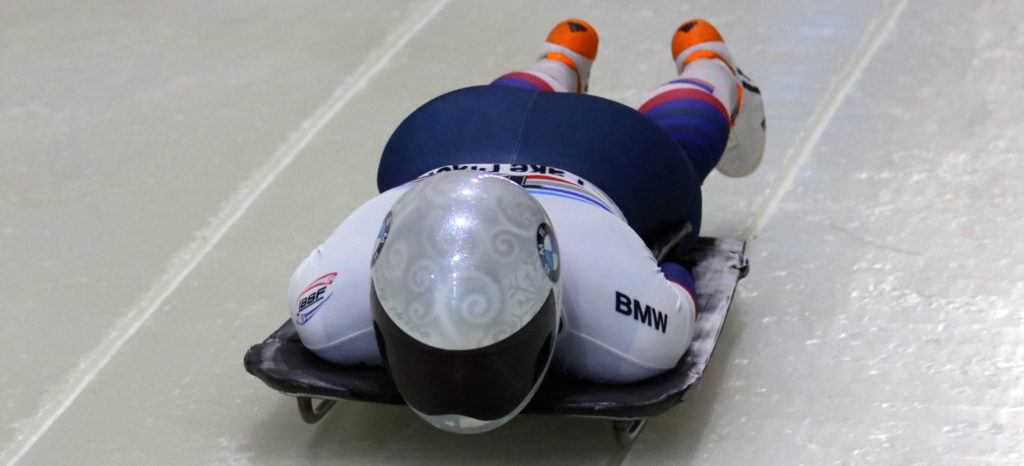 Choosing to do it on the other hip this time, I knew I was headed to the same point but it wasn't quite to the point I couldn't' do anything anymore. It wasn't so much "optional", I was going to have to have the surgery at some point, but when I chose to do it was. Part of it was a little easier because I'd been through it, but part of it was tough because I'd just come off a pretty good World Cup season, and felt like I was trending in a really good direction. To bring yourself back to a point where you can't lift until a month out was tough. I had a bye onto the World Cup team which was a nice thing, but still trying to get back when your benchmark is so much higher than it was the first time was tough. Then you're on-season, and you want to race and you want to do well, and people are supportive, but you still thinking "I shouldn't be doing some of these things I'm doing."
China just put out new shots of the new track, how do you feel about it?
I'm really excited about the track! I might be the outlier here, I'm not sure, I've had a couple conversations with people and they seem a little more weary than I am but I think it looks cool! That kreisel looks TIGHT, that's a small circumference of a kreisel! I was talking to Kim Meylemans the other day and said "you definitely won't have any snot in your nose at the end of your runs there! That'll clear right out for you!"
You can look at the makeup of a track and think you have ideas, but until you really feel how one curve transitions into the next and how those forces pick up, it's really hard to know.
Guest Question: Adrian Adams, USA bobsled: You've been to an Olympics, what drives you to continue in your quest to go to Beijing 2022?
I think I had to reflect on that some, because I hit a bunch of these goals I'd set when I first got into the sport by the time I'd finished in Pyeongchang. The year after the games I told myself I'd give myself that year, I wasn't going to make any decisions, but I was going to slide and see if I had any more potential to do more than I'd already done in the sport. I ended up having the season I had where I had some really good results, I had some results where I felt I was really close to having a breakthrough, and so I decided to have the hip surgery and set myself up to go forward.
I think a lot of it goes back to that first day in Pyeongchang, just thinking that there was just so much more there and being able to see how much more there is for me.