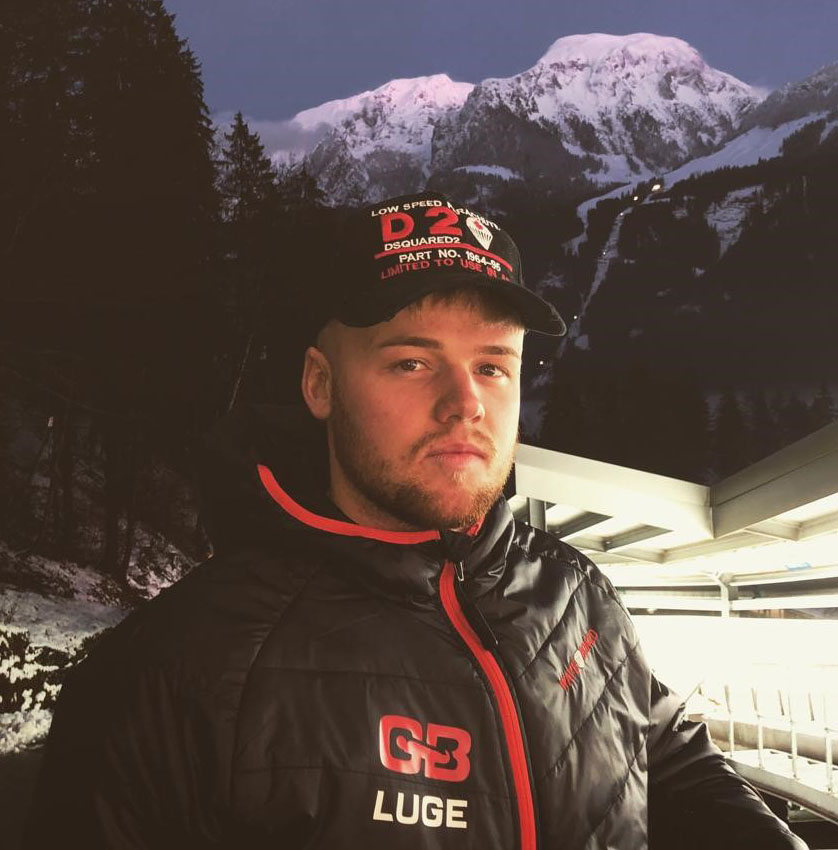 (September 28, 2020) – For our 21st installment of Getting to Know…we cross over the Atlantic Ocean to Great Britain to talk with luge athlete Luke Farrar. Luke has been on tour for the past two seasons competing in the FIL Nation's Cup while also working as a member of the Royal Air Force. On February 22, 2020 Luke joined teammates Rupert Staudinger and Ray Thompson to be on a British team to have three athletes in the same World Cup race in over two decades in his first World Cup start.
If there's a slider you'd like to get to know, drop a note in the contact form above or on Twitter: @thekenchilds 
Slider: Luke Farrar
Team: Great Britain Luge
Home track: Königssee
Hometown: Doncaster, England
You've been at this for a few years now, what's been your favorite track and why?
Probably Whistler for me. The whole setting and everything there is amazing, but track-wise because of the speeds most of all. I'd heard so much about the track when I first got there, Mark Hatton took us for the first few training sessions and he was just telling us how incredibly fast it was. Me and Rupert [Staudinger] were going up to the top, and there were some skeleton athletes on the ice before us, and one came flying by and I was shocked. We were sliding the day afterwards, and all of the shades were down, and I looked at Rupert and was like "Oh God." Rupert talked me down a bit and was like "Oh, it'll be fine!" and we walked all the way to the top and I remember looking down and thinking "Jeez this is steep." And then once I went off from the top there was just so much speed so quickly.
I get along with the track, but I've never really had an issue with it!
What would be your favorite town to visit on the schedule? Whistler as well?
Yeah, this has to be Whistler for me, too. There's loads of stuff to do, plenty of things to see. You can go on walks and see the lakes. I've never taken so many pictures of just water when I was over there, the views and everything are great. The actual town itself is great, people are always out and about. There's a lot of Aussies over there, too.
How did you get into luge in the first place? I feel like you got involved at a little bit older of an age?
Yeah, I think I was 19 years old?
Which is ancient by luge standards!
I get told that a lot! One of my friends is John-Paul Kibble and he did doubles luge with Rupert and AJ [Rosen]. I was at work one day and the Royal Air Force had a sliding sport event and John-Paul asked if I fancied coming to this trial event to try luge, and I was like "What's luge?" He told me to look at some videos, and I had a look and thought it was really cool. Typical person who knows nothing about ice sports, I saw it and said "Oh, that's the same track as Cool Runnings!" So I went to the event and we did a wheeled event where you go down the hill on a wheeled sled and I'm a pretty enthusiastic person with a competitive nature so I was in to it. And we saw the videos afterward and I looked like I was doing pretty decent.
They leave you for like a week and then pick their novice team for the novice competition. I went out to Igls for that competition and a long story short I won the event there. Then we went to Winterberg for the Inter-Services military competition we do with Amy, Navy, and RAF. Winterberg was a bit of a nightmare at first for me. What I'd say now is one of the easier tracks, I must have done 20 runs and fell off about 15 times, and I was only going off form the doubles start! At the time I didn't really understand the concept of steering then holding that steer. Obviously as I have more experience now it's better.
Bur yeah, basically through military competitions is how I got my start in the sport!
The Royal Air Force seems to have athletes everywhere, what is the process like to get into sport through the RAF?
The RAF advertises sport and will always promote it. It's not necessarily something that everyone in the force sees or utilizes, but I think it's a huge thing that everyone should take advantage of. It's free time off work to do things that you would enjoy and gives you the chance to experience things that you may never get to experience. Not too long ago I'd never heard of luge, and now I'm competing for Great Britain. And that's just from the RAF giving the opportunity to people and saying to go do sport and try different things. There's loads of sports that you'd otherwise never get the opportunity to do and they promote them with clubs from local stations.
I was at RAF Coningsby which is a predominately fast jet unit, and they just have local clubs like football teams. I've played a lot of football there. From there you can get selected to go to a development team then eventually to the main RAF team.
The main thing I think that's so good about the Air Force is their promoting sport. Everyone needs to get involved and do something.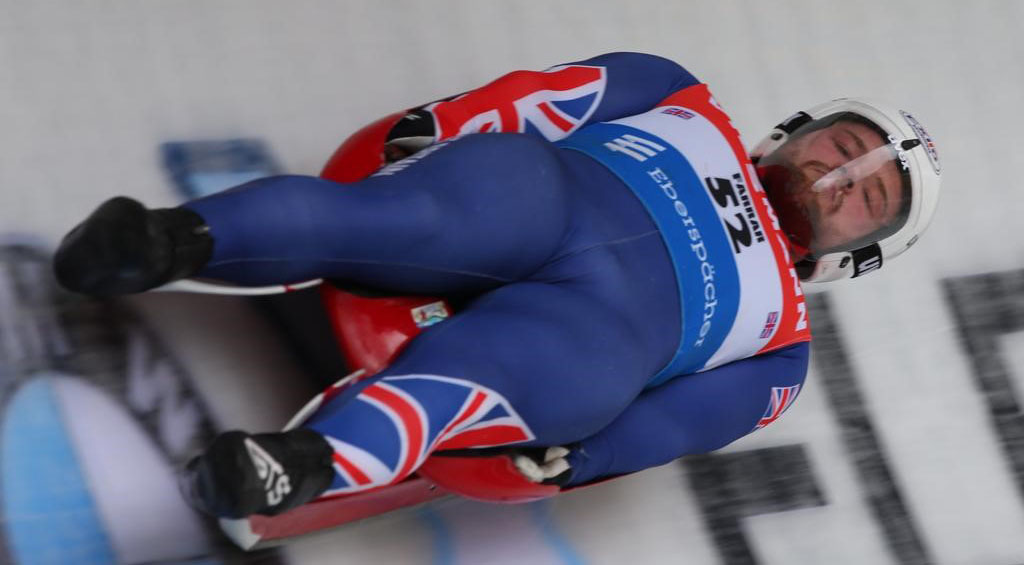 How competitive do the inter-service competitions get?
Super competitive! The first time I went down Gav [Arnold] was competing and was the top guy for the RAF! He keeps mentioning that he's going to come down and knock me down a peg or two! So he was the top guy and then it was Ray Thompson. Ray's an Army guy so we compete against each other, which is funny because we're really good friends. Dani Scott is in the Army as well, so there's quite a few previous army folks. Danny Burke and JP are both RAF guys. But I've been fortunate that the last three events we've run I've managed to get the top spot. We've gotten the team top spot as well: There's a men's singles race, and a women's singles race, and a team event where we take combined four people's best times. It's quite cool to get you going as a team, it's a really good time!
n Winterberg you were part of the first British team to qualify 3 sliders in over 20 years. What was that like?
For me it was really nerve-racking. I'm not a very nervous person, even in Nations Cup races I'm not too bothered. I get pretty psyched up. But I got to the top and I went to touch the ice and my hands were shaking! I was actually nervous, but I remember the night before thinking about the track and going over it…I'm not really sure how to deal with that kind of World Cup pressure. So it all kind of hit me at once when I was at the top of the track. I overthought everything, and it was a massive learning curve for me. Rupert had a similar situation in Pyeongchang where he was full of nerves [and popped the wall]. I couldn't even pull in a straight line at the top, my arms were weak! But the experience itself was really great!
And you think about it, three British athletes all qualifying, it was really big. The three of us, we don't have all of these athletes at the track and we don't have the funding to get the brand new sled equipment, it's just not that easy for us. But with the circumstances that were there we seized the moment. It was really good.
What is it like competing as a small nation? Great Britain, depending on the sport kind of is both, with skeleton being right up there but you all are kind of that next tier down.
So at the end of the day it's not all about money, it's really about the athletes. So it's not completely about the funding, but it's about morale and things like that. For us it's tough, we don't have the doctors and physios, we don't have six coaches down the track, we don't have massive start training tracks, we can't get to every track on the circuit to train and be competitive at every track. Sometimes we have to sacrifice certain tracks even due to funding. So that side of it is really tough.
And it's tough for me because I'm a really competitive person and sometimes you're almost written off before you even start. So it's sad in a way, say for me in particular, what are the chances for something ridiculous for me at least would be a top ten. But what kind of chance do I stand without some of these things working for me? For me I've been using an old training sled for the last two years on the circuit. People look at the sled and are amazed that I'm even going down and putting some of the times I do with the sled I have. Now it's not all down to the sled itself, I've got things I need to work on. Starts, for me, are definitely something I can improve on.  But a lot of it comes down to funding and coaches and everything there.
With a lot of British sports you need to get results to get funding to keep your results up. They both come hand in hand. Obviously it's not just "How many thousands of pounds before I'm a top athletes" because that's not how it works. But it is tough that we can't afford the top equipment, because it's not all down to how I am as an athlete but the equipment as well.
When you're not sliding or working what are you doing with your time?
I play a bit of football and I play a little bit of golf. I do a lot of driving ranges and stuff. When I'm at work I don't have loads of time at home. When I get back home I go out golfing with my friends.
What do you shoot?
Oh! I'm not very good!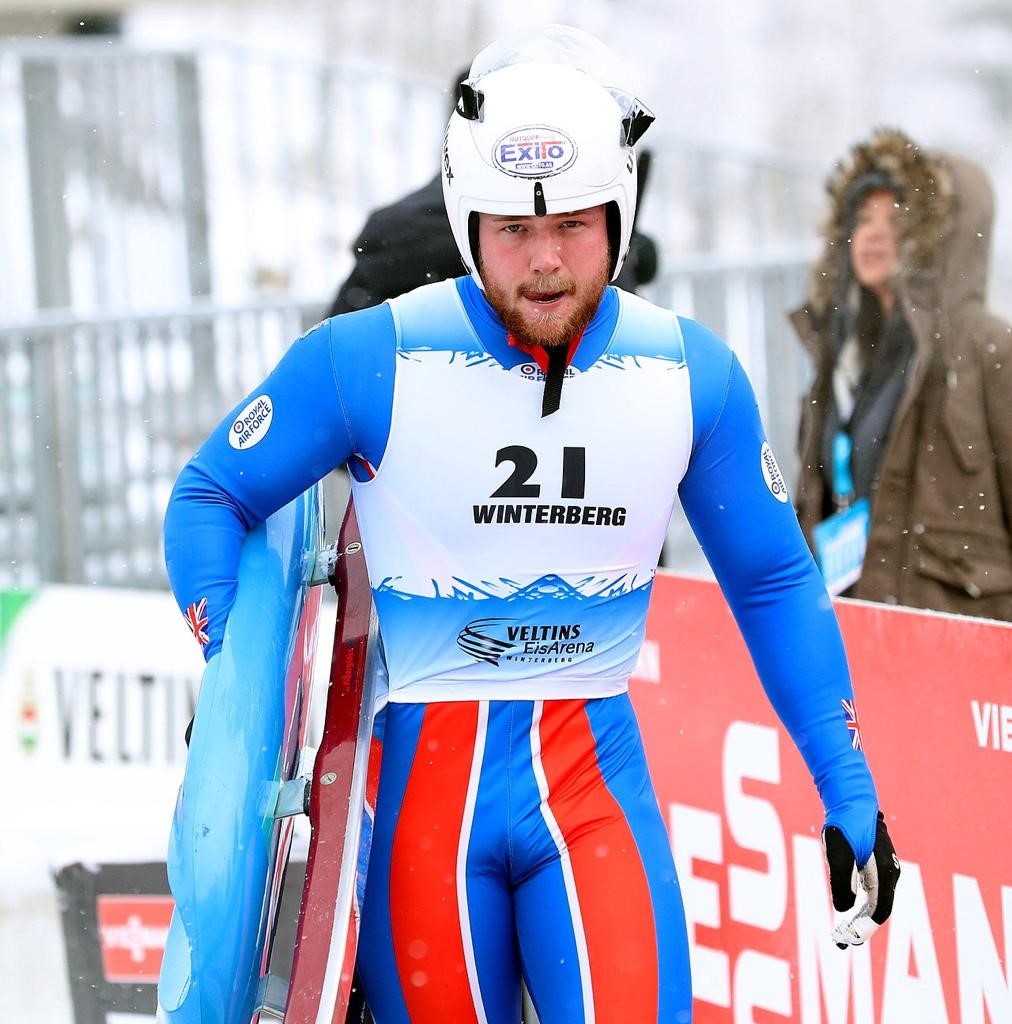 Have you talked much golf with Jayson Terdiman at all?
I always check out his posts on Instagram, he's always out there playing in his funky clothing!
How long have you been playing football for? Since you were a kid?
Yeah, since I was a kid, I've always been a football kind of person. I still play now and again, just when I have the time. I just can't keep the hamstrings to keep up with me as much as I need them to! I actually had a couple of injuries this summer from football, I've popped both of my hamstrings twice so that doesn't help for sliding!
If you weren't sliding what would you do for sports?
It would be mostly playing football. I play mostly in a social setting, I've played competitive some at times. I played for the RAF Under-23s and station teams and things like that. But it would probably be football.
What has been your favorite sliding sport memory thus far?
It would probably be the Winterberg World Cup last year. Obviously the circumstances were weird and it was a huge anomaly for things to happen the way that they did but for three British athletes to get into that and to be able to show my parents and my family and girlfriend what it is I do. People from the United Kingdom don't always understand ice sports, so if I can show them a stream or whatever quite a lot of people could watch. So that's probably my best thing, and I was able to show people what I was doing and what I was working towards.
Did you hear back much from people after that World Cup race?
It's funny because after the race I was really annoyed with myself .Even though it was a huge thing, I was thinking "I should have done better," because I know I can do better. And it's always good because it keeps me pushing myself but I was kind of in a dull kind of mood. Then a half hour later people were telling me "You've just done your first World Cup race, take in the moment." It was a massive learning curve more than anything!
On the other side, what's been your toughest memory to date?
Probably Königssee! I still haven't been able to race there. On my first year last year and I was sliding there and I came within a tenth of qualifying. But I would get one good run but then I'd touch a wall or something and just didn't feel like I could do it. That first day was over, and this second day I was thinking "Alright, I really need to qualify for this!" And I went in again and it was the same thing, and I was beating myself up and really over-thinking it so much in my head and I just couldn't do it.
Then this year again in my first run it was nearly clean, but then my second qualifying run I flipped out just out of Kreisel and hit my head and that was it, I was done for the week. It's just been a tough challenge. But that said, if it weren't for Whistler, Königssee would be my favorite! I remember my first year I went down from the ladies start and I remember the S Curves being so high and the G-forces are great. Then from the men's start I was like "Wow, that's even better!"
Guest question from Kaillie Humphrites (USA Bobsled/Skeleton): What is your favorite part of training?
The best part about training is seeing everyone get out there. Being in a group and being able to try different lines and everything. I'm always trying to better myself, and not having any pressure. It's the beauty of luge, because it comes down to a thousandth of a second. I can do one little thing different and that picks up a thousandth or a tenth of a second at a time. Then you get better at the starts and that helps as well. So that's what I really like about on-ice training.
Now training at home, I've started doing a lot more cardio. I'm trying to get away from just doing biceps and chest and everything and get more into deadlifts and pulls. Throughout lockdown my girlfriend bought us some bikes and we've done a lot more of that. And I've done some more running, I really enjoy just getting out and training outdoors.