(September 21, 2020) – For our 20th installment of Getting to Know…we chat with USA Bobsled/Skeleton's Kaillie Humphries! Kaillie is a three-time Olympian, winning gold in 2010 and 2014, and bronze in 2018. Over her storied career she has won four World Cup season titles and three World Championships to go with her two Olympic gold medals. She has 27 World Cup gold medals, and 56 medals overall on the IBSF World Cup tour.
In the 2019/2020 season, Humphries made the switch from Canada to the United States and immediately picked up where she left off, winning her third World Championship in Altenberg alongside Lauren Gibbs. The 2021 World Championships will return to Altenberg.
If there's a slider you'd like to get to know, drop a note in the contact form above or on Twitter: @thekenchilds 
Slider: Kaillie Humphries
Team: USA Bobsled/Skeleton
Home track: Lake Placid
Hometown: Carlsbad, CA, USA
Sponsors: Optimum EFX, Zekelman Industries
I thought this would be an easy question, but come to find out it's not: What is your favorite track and why?
Oh, okay, I can see why this isn't so easy. I have my three top favorites, and they're obviously going to be favorites for different reasons: Lake Placid, Whistler, and Altenberg. So the reason they're all some of my top favorites and equal across the board as my top favorites is that I've had different moments at all three and I enjoy driving at and being a part of all three and the memories I've had there.
The very first race that I won was in Altenberg, Germany, and adding to that my first World Championships with Team USA was in Altenberg, so that one is clearly very high on the list. Lake Placid is the place where I learned how to drive, and it was my very first World Championship win in 2012, so I have very fond memories of Lake Placid. Whistler, obviously, for being my very first Olympic experience and my first Olympic gold medal.
What is your favorite town on the schedule to visit?
Königssee! It's close to Salzburg and they have really good shopping there! I enjoy Salzburg as a whole, it's about 45 minutes from the track so while it's in Austria the border is right there. Usually at least once or twice that week I go into Salzburg and get my shopping fix! It's pretty touristy, but they've got the traditional shops and a lot of culture and history and you can go see a lot of different stuff. On one of the bridges they have a bunch of love locks, and when Travis [Kaillie's husband] and I were dating we put one up on there. I can go set sushi in town, it's a really nice city that has everything I could need or want and is still close to the sliding track. My dad and Travis both are big World War II buffs and I'm a big history fan, and Berchtesgaden, where Königssee is at, has a lot of history in regards to that time. There's a lot of German culture and history is very prevalent there. The people are really nice and friendly, the Bavarians all are very traditional and it's a very positive atmosphere!
Do you have a particular period that intrigues you more than others?
No, I really just enjoy history as a whole. Exploring churches and architecture and culture, reading up on different kings and queens that were around during certain times really interest me. Learning about different periods and cultures is just really cool to me.
Everyone has a story about how they got into sliding, what is yours?
I got involved in 2002/2003, and I had found the sport because of where I had been training. I grew up ski racing and the gym that I trained at was at Canada Olympic Park, and it was also where the bobsledders trained, so I got to meet a lot of the bobsledders while I was training for ski racing. I watched how they trained, they always seemed like really nice people. The sport looked interesting and the bobsled track was right there and when I realized I wasn't going to go to the Olympics for skiing, I decided I wanted to switch sports. I didn't know which sport I wanted to be good at; it was between speed skating and bobsledding. The reason I chose both of those is that they both require a lot of leg strength, which is something that I've always had. I've always had really big legs for a female, so I knew that figure skating wouldn't be my forte. But because of the 1988 Olympics and the legacy there I got to know more about the sport. When I was ready to transition to something new I decided I'd give bobsled a try! Canada had a talent ID camp, I signed myself up and tried out and within a year I was on the nation team and just kind of went from there!
Did you ever think back then that 18 years later you'd still be doing this?
No! I didn't really have any expectations. My goal of doing this was to try to go to the Olympics and try to win an Olympic gold medal, and in any sport that was going to be my goal. I always want to be the very best at what I'm doing. But did I think it would get me to this point, or have this long of a career? No. But I didn't think it wouldn't, either.
When the season is over and you have a bit of time to decompress, what do you do?
I do nothing! I do as little as possible and become probably the laziest person in the entire world! I take that time VERY seriously! This year Travis and I were going to go on a honeymoon but then COVID hit and that didn't happen, so hopefully next March we can actually go on our honeymoon. But normally we try to go away somewhere and just take time for us and plan a little trip or vacation.
I really don't do much. I come home, decompress, and chill out. I don't work out, I'm not active. I allow myself full rest, and I don't really watch what I eat. Although, I'm very aware of what I eat and the consequences of it! So when I have too much sugar or too many carbs or whatever I know what's happening to my body when I have it.
But I enjoy steak, and I'll eat the French fries that go with them, and I just don't think too much about being a high performance athlete and watching what I eat and making sure I stretch and making sure I work out. I really just don't do anything.
I try to enjoy time with Travis to get that time together again. Because normally I don't see him from Christmas until March. Sometimes he comes on tour for some of the races, but sometimes he can't take time off from work to come out for a couple of weeks so a lot of times I don't see him until March. So I just take that time with him and Duchess and get back to our family life.
Usually the cycle goes something like this: The first two weeks I think "This is great! I can sleep in and not do much!" Then a couple weeks later I think "I feel horrible! I just ate everything under the sun!" and you start to get panicky that you're not working out and your body gets like stiff and lazy. Then you get accustomed to it and think "Oh, I'm good!" and then about four to six weeks later you start training and you've had your time off and you want to start being in shape and eating healthier. And that's how I know when it's time to get back into it!
Tell us about your dog!
Her name is Duchess! She's a petite golden doodle who's 20 pounds and a little too smart! When she doesn't want to be smart I think "Oh, she's a dog!" But then she does something and I'm like "Of course you know!" Overall she's very smart and very sweet.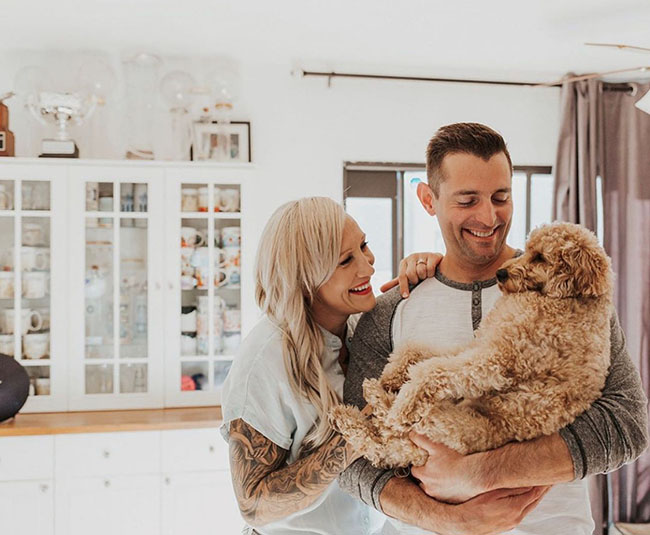 She's actually Canadian. We got her from Ontario. It was the last World Cup race in 2016 when we got her. That summer I'd moved down from Canada to live with Travis and moved in with him while I was training in California. Then I went on tour and we decided to get a dog. We were looking up different kinds since both Travis and I are allergic to animals, and Duchess is hypoallergenic. The breeder drove her down from Ontario to Lake Placid and then I flew back to California with her at the Christmas break.
It was a commitment to get a dog, and it was important to get one that was small that we could travel with, and find one who isn't high maintenance. Of course, she still is high maintenance in her own way! Because she doesn't shed she can mat up pretty easily so we need to brush her out a lot. With that we get a non-shedding dog who loves everybody. I don't worry about her in any scenario with any kid or any adult in any capacity. She's super sweet, very loving and super affectionate. She has her moments where she likes to cuddle and some moments when she likes to do her own thing. But we got a great mixture of a golden retriever and a poodle, but we really got the best parts of both. We got the smarts of a poodle, but she's very affectionate, very loving and very playful and not aggressive in the slightest which is really nice. She's easy to train, and she's just an amazing dog to have. And when I go away on tour Travis has someone at the house to be affectionate with and he's got a best friend to be there with when he's not on tour with me.
You've been in the sport a long time, have you thought much about what you want to do when you eventually retire?
No! So if anyone wants to offer me a job I am more than willing to accept just about anything right now! I have no thoughts, and sometimes it scares me, I won't lie. Sometimes I think that the closer I get towards my career ending knowing that it's sooner rather than later. It could be 2022, ideally I'd like to last until the 2026 Olympic Games, that's my goal. But I also know that Travis and I want to start a family before that point so I'm very aware that after I have a kid my body is going to change and mentally I'm going to change and do I want to be away? Will I still be excited? Do I want to be training in high performance? All things I have to consider. My goal is to last that long, but can I stay motivated and also have the life that I want? Hopefully so! Hopefully Elana is blazing the trail for that, but for me I don't know. I pretty much am going to take it year by year between now and 2026 and make sure I'm still enjoying what I'm doing, I'm still very much competitive and can challenge myself and that I want to be in the situations I'm putting myself in. Right now the answer to that is yes, and I'm fully committed to doing that every single year. At the point it becomes not fun, my body starts to break down, it becomes not worth doing it or the risk vs. reward isn't there then I'll gladly be able to leave happy. I'm very happy with my career to date, and I still very much have more to give to the sport and I can get more out of myself and my performance. So I want to continue to compete until the point there's nothing more I can give. So I'll keep going until that time hits, and that time is not now.
For the bulk of your career you've raced against Elana Meyers Taylor as a friend but also someone on a different team. Do you think your relationship will change at all now that you're teammates?
Ask me that question in a couple of months! I think things are going to change, yes. Do we know what that means? No. Have we trained together before? Yes. We've been in those situations before, we've worked through issues. Sharing the same coach with Stu McMillan at ALTIS in the summers. We know how to be training partners and push each other while still being competitors. But now it will be different being on the same team. We are going to have to share more resources than we've had to in the past. So we have the skills to share resources, to share coaches, to share environments to be around each other in competition and training. We're just going to have to take that to a bigger degree in order to share more. Now that we have to share sleds, and potentially runners, and brakemen. I know the plan for the team is to hopefully have two of the best of everything so both of us can be independent and not have to try to battle for the same. So if we can have two world class sleds and two the two fastest brakemen and they're a hundredth apart and we can pick teammates that are best for us and it's not a competition against each other because ultimately "may the best person win" when it comes to driving skill and it comes to pushing and actual racing. As long as we're both happy and content putting our best foot forward and if the other person wins by a hundredth (which has happened multiple times to both of us!) that we can be happy with our performance and that the other person also performed.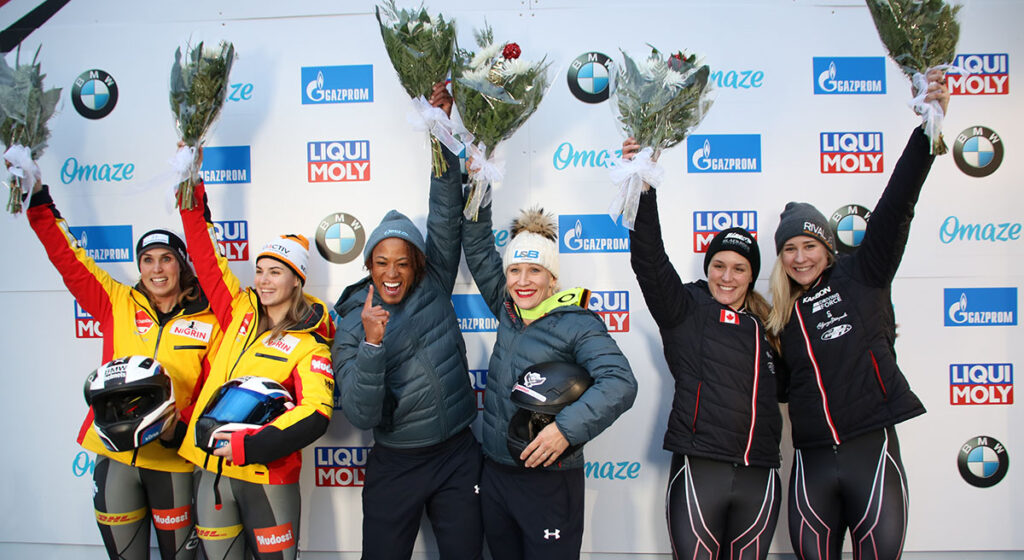 We know that each other works equally as hard. I know Elana is gunning to beat me, she knows I'm gunning to beat her, but I respect the fact that she has to kill herself every day to do that: Being in the gym, making sure she's fully recovered. And she knows that I know I'm going to have to kill myself to beat her. So when it happens it's not out of spite but it's out of the fact that the other person did it better and that they've probably had to work that much harder. And I think that's what drives us to work hard and as hard as we do, and it's what makes us better. We're better athletes for competing and having that rivalry with each other but to know it's out of respect for one another and that if one person wins over the other it's because they worked harder and had a better day. There won't be ill feelings toward it. She came in second and I came in third in these past games. I came in first and she came in second at the last one. We can both find flaws in our own performances to justify where we were ranked where it doesn't have to be a hatred for somebody else for doing better. We hold ourselves accountable to a higher standard and we can maintain that friendship, I think.
She's the only person who knows what I go through, and vice versa. For me to bet at this level and for me to be writing history, and for her to be doing the same thing, there's very few people in this sport who have those experiences and have competed at the last three Games and have stood on the podium in the last three Games. The pressures and stresses that go with that? There's not many people in the world, regardless of what country they come from, to know what it feels like to have those pressures and stresses to push yourself day-in and day-out and to help be a leader for your team and your up and coming athletes. For money and funding for the future. She knows what that like, and I know what that experience is. So we can rely on each other for that. How you balance family and sport and real life, we have a lot of conversations about that and that's where the friendship comes through. Regardless of sport and where you finish, it is about the journey and the process and friendships. Our experiences are both very similar and very individual. We can be very open and honest and it's never from a place of judgement with each other. Instead, it's more from a place of respect and trust that we're free to express how we feel and be very reel. We are confident individually that we know we can raise our game at any point and we will and the other person will have to match it. And that's part of sport. The pressures and stresses are real and we can overcome whatever comes at us.
Last season Margot Bosh posted about meeting you when she was a kid and wanting to be a pilot like you one day, then getting to race against you. Have you thought much about being a role model for up and coming sliders?
Realistically, I didn't think about it until last year. I think that's part of the journey of sport and I've been fortunate to have such a long career in the sport that I'm starting to see those things occur now. I think 2010 to 2014 it was just "Can I do this again?" And I felt a lot of pressure to defend my gold medal because nobody had done that before. The 2014-2018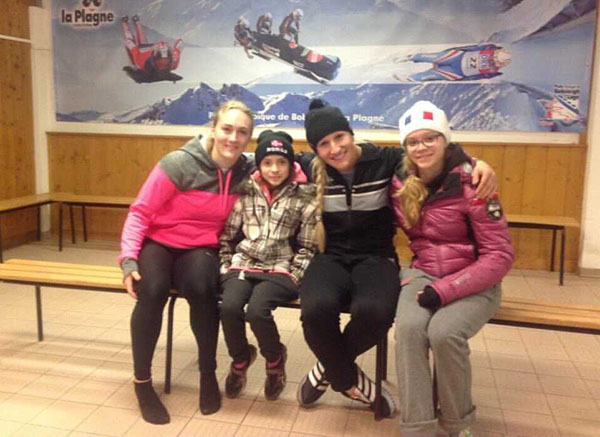 period, I got to be in a much stronger leadership role, and I think I had to learn what that meant. I think I did a good job of understanding how I lead, and what that means for me. I don't think that I'm a natural-born leader. I know what it means for me to be successful and what I have to do and I have no problem sharing with other people if they have questions and want to know, but I'm definitely not one who's super confident telling people what to do or how to be the best. SO I lead more through example, and so for me learning what kind of leader I am and how to be able to help others and still meet my performance needs and demands and how to give back. That wa a lot of the 2014-2018 years. To take a bit of time away during the 2018/2019 season and to come back last year and see that generation of Margot come up and think "Oh yeah! I remember when you were 12 years old and now you're racing and you came in sixth in a race where I came in fifth!"
Like, this is very, very cool, and now there's not so much pressure to perform. I get to enjoy a lot more of the process and I get to help those girls. I want to see them succeed. I want to see that next generation do more than I did, have more opportunities, be better, and break records. To see that, it's super cool for me. Some of that is just time, some of it is me growing as an athlete, too. But I do think about that a lot more, but last year was the first time I got be like "There is a full circle!" it's different, but I'm fortunate that I've gotten to have a long career where I get to see that. I get to not just see it but experience, too, where I'm still actually competing. It makes me feel old, I won't lie. In moments like that it remind me that I've been around a minute! Sometimes you forget though. Each race day I feel like I go back to Year Two where I go "Do I remember what I'm going to do?!" At the start of each season my first run down, I'm like "What if I forget how to drive?!" Then you get to the bottom and I think "Oh, I was a big fat baby about that!" But I have moments just like everyone else where stress is high, or moments where I think "What if I forget what to do?" But then when you're in the moment your body takes over and things just happen. There are certain days where I feel like I'm 24 again and I'm still learning how to drive and then I remember I've been doing this a minute, I've been around, and I am the veteran of the team. But I'm okay with that now. These next four years I'm very much okay being realistic of the position I'm in now and I want to help these new girls whether they're brakmen or pilots. I want to help the next generation. I'm excited to be able to do that and to be in a position where I still get to compete and see it come full circle. But be able to help from the position where I feel strongest leading in, which is leading by example.
What has been your best sliding sport memory?
Again, I've got a couple for sure. If I had to narrow it down to one, the most life changing moment for me would be winning gold in the 2010 Olympics. That was my first Olympic gold medal, so 100% your dreams come true. Everything you'd dreamt of when you were a kid. And it was on home soil, and it was my first Olympics competing. And that for me was an "I've done it, and I've achieved everything I could have wanted and the pinnacle of sport which for any athlete at the Olympics is part of the drive. So I got to live out that dream and that was the first big one that I can say I got to do. So if I have to pick one it's going to be that one. I could easily add in defending that title in 2014. That was personal for me based on the fast that nobody had ever defended that Olympic gold. So there was a lot of pressure and stress and I felt that 2010 could have just been home field advantage or just a fluke. How do you know for sure? To defend in 2014, it was like "No, I know that this is what I'm good at." It was very fulfilling and a very big confidence booster for me. So the confidence and courage I feel comes a lot from 2014. The first World Cup that I won was in Altenberg, and that one for me in 2009 led to me believing that I could win in 2010. And I would say winning the first World Championship in Lake Placid…after you win an Olympic gold the next question is if you can win a World Championship. So winning that in 2012 told me that I could be the best again, which then led me to believe that I could do it again in 2014. So everything kind of has its place: 2009 led into 2010, which led into 2012, which led to 2014. But those are probably the biggest four consecutive. But if I had to pick one? The 2010 gold medal is THE one.
In all of the races you've run, what's the most heartbreaking or the biggest deflating moment?
I've had a couple of them. Deflated and being very frustrated are two very different things for me. So I've had races where I've lost to Elana or others by like a hundredth of a second. And those to me are very frustrating, because how do you quantify a hundredth of a second? I know how you do it physically, but where could that have come from? What replays in your mind, those are the ones that eat me alive mentally because they're hard to take. A hundredth could have been anything at any point anywhere. I think one of the harder races for me would have been World Championships in 2011 in Königssee. Run 1 in Köngssee I was sitting in like fifth. I worked my way up, but we finished third. Similar to 2018, but it was hard because you go into it from the last major event having won, to then being like "I'm the best in the world!" then thinking "Wow, I just came in fifth." It shows that people don't stop. If I start to slack, or if I relax a little bit even, or if I don't push just as hard to get to the top as I do to stay there everyone else will be gunning for me, when you think you have it you don't. For me that was a very big slap in the face. It wasn't deflating for me, but it definitely was a reality check for me, 100%. Part of 2012 and winning Worlds was that 2011 race and not wanting to feel like that again. It was a very hard reality for me to hit.
Deflating for me is any race in Winterberg! Any race there I'm just waiting to get it over with! My worst results have come racing in Winterberg. If I had to pick a deflating moment it would have to be the time I came in ninth in Winterberg. I was so frustrated because I couldn't figure out how I was so slow. I thought my runs were so good, I thought my equipment was on point, I didn't understand how I could be in ninth place and there were people who I've traditionally been better than for multiple years and times before. So it's not just losing ar ace or two, but I was getting crushed and I was in ninth place behind people who I've beaten by two seconds before. So how could I be that bad?
You know you won the next race in Winterberg after that ninth place finish right?
Yup! But I still remember feeling like so let down because I couldn't figure it out and to this day my worst results come on that track and it's still deflating because it's gone on for so long. Every other track in the world I've been able to figure out. I've had good years and I've had bad years, but even if I have a bad race I usually know why. It's deflating that I can't figure out what it is about that track where I've won once in my entire career and I can't figure out why I have my worst results there. And for years I was like "Never talk bad about the track, say that you love it every time!" Because you hear if you go into a race down you're going to be down so I'd be like "It's sunny Winterberg, it's going to be great!" then I finish seventh and I'm like "The hell with this place!" But you can't help it! You just get so deflated! I can't figure out how I'm losing so much time there every time there! And it's never just one thing or another, but I'm always deflated when I go there, I won't lie!.
Guest question from Madi Charney (Canada skeleton): If you had to eat exactly one food for the rest of your life, what would it be and why?
Steak! Steak and French fries. Or sushi, I could do that, too. But those are my two favorites. That's a hard choice for me because they're pretty much two staples so I go between both.
It just depends on your mood?
It depends on my mood 100%. Sometimes I just need a steak and some French fries, and sometimes I need sushi! So those would be my two. I was born and raised for most of my life in Alberta, so the steak portion…I don't know there's just something about a big steak that's got all of the fatty bits on it that's just so satisfying to eat when they're cooked right. And the French fries when they're all crispy and salty! It's just so good! And then the sushi, just the different falvors…I think if I had to pick JUST one, it would be the steak and fries, but the sushi would be a very close second. I don't eat everything at sushi, but the things that I do eat I can eat a lot of and I do very much enjoy it! They're very satisfying to my palate, and to my body and my mind. I think I perform well when I'm satisfied as a whole and I think that food is a big part of that! Food leads to feeling happy, which leads to competing and training and being happy as a whole just in life. I could eat that every day without a problem. Travis cannot, so we have to mix it up some. I'd be like "let's have steak again!" and he'll tell me we just had it two days ago so he wants to have something else. I could eat the same thing over and over, other people just can't.
I could have waffles every day and be very happy.
Oh, waffles are good, too. I could also crush some waffles! I don't know if I could do them every day but they're right up there!