From Sigulda, LAT
(Nov. 20, 2020) – The 2019/2020 World Cup season ended in Sigulda, Latvia with the Dukurs brothers winning gold and silver, with Martins finishing ahead of Tomass. The 2020/2021 season started in similar fashion for the younger Dukurs, with Martins winning gold by a wide margin.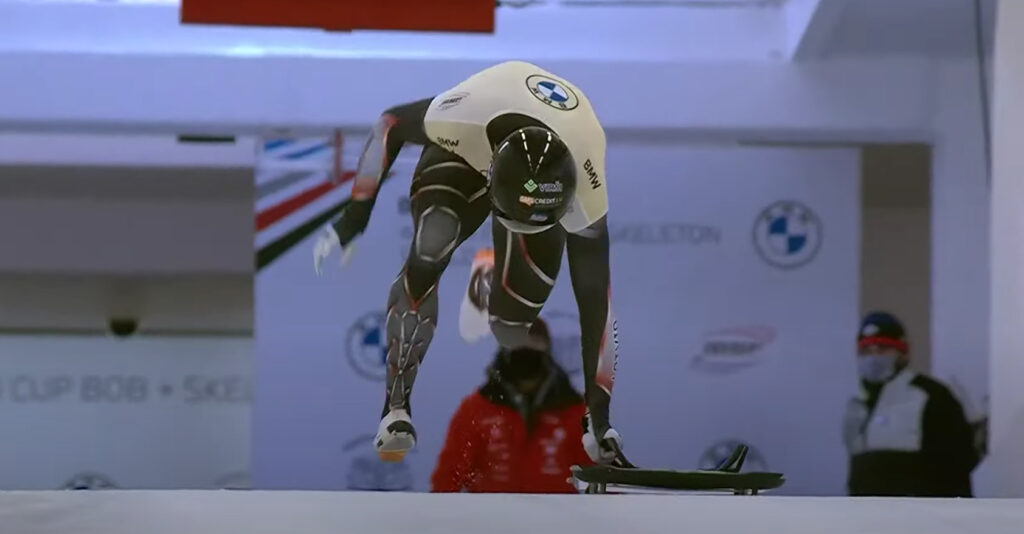 Dukurs had the two fastest runs of the day, winning the race by .79 over the field. The win is the 55th World Cup win of his career and his second straight on home ice.
Behind him, Germany had a strong showing, with Alexander Gassner and Felix Keisinger tying for silver. Gassner made the leap from eighth in the first heat with a second run that nearly matched Dukurs' second run time, while Keisinger was consistent with the third fastest run in each heat.
The silver medal is the second for both athletes.
Tomass Dukurs finished just out of the medals in fourth with a second run that tied the run set by Matt Weston in fifth. Weston's teammate Craig Thompson helped put two British athletes in the top six.
The British men had an outstanding day in Sigulda. On top of both Weston and Thompson landing in the top six, Marcus Wyatt finished eighth to help put all three British sliders in the top ten. Weston's career-best fifth place finish comes in just his second World Cup event, while Thompson's sixth place finish ties a career-best set in Igls in January of 2020.
Italy's Mattia Gaspari, in his second World Cup race back from injury, looked to be returned to form with a tenth place run, .06 ahead of World Champion Christopher Grotheer.
The United States, Canada, Korea, and China all are sitting out the first portion of the season, with most/all prepared to join the tour in Winterberg after the holiday break.
Results:
| | | | | | | | | |
| --- | --- | --- | --- | --- | --- | --- | --- | --- |
| Pos | Name | Nation | Bib | Start 1 | Start 2 | Run 1 | Run 2 | Total |
| 1 | Martins Dukurs | LAT | 8 | 4.56 | 4.56 | 50.21 | 50.23 | 1:40.44 |
| 2 | Alexander Gassner | GER | 10 | 4.65 | 4.67 | 50.87 | 50.36 | 1:41.23 |
| 2 | Felix Keisinger | GER | 5 | 4.53 | 4.48 | 50.68 | 50.55 | 1:41.23 |
| 4 | Tomass Dukurs | LAT | 6 | 4.69 | 4.69 | 50.66 | 50.71 | 1:41.37 |
| 5 | Matt Weston | GBR | 16 | 4.58 | 4.59 | 50.73 | 50.71 | 1:41.44 |
| 6 | Craig Thompson | GBR | 7 | 4.53 | 4.49 | 50.73 | 50.81 | 1:41.54 |
| 7 | Nikita Tregubov | RUS | 11 | 4.68 | 4.66 | 50.76 | 50.89 | 1:41.65 |
| 8 | Marcus Wyatt | GBR | 13 | 4.57 | 4.56 | 50.90 | 50.76 | 1:41.66 |
| 9 | Alexander Tretiakov | RUS | 12 | 4.57 | 4.57 | 50.72 | 51.15 | 1:41.87 |
| 10 | Mattia Gaspari | ITA | 2 | 4.71 | 4.71 | 51.13 | 50.87 | 1:42.00 |
| 11 | Christopher Grotheer | GER | 4 | 4.68 | 4.69 | 50.93 | 51.13 | 1:42.06 |
| 12 | Vladyslav Heraskevych | UKR | 9 | 4.81 | 4.76 | 51.67 | 50.96 | 1:42.63 |
| 13 | Daniil Romanov | RUS | 17 | 4.59 | 4.58 | 51.88 | 51.12 | 1:43.00 |
| 14 | Florian Auer | AUT | 15 | 4.79 | 4.77 | 51.58 | 51.58 | 1:43.16 |
| 15 | Ronald Auderset | SUI | 18 | 4.74 | 4.69 | 52.09 | 51.56 | 1:43.65 |
| 16 | Amedeo Bagnis | ITA | 14 | 4.83 | 4.75 | 51.96 | 51.80 | 1:43.76 |
| 17 | Samuel Keiser | SUI | 3 | 4.86 | 4.86 | 51.88 | 52.33 | 1:44.21 |
| 18 | Mihai Pacioianu | ROU | 1 | 4.70 | 4.69 | 52.17 | 52.41 | 1:44.58 |