From Sigulda, LAT
(Nov. 20, 2020) – At the end of the 2019/2020 season, Janine Flock finished third in Sigulda, with her second run leaving a bit to be desired.
A new season meant a new result for the Austrian. To open the 2020/2021 season Flock threw down two mammoth runs, including a track record in her first trip down, and won gold to kick off the season.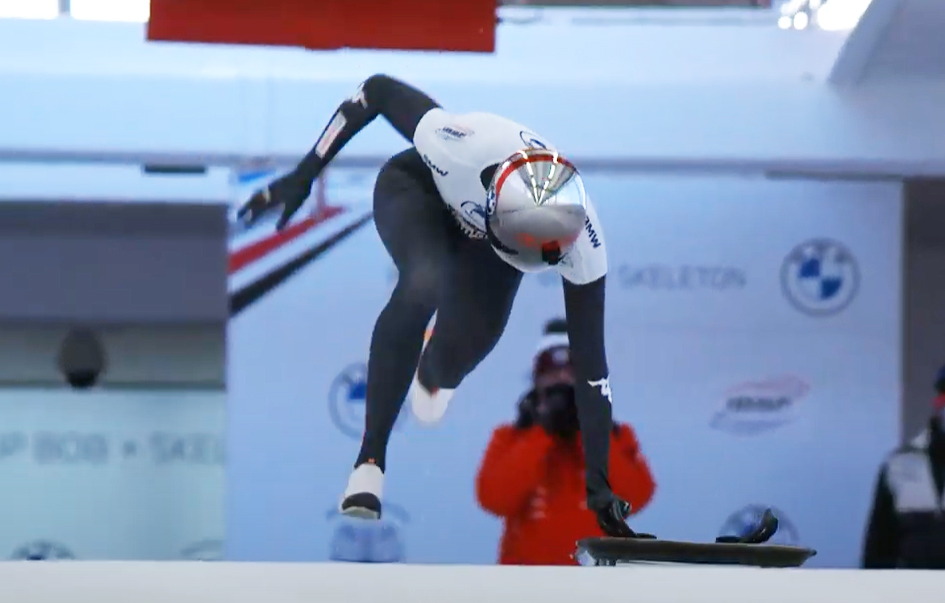 Flock's first run was a track record 51.49, the only slider in the 51 second range. While her second trip down wasn't as quick as the first, it was still the faster than anyone else in the heat and enough for a .83 second victory over Kimberley Bos.
While not able to match Flock's times, Bos was by far the fastest non-Austrian in the field to win silver, giving her a career-best finish. Her previous best finish was a bronze in the Pyeongchang test event in the 2016/2017 season.
On home ice, Latvian rookie Endija Terauda finished with a bronze medal, just .01 ahead of Czechia's Anna Fernstädt. For Terauda, it was her second win at any level in Sigulda (matching her European Cup victory there a season ago), while for Fernstädt it was her best finish since making the move to the Czech team.
Belgium's Kim Meylemans finished fifth, equaling last season's finish in Sigulda, while Great Britain's Laura Deas finished sixth, her best finish since winning bronze in Calgary in the 2018/2019 season.
Behind Laura Deas, Great Britain's younger sliders fared well. Ashleigh Pittaway was .76 faster on her second run and moved up from 15th to 13th on her second run, picking off teammate Amelia Coltman. Coltman, the 2019/2020 European Cup champion, put down two relatively clean runs in her World Cup debut to finish 14th.
Last season the German women struggled in Latvia, with both World Champion Tina Hermann and World Cup champion Jacqueline Lölling having their worst races of the season and some of the worst of their careers in Sigulda. That trend continued with neither woman ever really in contention for a top six. Hermann moved up from tenth to seventh in her second run, while Lölling finished one spot behind her teammate in eighth. Hannah Neise plummeted to 13th from fifth after a rough second run.
NIcole Silveira finished 18th in her first ever skeleton World Cup start. Her only other World Cup experience came as a brakewoman for Heather Paes in Whistler a few seasons back.
Due to the ongoing COVID pandemic, neither the United States nor Canada made the trip to Sigulda. Both teams will start their World Cup season in Winterberg after the holiday break.
Results:
| | | | | | | | | |
| --- | --- | --- | --- | --- | --- | --- | --- | --- |
| Pos | Name | Nation | Bib | Start 1 | Start 2 | Run 1 | Run 2 | Total |
| 1 | Janine Flock | AUT | 5 | 5.19 | 5.17 | 51.49 | 52.36 | 1:43.85 |
| 2 | Kimberley Bos | NED | 14 | 5.10 | 5.08 | 52.04 | 52.64 | 1:44.68 |
| 3 | Endija Terauda | LAT | 1 | 5.24 | 5.23 | 52.41 | 52.84 | 1:45.25 |
| 4 | Anna Fernstädt | CZE | 10 | 5.42 | 5.41 | 52.54 | 52.72 | 1:45.26 |
| 5 | Kim Meylemans | BEL | 6 | 5.09 | 5.06 | 52.60 | 52.75 | 1:45.35 |
| 6 | Laura Deas | GBR | 8 | 5.08 | 5.09 | 52.43 | 53.09 | 1:45.52 |
| 7 | Tina Hermann | GER | 9 | 5.26 | 5.21 | 52.85 | 52.69 | 1:45.54 |
| 8 | Jacqueline Lölling | GER | 11 | 5.34 | 5.40 | 52.80 | 52.85 | 1:45.65 |
| 9 | Elena Nikitina | RUS | 13 | 4.99 | 5.01 | 53.11 | 52.83 | 1:45.94 |
| 10 | Valentina Margaglio | ITA | 7 | 4.93 | 4.93 | 53.07 | 52.96 | 1:46.03 |
| 11 | Yulia Kanakina | RUS | 12 | 5.04 | 4.99 | 52.84 | 53.20 | 1:46.04 |
| 12 | Ashleigh Pittaway | GBR | 4 | 5.17 | 5.17 | 53.61 | 52.85 | 1:46.46 |
| 13 | Hannah Neise | GER | 17 | 5.37 | 5.40 | 52.50 | 54.18 | 1:46.68 |
| 14 | Amelia Coltman | GBR | 16 | 5.23 | 5.23 | 53.32 | 53.39 | 1:46.71 |
| 15 | Alena Frolova | RUS | 18 | 5.07 | 5.08 | 54.12 | 52.91 | 1:47.03 |
| 16 | Agathe Bessard | FRA | 15 | 5.51 | 5.50 | 53.90 | 53.53 | 1:47.43 |
| 17 | Alessia Crippa | ITA | 2 | 5.16 | 5.15 | 53.57 | 54.35 | 1:47.92 |
| 18 | Nicole Silveira | BRA | 3 | 5.30 | 5.27 | 54.66 | 55.03 | 1:49.69 |