From Sigulda, LAT
(Nov. 21, 2020) – The 2020/2021 season started off a bit rough for Mariama Jamanka. She couldn't match the speed of Laura Nolte or Kim Kalicki in team trials, and the German team said that she'd be swapping rides with Stephanie Schneider after the first two races in Sigulda.
But Jamanka is the reigning Olympic champion and Olympic champions generally don't stay knocked down for very long. In the season opener in Sigulda, Jamanka jumped right back up and won the first gold medal of the season.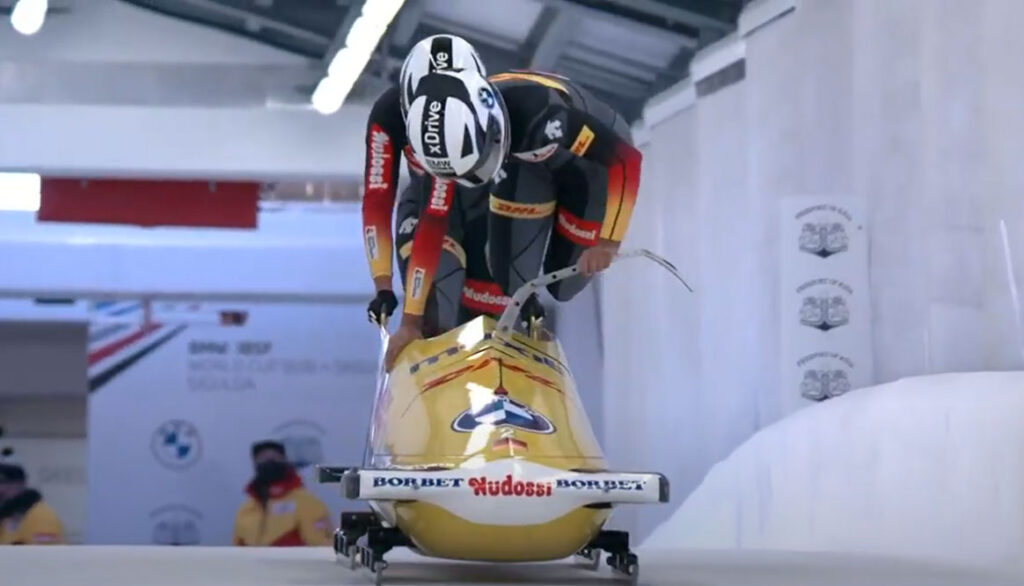 In the first heat, Jamanka opened up a .13 second advantage over Austria's Kati Beierl. In the second heat, on a slowing track, Jamanka equaled Beierl's second run time to hold the .13 advantage and win the first gold of the season and the sixth of her career.
Beierl finished second for Austria's first silver medal since Christina Hengster took silver in Whistler during the 2016/2017 season. The silver is also a World Cup career best Beierl, who has four gold medals at the European Cup level.
Kim Kalicki finished third in the second German sled, setting the quick start time amongst the medal contenders with a 5.35.
Switzerland's Melanie Hasler finished a career-best fourth in her second World Cup race, just .05 ahead of France's Margot Boch in fifth. Boch's finish was also a career-best in her third World Cup race.
Romania's Andreea Grecu, who finished second in the 2019/2020 race in Sigulda, just couldn't find the speed in her sled. Despite two clean runs she finished sixth.
Sylwia Smolarek finished seventh for Poland in her first career World Cup race.
There were two crashes in the race. Laura Nolte went over out of Curve 13 in the first heat, and though she finished her run she didn't take a second trip down. In the second heat Martina Fontanive went over in the same place, also finishing her run upside down to get an official finish of eighth.
With ongoing COVID precautions, the United States, Canada, China, and Korea are currently sitting out the opening races of the World Cup season. Most of those teams will join the tour after the holiday break.
There was a positive COVID test amongst the Russian team, and both the women's and men's teams had to sit out. There was also a positive test amongst the extended British support team, and thus Mica McNeill also had to sit out. She will rejoin the tour in Igls.
Results:
| | | | | | | | | |
| --- | --- | --- | --- | --- | --- | --- | --- | --- |
| Pos | Names | Nation | Bib | Start 1 | Start 2 | Run 1 | Run 2 | Total |
| 1 | Jamanka / Mark | GER | 5 | 5.36 | 5.37 | 51.05 | 51.51 | 1:42.56 |
| 2 | Beierl / Onasanya | AUT | 1 | 5.35 | 5.36 | 51.18 | 51.51 | 1:42.69 |
| 3 | Kalicki / Galander | GER | 8 | 5.38 | 5.35 | 51.52 | 51.62 | 1:43.34 |
| 4 | Hasler / Naef | SUI | 6 | 5.45 | 5.47 | 51.54 | 51.98 | 1:43.52 |
| 5 | Boch / Senechal | FRA | 3 | 5.49 | 5.49 | 51.56 | 52.01 | 1:43.57 |
| 6 | Grecu / Wick | ROU | 9 | 5.41 | 5.41 | 51.74 | 52.03 | 1:43.77 |
| 7 | Smolarek / Slupecka | POL | 4 | 5.78 | 5.82 | 52.43 | 52.65 | 1:45.08 |
| 8 | Fontanive / Pasternack | SUI | 2 | 5.33 | 5.34 | 51.46 | 61.55 | 1:53.01 |
| DNS | Nolte / Levi | GER | 7 | 5.21 | | 62.61 | DNS | DNS |