From Igls, AUT
(Nov. 29, 2020) – With teammates Natalie Geisenberger and Dajana Eitberger both out for the season on maternity leave, Julia Taubitz was left as the top slider for Germany. With that title she won the overall World Cup title, winning a handful of World Cup races along the way. With the 2018 Olympic gold and silver medalists back, Tau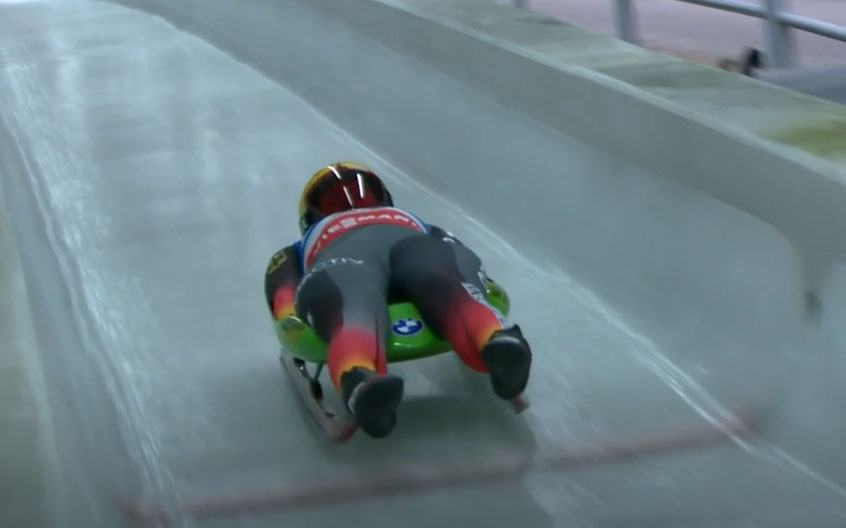 bitz showed that she's not going to give up the title of "top German slider" too easily.
Taubitz set the fastest time in both heats to on her way to victory to open the 2020/2021 World Cup season in Igls. She was the only slider to have both runs in the 40.1 range and finished over a tenth ahead of Geisenberger.
Geisenberger, who is six months removed from giving birth to her son Leo, had a small skid in her first run that may have cost her the quick time in the first heat. Her second trip down the Austrian track was nearly perfect, and was enough to give her a silver medal in her return to action.
Like her teammate Geisenberger, Dajana Eitberger missed the 2019/2020 season on maternity leave, and like Geisenberger she returned to action as a medalist. The Olympic sliver medalist came into the second heat in fifth place, but moved up into third with the third-quickest run of the second heat.
World Champion Ekaterina Katnikova finished fourth, just ahead of Austrian Madeeine Egle in fifth. Egle's teammate, Lisa Schulte, tied a career best finish with a sixth place effort.
Last season's World Cup runner up Tatyana Ivanova had an awful second run that saw her fall from tenth to 20th.
The United States, Canada, and China are all sitting out the first portion of the FIL World Cup season due to COVID travel restrictions and general safety concerns.
Results:
| | | | | | | | | |
| --- | --- | --- | --- | --- | --- | --- | --- | --- |
| Pos | Name | Nation | Bib | Start 1 | Start 2 | Run 1 | Run 2 | Total |
| 1 | Julita Taubitz | GER | 25 | 2.139 | 2.146 | 40.177 | 40.112 | 1:20.289 |
| 2 | Natalie Geisenberger | GER | 18 | 2.145 | 2.133 | 40.262 | 40.147 | 1:20.409 |
| 3 | Dajana Eitberger | GER | 16 | 2.132 | 2.148 | 40.333 | 40.226 | 1:20.559 |
| 4 | Ekaterina Katnikova | RUS | 20 | 2.155 | 2.157 | 40.276 | 40.320 | 1:20.596 |
| 5 | Madeleine Egle | AUT | 23 | 2.127 | 2.121 | 40.267 | 40.381 | 1:20.648 |
| 6 | Lisa Schulte | AUT | 15 | 2.123 | 2.116 | 40.412 | 40.324 | 1:20.736 |
| 7 | Cheyenne Rosenthal | GER | 17 | 2.120 | 2.111 | 40.462 | 40.311 | 1:20.773 |
| 8 | Viktoriia Demchenko | RUS | 26 | 2.157 | 2.134 | 40.489 | 40.328 | 1:20.817 |
| 9 | Andrea Vötter | ITA | 19 | 2.129 | 2.148 | 40.450 | 40.369 | 1:20.819 |
| 10 | Nina Zöggler | ITA | 9 | 2.146 | 2.143 | 40.475 | 40.381 | 1:20.856 |
| 11 | Kendija Aparjode | LAT | 21 | 2.133 | 2.138 | 40.495 | 40.379 | 1:20.874 |
| 12 | Eliza Tiruma | LAT | 27 | 2.133 | 2.137 | 40.419 | 40.459 | 1:20.878 |
| 13 | Verena Hofer | ITA | 14 | 2.138 | 2.136 | 40.584 | 40.383 | 1:20.967 |
| 14 | Hannah Prock | AUT | 13 | 2.154 | 2.157 | 40.476 | 40.508 | 1:20.984 |
| 15 | Ulla Zirne | LAT | 22 | 2.168 | 2.171 | 40.579 | 40.462 | 1:21.041 |
| 16 | Marion Oberhofer | ITA | 11 | 2.119 | 2.120 | 40.585 | 40.493 | 1:21.078 |
| 17 | Ekaterina Baturina | RUS | 12 | 2.133 | 2.144 | 40.565 | 40.523 | 1:21.088 |
| 18 | Natale Maag | SUI | 24 | 2.166 | 2.177 | 40.599 | 40.526 | 1:21.125 |
| 19 | Katarina Simonakova | SVK | 5 | 2.165 | 2.157 | 40.688 | 40.613 | 1:21.301 |
| 20 | Tatyana Ivanova | RUS | 28 | 2.110 | 2.107 | 40.473 | 40.849 | 1:21.322 |
| 21 | Barbara Allmaier | AUT | 8 | 2.159 | 2.148 | 40.770 | 40.553 | 1:21.323 |
| 22 | Raluca Stramaturaru | ROU | 6 | 2.145 | 2.130 | 40.849 | 40.492 | 1:21.341 |
| 23 | Sigta Berzina | LAT | 10 | 2.120 | 2.115 | 40.732 | 40.725 | 1:21.457 |
| 24 | Mihaela-Carmen Manolescu | ROU | 1 | 2.147 | 2.162 | 40.883 | 40.907 | 1:21.790 |
| 25 | Veronica Ravenna | ARG | 4 | 2.209 | 2.134 | 40.959 | 40.888 | 1:21.847 |
| 26 | Cezara Curmei | ROU | 2 | 2.177 | 2.188 | 41.054 | 41.063 | 1:22.117 |
| 27 | Olena Smaha | UKR | 7 | 2.174 | 2.164 | 41.364 | 40.787 | 1:22.151 |
| 28 | Hyesun Jung | KOR | 3 | 2.185 | 2.203 | 41.372 | 40.986 | 1:22.358 |