From Igls, AUT
(Nov, 29, 2020) – Germany won its 40th FIL World Cup Team Relay event, but Austria didn't make it easy on home ice.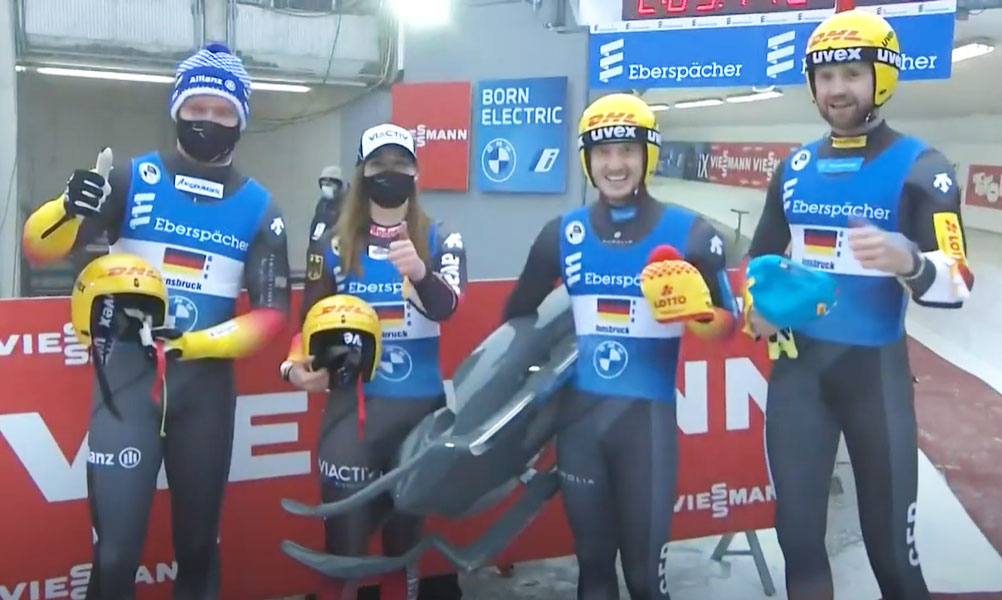 Austria was the sixth nation down, over a second ahead of then-leaders Slovakia. Latvia was next and was ahead of the Austrians for the bulk of their run, however in the doubles spot were World Cup rookies Martins Bots & Roberts Plume and they couldn't match the speed set by doubles gold medalists Thomas Steu & Lorenz Koller.
Italy came down next but Andrea Vötter missed the paddle at the end of her run, giving Italy a disqualification. Russia was next and couldn't match the time set by Austria.
That left Germany, who came into the race with 39 wins in the Team Relay competition. Igls gold medalists Julia Taubitz and Felix Loch helped open up a .254 second advantage over the Austrians, leaving the victory up to Toni Eggert & Sascha Benecken, who were not able to match the speed of the Austrian duo, but had enough in the bank to give Germany the victory by just .030 seconds.
The gold medal for Germany was the 40th.
Austria finished second, with Russia taking bronze in third.
Latvia, Slovakia, and Ukraine rounded out the top six.
Results:
| | | | | | | |
| --- | --- | --- | --- | --- | --- | --- |
| Pos | Names | Nation | Bib | Women | Men | Total |
| 1 | Taubitz / Lock / Eggert & Benecken | GER | 10 | 41.668 | 1:25.503 | 2:09.742 |
| 2 | Egle / Müller / Steu & Koller | AUT | 6 | 41.926 | 1:25.757 | 2:09.772 |
| 3 | Katnikova / Pavlichenko / Kashkin & Korshunov | RUS | 9 | 41.769 | 1:25.589 | 2:09.863 |
| 4 | Aparjode / Aparjods / Bots & Plume | LAT | 7 | 41.860 | 1:25.752 | 2:10.015 |
| 5 | Simonakova / Ninis / Vavercak & Smij | SVK | 5 | 42.181 | 1:26.495 | 2:11.250 |
| 6 | Smaha / Dukach / Stakhiv & Lysetskyi | UKR | 4 | 42.190 | 1:26.603 | 2:11.656 |
| 7 | Stramaturaru / Cretu / Handaric & Allenei | ROU | 3 | 42.349 | 1:26.828 | 2:11.709 |
| 8 | Jung / Lim / Park & Cho | KOR | 1 | 42.859 | 1:28.181 | 2:13.113 |
| 9 | Cezikova / Lejsek / Vejdelek & Pekny | CZE | 2 | 43.104 | 1:28.279 | 2:13.345 |
| DSQ | Vötter / D. Fischnaller / Rieder & Rastner | ITA | | | | DSQ |