From Altenberg, GER
(Dec. 6, 2020) – Global warming reared its ugly head yet again, this time with a crazy men's luge race in Altenberg.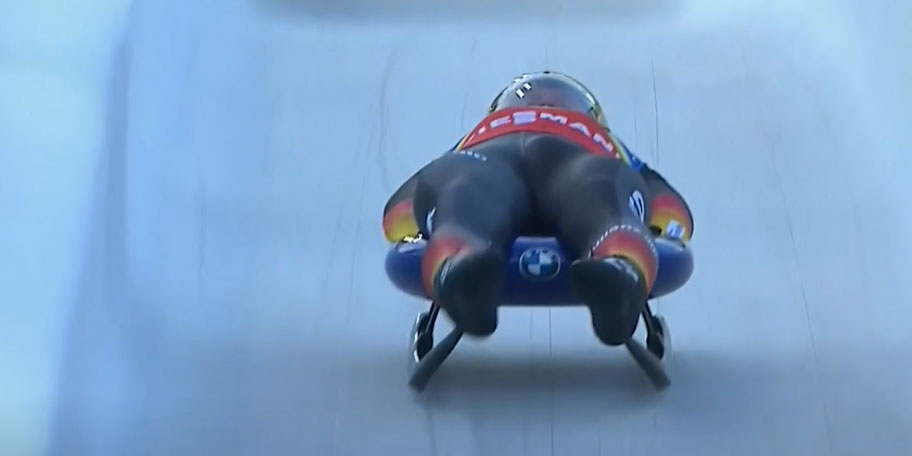 It was warm to start the race (about 4C/41F) in Altenberg and got warmer (to 8C/47F) as the heat went on. In turn, the track deteriorated late in the first heat with higher qualified sliders having seemingly no chance of contending for a top spot.
Roman Repilov went off 19th and set the quick time of the heat. After his run, however, slider after slider came down with clean runs but any speed in the track was gone. The final three sliders in the first heat, Kevin Fischnaller, Felix Loch, and Dominik Fischnaller, couldn't crack the top 15, with Igls winner Loch finishing the heat in 17th and Kevin Fischnaller back in 29th.
On the second run, Kevin Fischnaller was off fourth and put down a run faster than anyone had come down in either heat to that point and faster than his first run by 1.6 seconds. He stayed in the leader's box until Semen Pavlichenko was down with the fasetest run of the race. Pavlichenko led all the way until Felix Loch completed his run to take over as the leader. The Russian finished in fourth, up from 25th in the first heat.
After Loch took over the track came apart, with none of the next 16 sleds able to get anywhere near his second run time. The final slider down, heat one leader Roman Repilov, could muster just the 17th fastest time of the heat to fall to fifth.
In the end Loch took his third straight individual gold medal of the season to stay perfect. Teammate Max Langenhan, 16th after the first heat, finished second, while Latvian Kristers Aparjods took home his first career bronze medal in third, up from 13th.
Pavlichenko finished fourth, up from 25th, Repilov finished fifth, while Moritz Bollmann rounded out the top six in sixth, up from 22nd.
Dominik Fischnaller led the Italians in ninth place, up from 24th in the first heat, while Great Britain's Ruptert Staudinger finished 27th in his fourth straight qualification for the World Cup.
Results:
| | | | | | | | | |
| --- | --- | --- | --- | --- | --- | --- | --- | --- |
| Pos | Name | Nation | Bib | Start 1 | Start 2 | Run 1 | Run 2 | Total |
| 1 | Felix Loch | GER | 31 | 7.150 | 7.125 | 55.655 | 54.740 | 1:50.395 |
| 2 | Max Langenhan | GER | 24 | 7.180 | 7.158 | 55.603 | 55.095 | 1:50.698 |
| 3 | Kristers Aparjods | LAT | 28 | 7.132 | 7.170 | 55.528 | 55.173 | 1:50.701 |
| 4 | Semen Pavlichenko | RUS | 29 | 7.185 | 7.122 | 56.097 | 54.657 | 1:50.754 |
| 5 | Roman Repilov | RUS | 19 | 7.111 | 7.157 | 55.053 | 55.722 | 1:50.775 |
| 6 | Moritz Bollmann | GER | 14 | 7.074 | 7.103 | 55.962 | 54.883 | 1:50.845 |
| 7 | Reinhard Egger | AUT | 17 | 7.229 | 7.279 | 55.150 | 55.710 | 1:50.860 |
| 8 | Wolfgang Kindl | AUT | 18 | 7.202 | 7.256 | 55.182 | 55.699 | 1:50.881 |
| 9 | Dominik Fischnaller | ITA | 32 | 7.207 | 7.172 | 56.070 | 54.833 | 1:50.903 |
| 10 | Sebastian Bley | GER | 21 | 7.191 | 7.223 | 55.532 | 55.398 | 1:50.930 |
| 11 | Johannes Ludwig | GER | 27 | 7.107 | 7.106 | 55.838 | 55.153 | 1:50.991 |
| 12 | Kevin Fischnaller | ITA | 30 | 7.215 | 7.172 | 56.316 | 54.711 | 1:51.027 |
| 13 | Aleksandr Gorbatcevich | RUS | 20 | 7.200 | 7.227 | 55.432 | 55.611 | 1:51.043 |
| 14 | David Gleirscher | AUT | 23 | 7.172 | 7.283 | 55.357 | 55.729 | 1:51.086 |
| 15 | Nico Gleirscher | AUT | 25 | 7.168 | 7.163 | 55.826 | 55.372 | 1:51.198 |
| 16 | Riks Rozitis | LAT | 13 | 7.266 | 7.304 | 55.256 | 56.031 | 1:51.287 |
| 17 | Mateusz Sochowicz | POL | 11 | 7.277 | 7.275 | 55.749 | 55.596 | 1:51.345 |
| 18 | Stepan Fedorov | RUS | 12 | 7.201 | 7.236 | 55.315 | 56.077 | 1:51.392 |
| 19 | Lukas Gufler | ITA | 10 | 7.351 | 7.325 | 55.515 | 55.935 | 1:51.450 |
| 20 | Leon Felderer | ITA | 9 | 7.226 | 7.298 | 55.369 | 56.116 | 1:51.485 |
| 21 | Jozef Ninis | SVK | 22 | 7.309 | 7.316 | 55.857 | 55.644 | 1:51.501 |
| 22 | Svante Kohala | SWE | 7 | 7.269 | 7.390 | 55.501 | 56.058 | 1:51.559 |
| 23 | Andriy Mandziy | UKR | 6 | 7.247 | 7.320 | 55.523 | 56.296 | 1:51.819 |
| 24 | Gints Berzins | LAT | 15 | 7.239 | 7.276 | 56.130 | 55.732 | 1:51.862 |
| 25 | Arturs Darznieks | LAT | 16 | 7.168 | 7.262 | 55.172 | 56.703 | 1:51.875 |
| 26 | Jonas Müller | AUT | 26 | 7.149 | 7.131 | 56.164 | 55.944 | 1:52.108 |
| 27 | Rupert Staudinger | GBR | 3 | 7.351 | 7.350 | 56.068 | 56.286 | 1:52.354 |
| 28 | Michael Lejsek | CZE | 2 | 7.441 | 7.432 | 56.615 | 56.123 | 1:52.738 |
| 29 | Jakub Simonak | SVK | 5 | 7.194 | 7.279 | 55.577 | 57.448 | 1:53.025 |
| 30 | Anton Dukach | UKR | 8 | 7.715 | 7.257 | 57.963 | 55.398 | 1:53.361 |
| 31 | Kacper Tarnawski | POL | 1 | 7.295 | 7.314 | 56.263 | 57.374 | 1:53.637 |
| 32 | Mirza Nikolajev | BIH | 4 | 7.259 | 7.306 | 58.563 | 56.225 | 1:54.788 |