From Winterleiten, AUT
(Dec. 18, 2020) – The doubles team of Patrick Pigneter & Florian Clara backed up their win on Thursday with another win to go two-for-two in Winterleiten.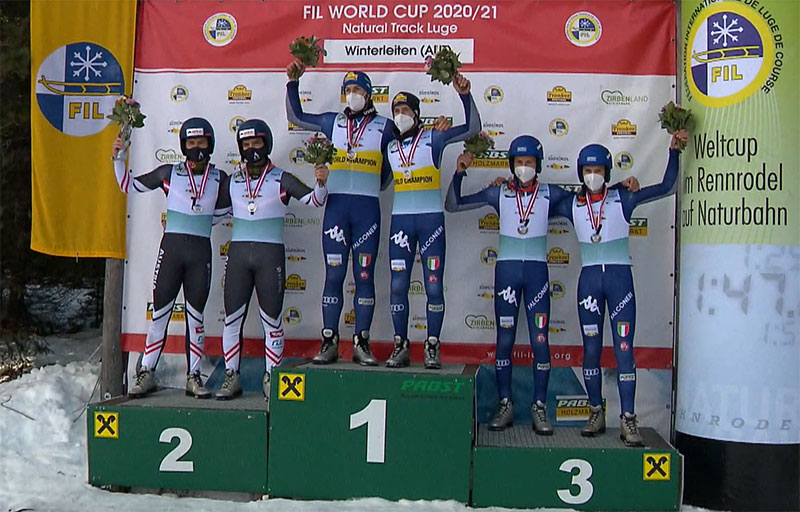 Pigneter & Clara were again the class of the field, with the Italians setting the fast time in both heats on their way to a .73 second victory over Austrian's Christoph Regensburger & Dominik Holzkecht.
The winners have yet to be beaten in a single heat this season. In fact, while in Winterleiten they had the four fastest competition runs of the weekend.
Regensburger & Holzkecht moved up from third place in the first run to second after putting down a second run that was only .04 off of the pace set by Pigneter & Clara.
Race 1 silver medalists Patrick & Matthias Lambacher finished third, just ahead of Austria's Fabian & Simon Achenrainer in fourth. Bine & Blaz Mekina and Myroslv & Ivan Lenko rounded out the top six.
Results:
| | | | | | | | | |
| --- | --- | --- | --- | --- | --- | --- | --- | --- |
| Pos | Names | Nation | Bib | Start 1 | Start 2 | Run 1 | Run 2 | Total |
| 1 | Pigneter / Clara | ITA | 8 | 8.82 | 8.78 | 65.18 | 65.50 | 2:10.68 |
| 2 | Regensburger / Holzkecht | AUT | 1 | 8.79 | 8.71 | 65.87 | 65.54 | 2:11.41 |
| 3 | Lambacher / Lambacher | ITA | 7 | 8.81 | 8.71 | 65.78 | 66.08 | 2:11.86 |
| 4 | Achenrainer / Achenrainer | UT | 5 | 8.92 | 8.89 | 66.07 | 66.01 | 2:12.08 |
| 5 | Mekina / Mekina | SLO | 3 | 9.43 | 9.44 | 69.95 | 69.48 | 2:19.43 |
| 6 | Lenko / Lenko | UKR | 4 | 9.08 | 9.04 | 70.25 | 71.18 | 2:21.43 |
| 7 | Hasek / Rydl | CZE | 6 | 9.52 | 9.40 | 71.43 | 71.80 | 2:23.23 |
| 8 | Majdak / Jadwiszczok | POL | 2 | 9.46 | 9.59 | 73.23 | 71.05 | 2:24.28 |