From Winterleiten, AUT
(Dec. 18, 2020) – For the second time in as many days Italian Evelin Lanthaler slid to gold in Winterleiten. And for the second time in as many days it was in dominating fashion.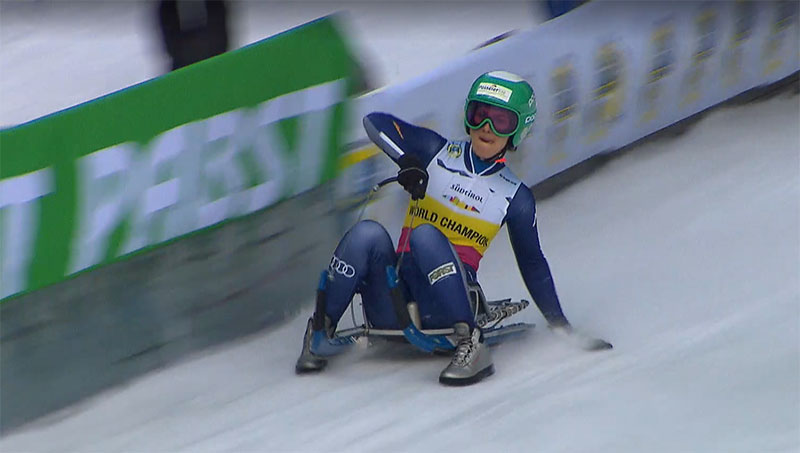 Lanthaler was the only woman in the 1:01 range, setting times of 1:01.77 and 1:01.80 on her two runs, on her way to a 1.77 second victory over teammate Greta Pinggera.
The win was the 16th in her last 17 races for the reigning World Cup champion.
Pinggera was well ahead of anyone not named Lanthaler for her second silver medal in as many days. Apart from her teammate, Pinggera has been the class of the field.
Austria's Michelle Diepold became the first non-Italian to win a medal on the women's tour this season, edging out Race 1 bronze medalist Daniela Mittermair by .06 for bronze.
Mittermair, Tina Unterberger, and Germany's Sarah Schiller rounded out the top six.
Riccarda Ruetz crashed on her second run to receive a DNF.
Results:
| | | | | | | | | |
| --- | --- | --- | --- | --- | --- | --- | --- | --- |
| Pos | Name | Nation | Bib | Start 1 | Start 2 | Run 1 | Run 2 | Total |
| 1 | Evelin Lanthaler | ITA | 20 | 8.81 | 8.89 | 61.77 | 61.80 | 2:03.57 |
| 2 | Greta Pinggera | ITA | 19 | 8.91 | 8.89 | 62.76 | 62.58 | 2:05.34 |
| 3 | Michelle Diepold | AUT | 17 | 9.09 | 9.12 | 62.83 | 62.93 | 2:05.76 |
| 4 | Daniela Mittermair | ITA | 16 | 8.96 | 8.85 | 62.85 | 62.97 | 2:05.82 |
| 5 | Tina Unterberger | AUT | 18 | 8.99 | 8.96 | 63.42 | 63.26 | 2:06.68 |
| 6 | Sarah Schiller | GER | 7 | 9.30 | 9.25 | 63.61 | 63.46 | 2:07.70 |
| 7 | Sara Bachmann | GER | 15 | 9.08 | 9.12 | 63.59 | 63.87 | 2:07.46 |
| 8 | Lisa Walch | GER | 13 | 9.32 | 9.26 | 64.15 | 63.60 | 2:07.75 |
| 9 | Nadine Staffler | ITA | 8 | 9.12 | 9.06 | 64.09 | 63.76 | 2:07.85 |
| 10 | Michaela Niemetz | GER | 14 | 9.31 | 9.24 | 65.10 | 65.87 | 2:10.97 |
| 11 | Juila Plowy | POL | 11 | 9.16 | 9.16 | 66.58 | 65.72 | 2:12.30 |
| 12 | Klaudia Promny | POL | 1 | 9.42 | 9.37 | 67.29 | 66.35 | 2:13.64 |
| 13 | Viktoriia Antoniuk | UKR | 10 | 10.02 | 9.56 | 71.60 | 69.10 | 2:20.70 |
| 14 | Nika Nemec | SLO | 3 | 9.52 | 9.57 | 70.31 | 70.89 | 2:21.20 |
| 15 | Patricija Urbanic | CRO | 12 | 9.86 | 9.73 | 71.43 | 71.75 | 2:23.18 |
| 16 | Paulina Lipinska | POL | 4 | 9.85 | 9.80 | 72.66 | 72.23 | 2:24.89 |
| 17 | Nusa Subic | SLO | 5 | 10.05 | 9.89 | 73.62 | 73.72 | 2:27.34 |
| 18 | Nina Stanic | SRB | 6 | 9.88 | 9.56 | 75.80 | 73.09 | 2:28.89 |
| 19 | Jana Milenovic | SRB | 2 | 10.20 | 10.19 | 79.10 | 77.59 | 2:36.69 |
| DNF | Riccarda Ruetz | AUT | 9 | | | | DNF | |