From Igls, AUT
(Dec. 18, 2020) – Martins Dukurs continued his winning streak in Igls, scoring his 13th straight gold medal on the 1976 Olympic track.
Like the previous week in Igls, the racing was close. A week prior Dukurs tied for gold with Alexander Tretiakov after being tied with Matt Weston in the first heat. This time, Dukurs found himself just .02 ahead of Daniil Romanov and a tenth ahead of Weston.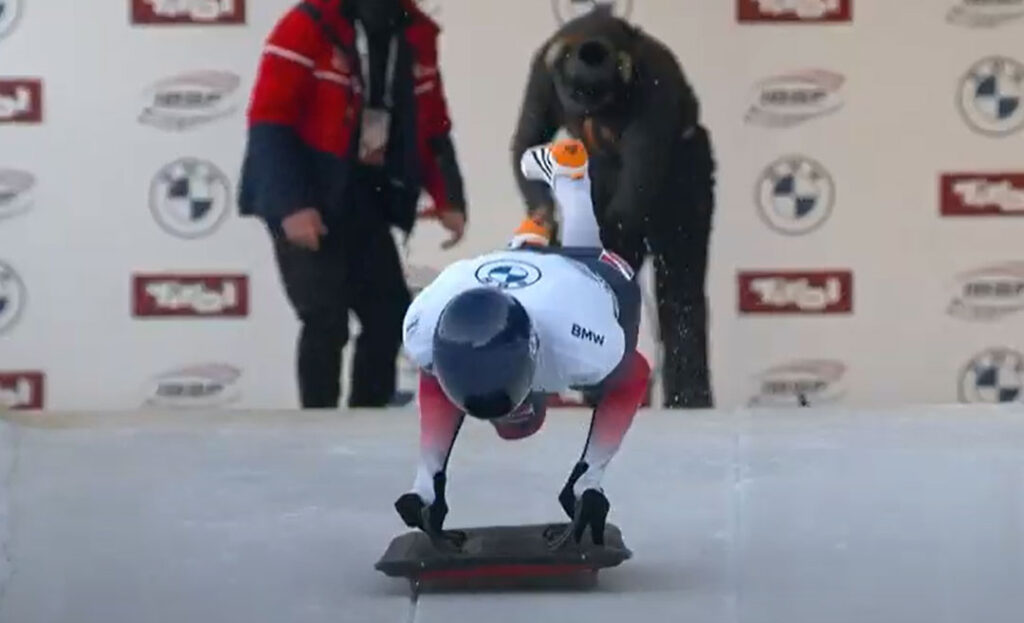 On the second run Dukurs once again put down the fastest run on his way to gold, his 12th straight in World Cup action in Austria. He also has a World Championship gold medal from 2016 in Igls, as well.
In the third race of the World Cup season, Great Britain's Matt Weston found himself tied with Martins Dukurs after the first heat before just missing the podium in fourth place. This week he once again finished the first heat in a podium position, this time in third. On his second run Weston did not falter, and had a run good enough to not only score a podium finish, but move up into the silver medal position in just his fifth IBSF World Cup race.
World Champion Christopher Grotheer came into the second heat in fifth place, but moved up into third for his first medal of the season. Teammate Felix Keisinger finished one spot behind him in fourth.
Russia's Daniil Romanov came into the second heat only .02 behind Dukurs, but nearly fell off of his sled late in his second run and finished fifth, just ahead of Austria's Samuel Maier, who had a career best sixth place finish.
Switzerland's Ronald Auderset scored a personal best finish in tenth. His previous best finish was 13th just a week ago.
Great Britain's Jerry Rice finished 14th in his second start of the season. Nathan Crumpton, sliding for American Samoa, picked up .4 on his second run to move up to 15th from 17th in the first heat.
The United States, Canada, China, and Korea all are sitting out the first portion of the season, but will rejoin the tour after the holiday break. Further, Russia's Alexander Tretiakov and Nikita Tregubov sat the race out, opting to train in Altenberg instead.
At the holiday break for the IBSF World Cup tour, Martins Dukurs is four-for-four on the season and leads the World Cup handily over Germany's Alexander Gassner. Matt Weston and Felix Keisinger are tied for third, just ahead of Tomass Dukurs in sixth.
Results:
| | | | | | | | | |
| --- | --- | --- | --- | --- | --- | --- | --- | --- |
| Pos | Name | Nation | Bib | Start 1 | Start 2 | Run 1 | Run 2 | Total |
| 1 | Martins Dukurs | LAT | 12 | 4.86 | 4.85 | 52.43 | 52.12 | 1:44.55 |
| 2 | Matt Weston | GBR | 10 | 4.87 | 4.84 | 52.53 | 52.22 | 1:44.75 |
| 3 | Christopher Grotheer | GER | 13 | 4.97 | 4.93 | 52.65 | 52.23 | 1:44.88 |
| 4 | Felix Keisinger | GER | 6 | 4.85 | 4.80 | 52.70 | 52.25 | 1:44.95 |
| 5 | Daniil Romanov | RUS | 7 | 4.80 | 4.79 | 52.45 | 52.58 | 1:45.03 |
| 6 | Samuel Maier | AUT | 15 | 5.08 | 5.05 | 52.57 | 52.47 | 1:45.04 |
| 7 | Alexander Gassner | GER | 8 | 4.99 | 4.95 | 52.66 | 52.60 | 1:45.26 |
| 8 | Tomass Dukurs | LAT | 11 | 5.01 | 5.00 | 52.77 | 52.59 | 1:45.36 |
| 9 | Florian Auer | AUT | 4 | 5.09 | 5.04 | 52.89 | 52.53 | 1:45.42 |
| 10 | Ronald Auderset | SUI | 3 | 4.95 | 4.94 | 53.04 | 52.73 | 1:45.77 |
| 11 | Vladyslav Heraskevych | UKR | 5 | 5.08 | 5.03 | 53.14 | 52.65 | 1:45.79 |
| 12 | Evgeniy Rukosuev | RUS | 18 | 4.99 | 4.99 | 53.07 | 52.78 | 1:45.85 |
| 13 | Mattia Gaspari | ITA | 9 | 5.04 | 5.03 | 53.20 | 52.81 | 1:46.01 |
| 14 | Jerry Rice | GBR | 2 | 5.04 | 4.99 | 53.28 | 53.13 | 1:46.41 |
| 15 | Nathan Crumpton | ASA | 17 | 5.05 | 5.04 | 53.45 | 53.02 | 1:46.47 |
| 16 | Mihail Enache | ROU | 1 | 5.03 | 5.03 | 53.41 | 53.46 | 1:46.87 |
| 17 | Manuel Schwärzer | ITA | 16 | 5.02 | 5.13 | 53.44 | 53.60 | 1:47.04 |
| 18 | Samuel Keiser | SUI | 14 | 5.18 | 5.19 | 53.56 | 53.52 | 1:47.08 |