From Igls, AUT
(Dec. 18, 2020) – Janine Flock is the most experienced slider on the women's skeleton tour at the moment, and right now that experience is paying huge dividends.
The Austrian broke the track record (53.62, Lölling, Jan. 17, 2020) cruised to victory on her home track in Igls to win her third gold medal in four races to add to the best season start of her career. Her gold medal is her third in four races in Igls, and the ninth of her career.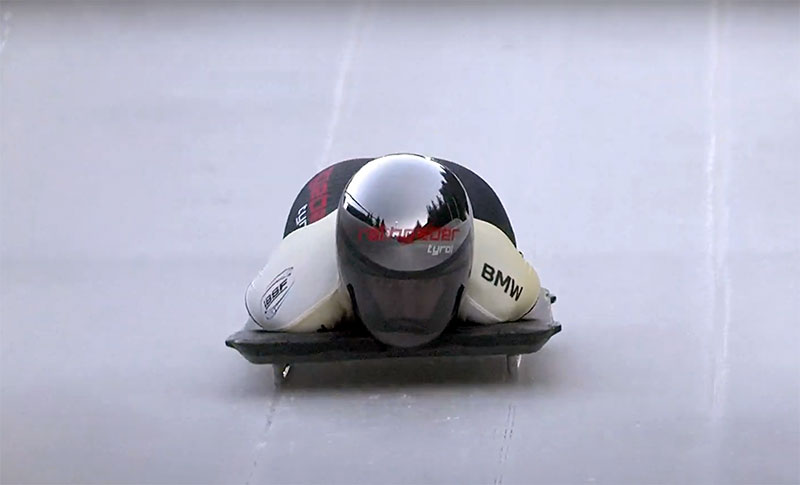 Behind Flock was a logjam of sliders vying for medals. Kimberley Bos edged out Jacqueline Lölling for silver by just .01, while Tina Herman and Elisabeth Maier both finished outside the medals by .02 and .05 respectively.
Bos, like Flock, is off to the best start of her career. After a season where the Dutch slider competed while injured and rarely sniffed a top 20, Bos has now won three silvers and one bronze to start her 2020/2021 campaign. Prior to the season, her only medal had been a bronze in the 2017 PyeongChang test event.
For Lölling, her bronze medal snaps a streak of three races off of the podium, the longest such streak of her career. Teammate Tina Hermann moved up from sixth to fourth in the second heat.
Canada's Elisabeth Maier finished fifth in her second race back from a season off for maternity leave for her fourth straight top ten finish on tour.
Italy's Valentina Margaglio put down what was probably the best run of her World Cup career in the first heat, setting a time below the old track record and only .05 off the pace set by Flock in the first heat. On her second run she struggled, setting only the 11th fastest time of the heat to fall to sixth.
Australia's Jackie Narracott made her return to the World Cup tour in eighth place, tying her best ever finish in Europe (St. Moritz, Jan. 2018).
Madelaine Smith led the charge for Great Britain in 12th place. Brogan Crowley finished 14th for a career best on the IBSF World Cup tour, while Amelia Coltman finished 17th.
At the halfway point of the 2020/2021 season for the women's skeleton program, Janine Flock leads the World Cup standings by 45 points over Kimberley Bos. Tina Hermann, Jacqueline Lölling, and Anna Fernstädt round out the top five.
The race marked the last race of the season without the United States, China, or the remainder of the Canadian program.
Results:
| | | | | | | | | |
| --- | --- | --- | --- | --- | --- | --- | --- | --- |
| Pos | Name | Nation | Bib | Start 1 | Start 2 | Run 1 | Run 2 | Total |
| 1 | Janine Flock | AUT | 5 | 5.49 | 5.44 | 53.47 | 53.54 | 1:47.01 |
| 2 | Kimberley Bos | NED | 8 | 5.38 | 5.36 | 53.59 | 53.63 | 1:47.22 |
| 3 | Jacqueline Lölling | GER | 10 | 5.61 | 5.56 | 53.64 | 53.59 | 1:47.23 |
| 4 | Tina Hermann | GER | 7 | 5.51 | 5.51 | 53.65 | 53.60 | 1:47.25 |
| 5 | Elisabeth Maier | CAN | 16 | 5.39 | 5.39 | 53.61 | 53.67 | 1:47.28 |
| 6 | Valentina Margaglio | ITA | 13 | 5.23 | 5.18 | 53.52 | 53.93 | 1:47.45 |
| 7 | Alina Tararychenkova | RUS | 19 | 5.28 | 5.28 | 53.82 | 53.77 | 1:47.59 |
| 8 | Jaclyn Narracott | AUS | 18 | 5.47 | 5.45 | 53.89 | 53.76 | 1:47.65 |
| 9 | Anna Fernstädt | CZE | 4 | 5.64 | 5.62 | 53.81 | 53.85 | 1:47.66 |
| 10 | Hannah Neise | GER | 6 | 5.61 | 5.58 | 54.08 | 53.84 | 1:47.92 |
| 11 | Kim Meylemans | BEL | 12 | 5.39 | 5.31 | 53.95 | 54.01 | 1:47.96 |
| 12 | Madelaine Smith | GBR | 17 | 5.49 | 5.49 | 54.06 | 53.91 | 1:47.97 |
| 13 | Alessia Crippa | ITA | 15 | 5.39 | 5.38 | 54.08 | 54.05 | 1:48.13 |
| 14 | Brogan Crowley | GBR | 3 | 5.42 | 5.40 | 54.22 | 54.27 | 1:48.49 |
| 15 | Endija Terauda | LAT | 11 | 5.58 | 5.58 | 54.36 | 54.14 | 1:48.50 |
| 16 | Alena Frolova | RUS | 9 | 5.39 | 5.37 | 54.30 | 54.25 | 1:48.55 |
| 17 | Amelia Coltman | GBR | 2 | 5.57 | 5.61 | 54.39 | 54.24 | 1:48.63 |
| 18 | Nicole Silveira | BRA | 1 | 5.54 | 5.55 | 54.42 | 54.57 | 1:48.99 |
| 19 | Agathe Bessard | FRA | 14 | 5.72 | 5.73 | 54.72 | 54.84 | 1:49.56 |