From St. Moritz, SUI
Jan. 17, 2021 – It doesn't appear to matter what you put Francesco Friedrich in, he's going to win gold in it. He took gold yet again in St. Moritz, this time in the four-man bobsled competition.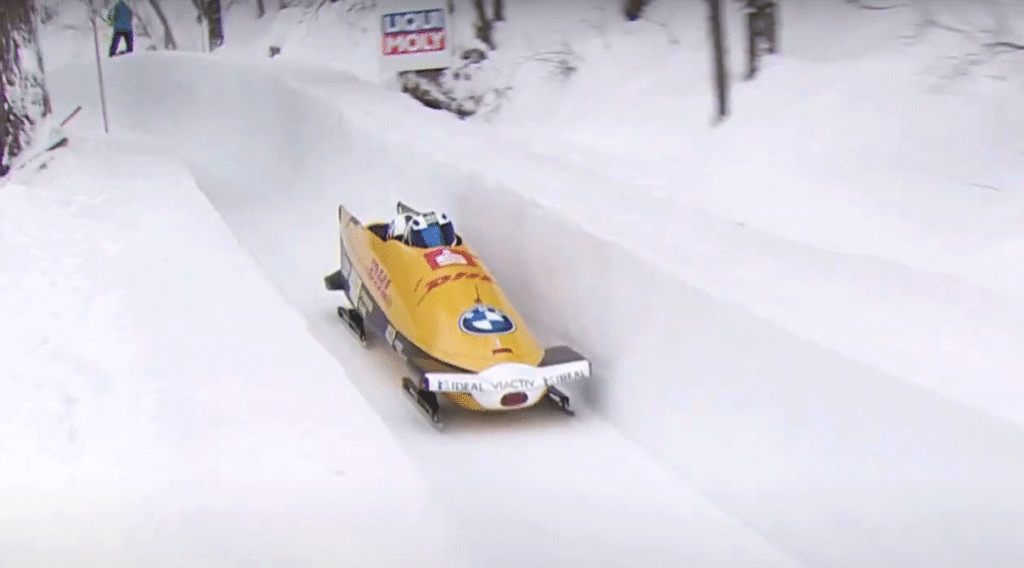 Friedrich's team gave him the fast start time in both heats, and with that the German pilot set the two fast times of the race on his way to a .29 second victory over Austria's Benjamin Maier. It was his second straight IBSF World Cup four-man win and 13th of his career.
Maier tied a career-best finish in World Cup four-man finish with a silver medal. His team pushed him to the second-quickest start behind just Friedrich and his two downtimes were the two quickest trips down of the race.
Justin Kripps took bronze, his 14th career World Cup four-man medal. He edged out Johannes Lochner for the medal, with Lochner finishing just .05 behind the Canadian.
Latvia's Oskars Melbardis finished fifth in his first World Cup four-man start since Königssee in January of 2018 where he finished second. Russia's Rostislav Gaitiukevich finished sixth, up from eighth in the first heat.
Canada's Christopher Spring finished just outside of the top ten in 11th place, a tenth of a second behind Alexey Stulnev in tenth. The race was Spring's first European World Cup four-man start since the final race prior to the 2018 Olympic Games.
Codie Bascue led the way for the United States with a 15th place effort in his second four-man race in Europe since January of 2019. Teammate Geoff Gadbois finished out of the top 20 in 21st.
Great Britain's Lamin Deen struggled to find speed in his first heat, but put down a great second run to jump up from 20th to 16th.
Results:
| | | | | | | | | |
| --- | --- | --- | --- | --- | --- | --- | --- | --- |
| Pos | Names | Nation | Bib | Start 1 | Start 2 | Run 1 | Run 2 | Total |
| 1 | Friedrich / Margis / Grothkopp / Schüller | GER | 9 | 4.97 | 4.97 | 64.81 | 64.75 | 2:09.56 |
| 2 | Maier / Moldovan / Sammer / Huber | AUT | 11 | 5.00 | 4.99 | 64.85 | 65.00 | 2:09.85 |
| 3 | Kripps / Sommer / Stones / Coakwell | CAN | 4 | 5.03 | 5.06 | 65.00 | 65.05 | 2:10.05 |
| 4 | Lochner / Bauer / Weber / Rasp | GER | 10 | 5.03 | 5.05 | 65.01 | 65.09 | 2:10.10 |
| 5 | Melbardis / Springis / Miknis / Lindenblats | LAT | 18 | 5.03 | 5.05 | 65.27 | 65.39 | 2:10.66 |
| 6 | Gaitiukevich / Zaytsev / Mordasov / Samitov | RUS | 5 | 5.03 | 5.01 | 65.47 | 65.45 | 2:10.92 |
| 7 | Vogt / Weber / Michel / Haas | SUI | 15 | 5.10 | 5.14 | 65.40 | 65.66 | 2:11.06 |
| 8 | Friedli / Leimgruber / Fässler / Schläpfer | SUI | 14 | 5.11 | 5.12 | 65.44 | 65.74 | 2:11.18 |
| 9 | Hafer / Korona / Hammers / Wobeto | GER | 7 | 5.10 | 5.14 | 65.56 | 65.65 | 2:11.21 |
| 10 | Stulnev / Koshlev / Kondratenko / Gryaznov | RUS | 8 | 5.12 | 5.14 | 65.54 | 65.72 | 2:11.26 |
| 11 | Spring / Evelyn / Mlakar / Murray-Lawrence | CAN | 19 | 5.12 | 5.16 | 65.48 | 65.88 | 2:11.36 |
| 12 | Heinrich / Lefebvre / Alais / Borges Mendonaca | FRA | 13 | 5.16 | 5.14 | 65.71 | 65.78 | 2:11.49 |
| 13 | Dvorak / Suchy / Sindlear / Nosek | CZE | 6 | 5.08 | 5.12 | 65.82 | 65.70 | 2:11.52 |
| 14 | Treichl / Glück / Mitterer / Eckschlager | AUT | 21 | 5.14 | 5.18 | 65.65 | 65.89 | 2:11.54 |
| 15 | Bascue / McConnell / Valdes / Wilcox | USA | 16 | 5.08 | 5.10 | 65.78 | 66.01 | 2:11.79 |
| 16 | Deen / Simons / Fearon / Dasaolu | GBR | 20 | 5.14 | 5.14 | 66.18 | 65.67 | 2:11.85 |
| 17 | Baumgartner / Fantazzini / Ughi / Pagnini | ITA | 12 | 5.16 | 5.16 | 65.81 | 66.10 | 2:11.91 |
| 18 | de Bruin / Dumas / Veenker / Franjic | NED | 1 | 5.12 | 5.15 | 65.92 | 66.05 | 2:11.97 |
| 19 | Tentea / Dobre / Daroczi / Radu | ROU | 3 | 5.11 | 5.11 | 65.94 | 66.08 | 2:12.02 |
| 20 | Berzins / Bebriss / Kaufmanis / Dambis | LAT | 22 | 5.11 | 5.12 | 66.14 | 66.45 | 2:12.59 |
| 21 | Gadbois / Adams / Niederhofer / Horn | USA | 2 | 5.11 | | 66.50 | | |
| DNS | Hall / Lawrence / Blanchet / Cackett | GBR | 17 | | | DNS | | |