From Altenberg, GER
Feb. 7, 2021 – It wasn't even close.
Over the 2020/2021 season Francesco Friedrich dominated the two-man bobsled ranks with record setting run, and in the World Championships he didn't let up.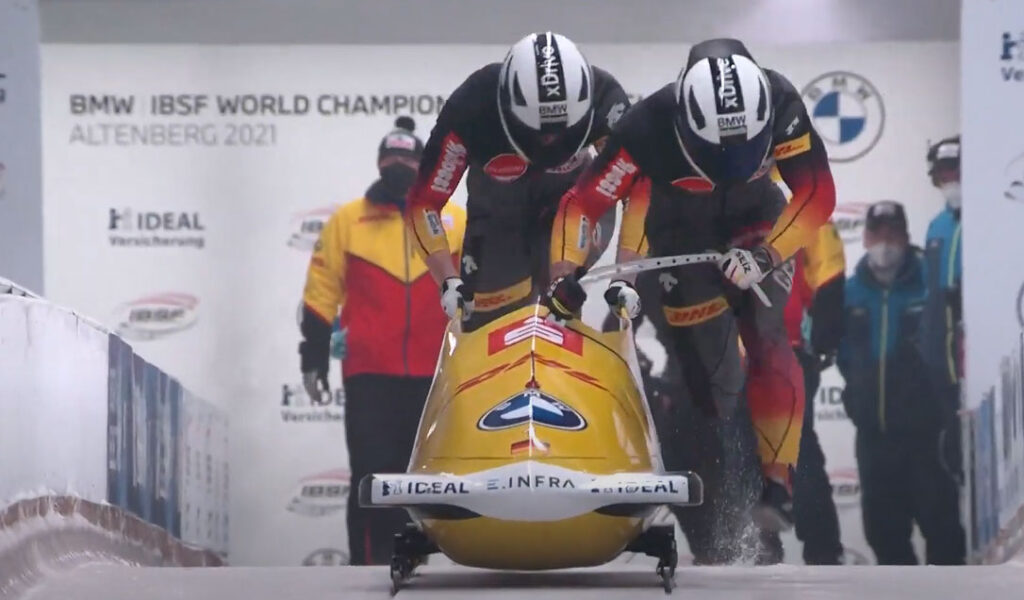 Friedrich carried a .88 second advantage into the second day of two-man competition and he wasted no time expanding that lead to 1.48 seconds over teammate Johannes Lochner. The final run was a victory lap for Friedrich, nowhere near his quickest run of the weekend but plenty enough to give him gold.
The final margin of victory was 2:05.
The gold medal in two-man bobsled for Friedrich is his seventh straight in two-man world championship competition. He now has 12 total gold medals in world championship races, with three four-man and two team golds to go with his pile of two-man golds.
Behind Friedrich, teammate Johannes Lochner was in a league of his own. Unable to keep pace with Friedrich, he was well ahead of anyone else for the better part of the race on his way to his fourth World Championship two-man silver medal.
There was a strong battle for bronze, with Germany's Hans Peter Hannighofer tied with Switzerland's Michael Vogt going into the fourth and final heat. Hannighofer had a strong run with few mistakes to close the gap on Lochner, and while it wans't enough for silver, it was enough to solidify his bronze medal and a sweep of the German podium.
Simon Friedli finished fourth, up from seventh a year ago in Altenberg. While the Swiss pilot was just out of the medals, he put down a strong fourth run to pick off his teammate Vogt, who finished fifth.
Latvia's Oskars Kibermanis finished sixth after never showing the speed that put him in the medals a year ago.
Christopher Spring was the top Canadian in the field, finishing in ninth place. His second day of sliding move dhim up from 11th into the top ten with a solid pair of Day 2 runs. His ninth place finish is also his best ever two-man finish in Altenberg. Both he and teammate Justin Kripps had a tough starting positions to start the race, and a snowy first run set them back.
Kripps, the Olympic gold medalist, finished one spot behind Spring in tenth place.
Great Britain's Brad Hall was the top British slider in 11th place, five spots better than his Altenberg 2020 two-man finish. Teammate Lamin Deen also bettered his place from 2020, finishing 20th in the 2021 event, up from 24th a year ago.
Results:
| | | | | | | | | |
| --- | --- | --- | --- | --- | --- | --- | --- | --- |
| Pos | Names | Nation | Bib | Run 1 | Run 2 | Run 3 | Run 4 | Total |
| 1 | Friedrich / Schüller | GER | 4 | 54.83 | 55.41 | 54.64 | 54.90 | 3:39.78 |
| 2 | Lochner / Franke | GER | 5 | 55.37 | 55.75 | 55.24 | 55.47 | 3:41.83 |
| 3 | Hannighofer / Röder | GER | 18 | 55.46 | 55.81 | 55.33 | 55.41 | 3:42.01 |
| 4 | Friedli / Haas | SUI | 9 | 55.51 | 55.88 | 55.35 | 55.63 | 3:42.37 |
| 5 | Vogt / Michel | SUI | 8 | 55.35 | 55.82 | 55.43 | 55.81 | 3:42.41 |
| 6 | Kibermanis / Miknis | LAT | 7 | 55.42 | 56.01 | 55.53 | 55.76 | 3:42.72 |
| 7 | Hafer / Hammers | GER | 11 | 55.55 | 55.93 | 55.58 | 55.76 | 3:42.82 |
| 8 | Heinrich / Hauterville | FRA | 13 | 55.55 | 55.96 | 55.62 | 55.88 | 3:43.01 |
| 9 | Spring / Evelyn | CAN | 22 | 55.78 | 56.04 | 55.70 | 55.61 | 3:43.13 |
| 10 | Kripps / Stones | CAN | 21 | 55.76 | 55.92 | 55.71 | 55.86 | 3:43.25 |
| 11 | Hall / Cackett | GBR | 14 | 55.65 | 56.13 | 55.86 | 55.84 | 3:43.48 |
| 12 | Melbardis / Lindenblats | LAT | 10 | 55.52 | 56.14 | 55.68 | 56.15 | 3:43.49 |
| 13 | Treichl / Mitterer | AUT | 20 | 55.83 | 56.00 | 55.95 | 55.77 | 3:43.55 |
| 14 | Gaitiukevich / Malykh | BFR | 12 | 55.73 | 56.25 | 55.83 | 55.79 | 3:43.60 |
| 15 | Dvorak / Nosek | CZE | 6 | 55.81 | 56.26 | 55.77 | 55.81 | 3:43.65 |
| 15 | Won / Seo (1&2) / Jung (3&4) | KOR | 24 | 55.89 | 55.92 | 55.94 | 55.90 | 3:43.65 |
| 17 | Tentea / Daroczi (1&2) / Dobre (3&4) | ROU | 15 | 56.02 | 56.37 | 56.01 | 55.83 | 3:44.23 |
| 18 | Baumgartner / Fantazzini | ITA | 2 | 55.94 | 56.10 | 56.15 | 56.05 | 3:44.24 |
| 19 | Stulnev / Zharovtsev | BFR | 19 | 56.23 | 56.35 | 55.95 | 55.88 | 3:44.41 |
| 20 | Deen / Dasaolu | GBR | 1 | 55.86 | 56.41 | 56.35 | 56.29 | 3:44.91 |
| 21 | Cipulis / Bebriss | LAT | 23 | 56.29 | 56.96 | 56.40 | | 2:49.65 |
| 22 | Suk / Jang | KOR | 3 | 56.40 | 57.18 | 56.25 | | 2:49.83 |
| 23 | de Bruin / Franjic | NED | 17 | 55.96 | 56.69 | 61.98 | | 2:54.63 |
| 24 | Ohanlon / Williamson (1&2) / Sorsensen (3) | AUS | 25 | 58.52 | 58.90 | 58.28 | | 2:55.70 |
| DNS | Maier / Sammer | AUT | 16 | 55.84 | 63.29 | DNS | | DNS |