From Altenberg, GER
Feb. 14, 2021 – The first ever Women's Monobob world championship race did not disappoint, with tight racing throughout the field. However, despite the newness of the event, it was a seasoned veteran who took gold.
Early in the race Germany showed their form on their home track, with Laura Nolte, Stephanie Schneider, and Kim Kalicki holding the top three spots, and American Kaillie Humphries siting in fourth place. By the end of the second run, though, Humphries had worked her way into second place, just .04 behind Schneider.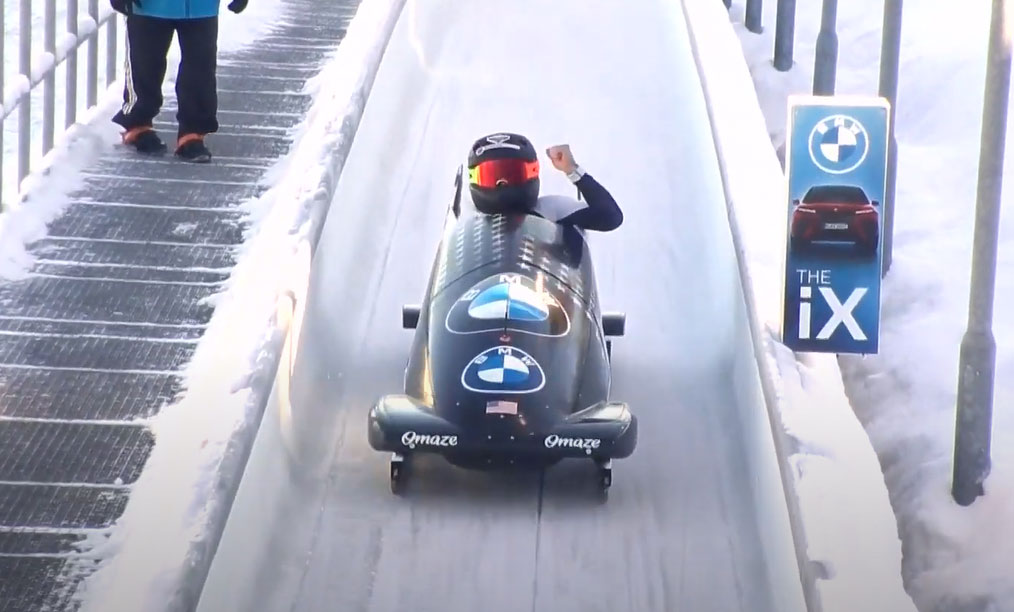 In the third heat Schneider kicked things off with a track record run as the first woman to ever drive a monobob down Altenberg in under a minute. That time stood for about two minutes, as Humphries took the lead with a 59.59 third heat downtime. Laura Nolte and Mariama Jamanka also were down with sub-1:00 times, with Nolte only .02 off of Humphries' time in the heat.
In the fourth heat it was Humphries' race to lose and in true Kaillie Humphries style she saved her best run for last. The American lowered her track record, this time to a 59.47, on her way to gold in the first ever women's monobob world champion.
The gold for Humphries was her sixth world title. She has four world championship victories in women's bobsled and one in the team competition.
Schneider was consistent on her way to a silver medal. She had the second quickest run in three of the four heats to finish .3 ahead of teammate Nolte, who won her second world championship bronze in as many weekends.
Coming into the monobob race weekend Mariama Jamanka had struggled in the single-seat discipline, with only two top tens in four races. In the four-heat world championships, though, Jamanka found her groove. While the women's bobsled Olympic champion was never in contention for the medals, she lingered around the top five all weekend and finished fouth.
Canada's Cynthia Appiah broke her own start record in the third heat with a 5.93, and on that run was only .03 off of the track record to move up into the top five. On her fourth run she lowered the start record by another .01, and between that and a clean drive she finished in fifth in her first World Championships as a pilot.
Germany's Kim Kalicki finished her first heat in third place, but had the seventh quickest run in the next two heats to fall back to sixth going into the final heat. On her fourth run she was quicker, but not quick enough to move up.
Melissa Lotholz got a slow start to the weekend in 11th, but put down three strong runs afterward to linger around the middle of the top ten with two top-six runs in the middle of the race. The Canadian finished her first world championships weekend as a pilot in 7th.
The United States' Elana Meyers Taylor crashed in her first heat, but then put down two top-ten runs to move into 16th. Her fourth and final run was going well until a hit going into Curve 12 tipped her over. She got the sled righted, and still had enough speed in the sled to move up a spot into 15th.
Mica McNeill finished 13th for Great Britain in their lone sled.
Results:
| | | | | | | | | |
| --- | --- | --- | --- | --- | --- | --- | --- | --- |
| Pos | Name | Nation | Bib | Run 1 | Run 2 | Run 3 | Run 4 | Total |
| 1 | Kaillie Humphries | USA | 16 | 60.39 | 60.17 | 59.59 | 59.47 | 3:59.62 |
| 2 | Stephanie Schneider | GER | 1 | 60.07 | 60.45 | 59.80 | 59.80 | 4:00.12 |
| 3 | Laura Nolte | GER | 18 | 60.00 | 60.70 | 59.61 | 60.11 | 4:00.42 |
| 4 | Mariama Jamanka | GER | 11 | 60.46 | 60.55 | 59.81 | 60.02 | 4:00.84 |
| 5 | Cynthia Appiah | CAN | 13 | 60.53 | 60.79 | 59.62 | 60.34 | 4:01.28 |
| 6 | Kim Kalicki | GER | 15 | 60.24 | 60.84 | 60.06 | 60.27 | 4:01.41 |
| 7 | Melissa Lotholz | CAN | 8 | 61.11 | 60.76 | 59.91 | 60.43 | 4:02.21 |
| 8 | Katrin Beierl | AUT | 14 | 61.34 | 60.90 | 60.17 | 60.10 | 4:02.51 |
| 9 | Martina Fontanive | SUI | 10 | 60.55 | 61.08 | 60.63 | 60.39 | 4:02.65 |
| 10 | Melanie Hasler | SUI | 12 | 61.10 | 61.24 | 60.18 | 60.52 | 4:03.04 |
| 11 | Andreea Grecu | ROU | 5 | 61.07 | 61.26 | 60.54 | 60.28 | 4:03.15 |
| 12 | Nadezhda Sergeeva | BFR | 6 | 61.23 | 61.20 | 60.76 | 60.16 | 4:03.35 |
| 13 | Mica McNeill | GBR | 7 | 60.89 | 61.08 | 60.65 | 60.90 | 4:03.52 |
| 14 | Yooran Kim | KOR | 2 | 61.38 | 61.17 | 60.83 | 60.66 | 4:04.04 |
| 15 | Elana Meyers Taylor | USA | 9 | 63.14 | 60.94 | 60.42 | 60.94 | 4:05.44 |
| 16 | Christine de Bruin | CAN | 3 | 61.56 | 61.87 | 60.89 | 61.27 | 4:05.59 |
| 17 | Lubov Chernykh | BFR | 22 | 62.18 | 61.30 | 61.09 | 61.22 | 4:05.79 |
| 18 | Viktoria Cernanska | SVK | 20 | 62.13 | 61.99 | 61.59 | 61.36 | 4:07.07 |
| 19 | Anastasiia Makarova | BFR | 17 | 61.92 | 61.70 | 63.20 | 61.37 | 4:08.19 |
| 20 | An Vannieuwenhuyse | BEL | 19 | 62.20 | 63.18 | 61.89 | | 3:07.27 |
| 21 | Lidiia Hunko | UKR | 21 | 63.26 | 62.84 | 62.00 | | 3:08.10 |
| 22 | Sylwia Smolarek | POL | 23 | 62.60 | 63.12 | 62.82 | | 3:08.54 |
| DBS | Breeana Walker | AUS | 4 | 61.46 | 61.17 | 62.58 | DNS | |